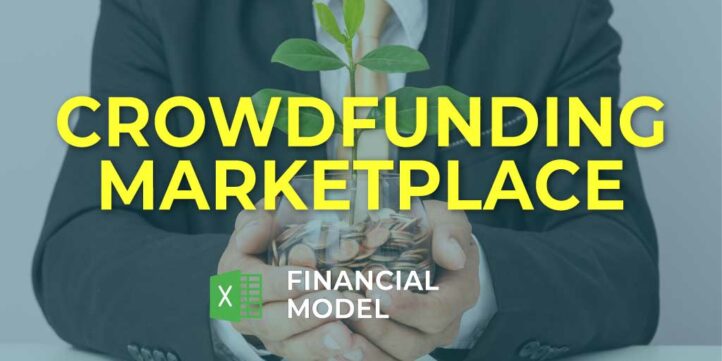 Financial Model, Marketplaces, Online Businesses & IT
5-year financial projections, Business Valuation, Financial Model, Financial Modeling, Financial Projection, Financial Projections, Free Financial Model Templates, Pro-Forma, Startup Financial Models, Three Statement Model | Three Financial Statements
NOTE: Single-User pertains to a limited Single User License where the template can only be used by one single user; while Multi-User is a license for users sharing the template with up to 20 members. Please refer to Terms of Use and License and Permitted Use for clarification.
CROWDFUNDING MARKETPLACE P&L PROJECTION KEY FEATURES
Simple-to-use
A very sophisticated Crowdfunding Marketplace Pro Forma Budget, whatever size and stage of development your business is. Minimal previous planning experience and very basic knowledge of Excel are required: however, fully sufficient to get quick and reliable results.
We do the math
3 Way Financial Model has all the required features ready with no formula writing, no formatting, no programming, no charting, and no expensive external consultants! Concentrate on the task of planning rather than programming.
Key Metrics Analysis
Creates 5-year Crowdfunding Marketplace Excel Pro Forma Template, proforma, financial statements, and financial ratios in GAAP or IFRS formats on the fly.
Get a Robust, Powerful, and Flexible Financial Model
This well-tested, robust and powerful Crowdfunding Marketplace Pro Forma Template Excel is your solid foundation to plan a business model. Advanced users are free to expand and tailor all sheets as desired, to handle specific requirements, or to get into greater detail.
REPORTS and INPUTS
Break-Even
A break-even point excel is a financial tool that helps a company to determine the time and the development stage at which the company as a whole, or its new product, becomes profitable. This Crowdfunding Marketplace Financial Model Excel Spreadsheet helps determine the company's sales volume to cover its costs (particularly fixed and variable costs).
Liquidity KPIs
Liquidity Position. The liquidity position of a company is an essential indication of the financial health of the enterprise. To assess the liquidity position of the company, it is necessary to calculate the liquidity ratio. Many companies set a target liquidity ratio that reflects the specifics of their business and industry. Such target liquidity ratios ensure that companies have enough cash to meet their obligations. Therefore, we recommend setting a target liquidity ratio for your 3 Way Forecast Excel Template.
Profitability KPIs
Revenue breakdown. The Crowdfunding Marketplace Financial Model Excel Spreadsheet has a revenue breakdown proforma in the form of a chart. It shows the revenue from five products monthly. If needed, you can add more products or change the period for financial analysis.
Cap Table
The Three Statement Financial Model Template and its Capitalization table (or Cap table) summarize your investors' information, their share in the company, and how much they have paid for these shares.
Burn and Runway
Our Crowdfunding Marketplace 3 Way Forecast Model automatically creates cash runway and cash burn analysis based on the forecasted revenues and expenses that, in their turn, show net loss, net profit, cash on hand, and break-even analysis. You can also forecast funding requirements using a set of parameters around funding (e.g., equity, debt, grants) and expected runway to raise (for example, 18 months of forecasted expenses).
Performance KPIs
Return on capital. The return on capital reflects the correspondence of the Balance Sheet and Income Statement. Return on capital measures the accomplishment of earnings to the capital employed.
Companies with good financial management have good returns.
CAPEX
CapEx (short for capital expenditures) is the company's expenses related to the acquisition, maintenance, or improvement of fixed assets such as property, buildings, factories, equipment, and technology. CapEx is included in the balance sheet, and it also can be reflected partially in the forecasted income statement and cash flow statement.
File types:
Excel – Single-User: .xlsx
Excel – Multi-User: .xlsx
Free Demo – .xlsx