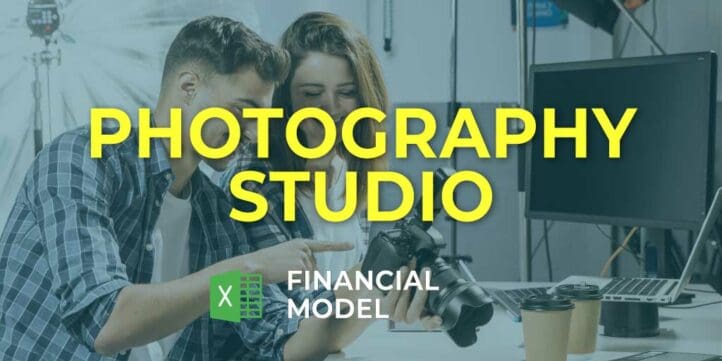 Commercial Properties, Education, Financial Model, Media, Newspaper & Journals, Professional Services & Advisory, Service Businesses, Serviced Office
5-year financial projections, Business Valuation, Financial Model, Financial Modeling, Financial Projection, Financial Projections, Free Financial Model Templates, Pro-Forma, Startup Financial Models, Three Statement Model | Three Financial Statements
NOTE: Single-User pertains to a limited Single User License where the template can only be used by one single user; while Multi-User is a license for users sharing the template with up to 20 members. Please refer to Terms of Use and License and Permitted Use for clarification.
PHOTOGRAPHY STUDIO FINANCIAL MODEL IN EXCEL KEY FEATURES
Video tutorial:
Simple-to-use
A very sophisticated Photography Studio Budget Spreadsheet, whatever size and stage of development your business is. Minimal previous planning experience and very basic knowledge of Excel is required: however, fully sufficient to get quick and reliable results.
We do the math
Five Year Financial Projection Template has all the features above ready with no formula writing, no formatting, no programming, no charting, and no expensive external consultants!
We do the math
Cash Flow Proforma Template has all the required features ready with no formula writing, no formatting, no programming, no charting, and no expensive external consultants! Concentrate on the task of planning rather than programming.
Works for startups
3 Way Forecast Model creates a financial summary formatted for your pitch deck
Print-ready Reports
Solid package of print-ready reports, including a profit and loss projection, pro forma cash flow projection, a balance sheet, and a complete set of financial ratios.
Better decision making
Make better operational decisions with the help of creating Startup Cash Flow Statement scenarios in your Excel Template. Perhaps you have to choose between new staff members or investment in equipment, and you are wondering which decision to chose. Variants forecasting will give you the information you need to make these decisions with confidence that you know what impact they will have on your cash balance.
REPORTS and INPUTS
Operational KPIs
Financial graphs and charts in this Photography Studio 3 Way Forecast help the stakeholders visually track liquidity, budgets, expenses, cash flow, and many other company financial metrics. These graphs will also help a company's management avoid problems by reflecting its financial data in real-time, with a comprehensive financial information overview.
These operational performance graphs will help the business owners and financial managers ensure the best possible performance and financial health of their company because regular financial analytics procedures and the highest quality of financial data are the company's top priorities.
Our financial graphs will also help the company's financial specialists raise financial issues at the general meetings and deliver understandable financial information to other departments and external stakeholders.
CAPEX
Capital expenditure (or CapEX) is an essential part of any Financial Model Excel Spreadsheet. Financial specialists calculate CapEx to monitor investment in the fixed assets to handle depreciation, additions, and/or disposals related to the property, plant, and equipment (PPE).
CAPEX calculation also includes the company's assets' additions, including the assets in financial leasing.
Performance KPIs
Sales growth is year-to-date. Every entrepreneur wants to see the company grow month-over-month. In some industries, sales depend on the season or other external factors. The sales growth year-to-date metric shows the pace at which the company's sales revenue increases or decreases.
Users can monitor sales volumes over various periods – daily, weekly, monthly, or yearly. Sales growth metric helps to manage sales growth goals in the form of a percentage of last month's sales volume or others. If the company has several sales teams, the management can monitor this metric for each team separately. It will help to monitor better each team's achievements.
Liquidity KPIs
Working Capital. The working capital financial metric reflects the money you need for short-term operations. Working capital shows the difference between current assets and current liabilities.
Cash Flow KPIs
Operating cash flow. Operating cash flow calculation shows how much cash the company generates from the business operations. This calculation does not include secondary sources of revenue, like interest or investments.
Burn and Runway
This Photography Studio Financial Projection Model automatically calculates the cash burn rate based on the inputs from other spreadsheets, in particular, from the cash flow statement proforma.
Financial Statements
The Photography Studio Excel Financial Model has pre-built proformas for the balance sheet, the profit and loss projection, and the projected cash flow statement. These proformas allow users to create statements both on a monthly and annual basis.
Users can create detailed financial statements using the financial assumptions inputted in the Pro Forma Projection.
File types:
Excel – Single-User: .xlsx
Excel – Multi-User: .xlsx
Free Demo – .xlsx