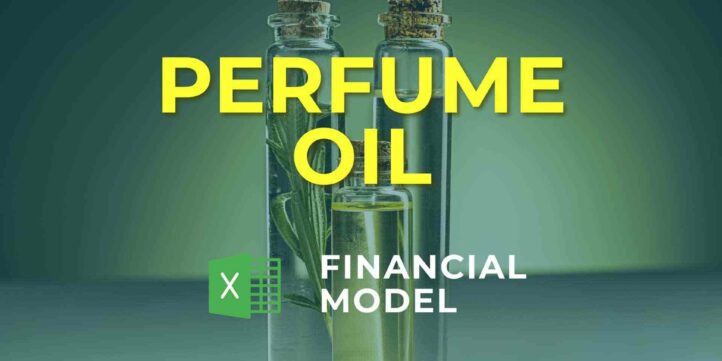 Financial Model, Manufacturing
5-year financial projections, Cash Flow Analysis, CFO, Customer Lifetime Value, Dashboard, Excel, Financial Feasibility, Financial Model, Financial Planning, Financial Projection, Financial Projections, Financial Reporting, Financial Statements, Forecast, NPV (Net Present Value), Pro-Forma, Profitability Analysis, Three Statement Model | Three Financial Statements, Uses and Sources of Funds, Venture Capital, WACC (Weighted Average Cost of Capital)
NOTE: Single-User pertains to a limited Single User License where the template can only be used by one single user; while Multi-User is a license for users sharing the template with up to 20 members. Please refer to Terms of Use and License and Permitted Use for clarification.
PERFUME OIL FINANCIAL MODEL KEY FEATURES
Video tutorial:
Convince investors and lenders
Enhance your pitches and impress potential financiers with a Financial Projection Template Excel delivering the right information and expected financial and operational metrics. Facilitate your negotiations with investors for successful funding. Raise money more quickly and refocus on your core business.
Integrated
The entire Perfume Oil 3 Way Forecast is integrated. If you make a change in one sheet, every dependent tab will update automatically. If you decide to scale down or up your assumptions, automation will scale too. Now you will know and understand how decisions impact your business.
Simple-to-use
A very sophisticated Perfume Oil Startup Financial Model, whatever size and stage of development your business is. Minimal previous planning experience and very basic knowledge of Excel is required: however, fully sufficient to get quick and reliable results.
Gaining trust from stakeholders
Investors and financing providers tend to think in terms of the big picture. They want the c-level of the companies they invest in to do the same to ensure they maintain a clear idea of the future. Providing stakeholders with a monthly Cash Flow Projection will demonstrate a level of awareness that leads to confidence and trust and will make it easier to raise more investment.
Investors ready
Print-ready (including a Pro Forma P&L Statement, a Cash Flow Statement Forecast, a balance sheet, and a complete set of financial ratios).
Get it Right the First Time
Funding is a binary event: either you succeed or you fail. If you fail, most investors won't give you a second chance. Learn about the pros and cons of the Perfume Oil Excel Financial Model.
REPORTS and INPUTS
CAPEX
Detailed capital expenditure (i.e., CAPEX ) planning and automatic calculation of depreciation is an essential part of any Budget Spreadsheet. Our CAPEX calculation template allows users to apply straight-line or double-declining balance depreciation for financial planning purposes.
Financial KPIs
The Perfume Oil 3 Way Financial Model has key financial indicators (KPIs) that show sales and profitability performance: revenue growth rate, gross margin, and EBITDA margin.
It also has KPIs related to cash flows and raising investment: the cash burn rate, runway, and funding need. You can choose the KPIs relevant to your company and industry, and monitor your company's performance. For example, SaaS companies typically monitor and manage customer lifetime value (LTV), customer acquisition costs (CAC), LTV/CAC ratio, and the churn rate. For SaaS businesses, these KPIs are crucial.
Cap Table
In the Pro Forma Projection, capitalization table, or 'cap table', lists a company's securities that include common stock, preferred stock, options, warrants, etc. It also shows who owns those securities. Business owners should keep this information organized and up-to-date to make wise decisions regarding fundraising, employee options, and acquisition offers.
All in One Place
We created the fully modular 3 Way Forecast Excel Template that separates the financial core: financial statements, operating costs, hiring plan, cap table, valuation, and actuals reporting. It contains growth forecasts and revenue projections, and you can easily change or delete any input or projection.
The Finance Projection structure allows extending it by adding additional details or financial forecasting methods for specific business types. All cells and formulas are completely open and unlocked so that you can edit or change anything in the Perfume Oil Financial Model Excel.
Dashboard
Our Perfume Oil Finance Projection has a dashboard that summarizes information from the other spreadsheets of the Pro Forma Projection. With this dashboard, you can set your key performance indicators (KPIs), and the dashboard will include them in the calculations and the information from the financial statements. You can create the dashboard with core financial information on a month-by-month basis and change it any time you need.
Top Revenue
The Top revenue tab in the Three Statement Financial Model Template flaunts the financial information with respect to every one of your offerings. Specifically, with the assistance of this Perfume Oil Startup Financial Model, you can acquire a yearly breakdown of your revenue streams, including the revenue profundity and revenue connect.