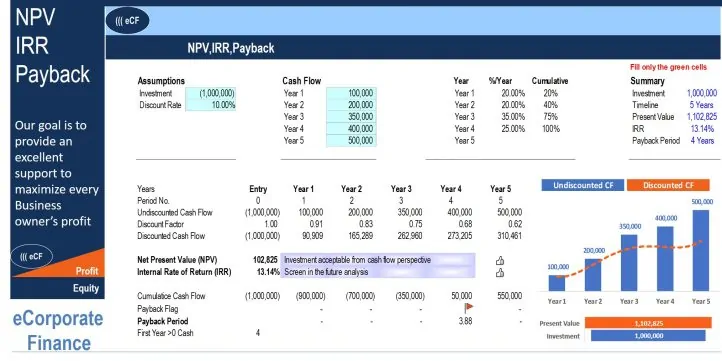 General overview
The template is constructed to evaluate potential major projects or investments that would require capital budgeting before they are approved or rejected, it helps CEO, CFO, and entrepreneurs to assess a prospective project's cash flow to determine whether the potential returns that would be generated meet a sufficient target benchmark
The template allows the user to calculate the net present value (NPV), internal rate of return (IRR) and payback period from simple cash flow stream with dynamic investment decision
Inputs
Update the general info in the Front Page
Enter the investment amount, discount rate and cash flow projection in the green cells
Outcome
Net present value
Internal rate of return
Payback period
Dynamic investment decision
Conclusion and customization
This is a highly versatile, very sophisticated financial model template, and is also user-friendly.
If you have any inquiries, modification request or other requests of assistance to customize the model template for your business case please reach me through: [email protected]
Users who purchased NPV, IRR, & Payback Calculator, also purchased:
Reviews
Hi there! Thank you for creating this spreadsheet and making it available to the public. My only suggestion is to add our away and allow the spreadsheet to be added into PowerPoint easily. When I pasted it in the chart would not copy
Hi Paul, thank you for downloading this model template! Regarding the issue you mentioned, you can try taking a screenshot of it and insert in PPT (crop if needed). This way should work.
Write a Review