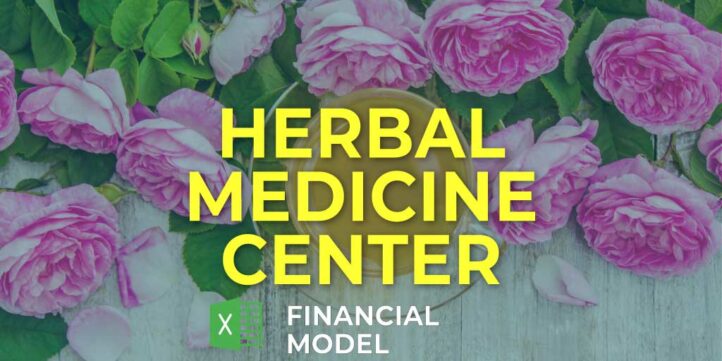 Financial Model, Gyms & Fitness Centers, Health Care, Wellness
5-year financial projections, Business Valuation, Financial Model, Financial Modeling, Financial Projection, Financial Projections, Free Financial Model Templates, Pro-Forma, Startup Financial Models, Three Statement Model | Three Financial Statements
NOTE: Single-User pertains to a limited Single User License where the template can only be used by one single user; while Multi-User is a license for users sharing the template with up to 20 members. Please refer to Terms of Use and License and Permitted Use for clarification.
HERBAL MEDICINE CENTER EXCEL FINANCIAL MODEL KEY FEATURES
Video tutorial:
Get a Robust, Powerful and Flexible Financial Model
This well-tested, robust and powerful Herbal Medicine Center Five Year Financial Projection Template is your solid foundation to plan a business model. Advanced users are free to expand and tailor all sheets as desired, to handle specific requirements or to get into greater detail.
Save time and money
Via Finance Projection you can without effort and special education get all the necessary calculations and you will not need to spend money on expensive financial consultants. Your task is building a strategy, evolution, and creativity, and we have already done the routine calculations instead of you.
Saves you time
Allows you to spend less time on Projected Cash Flow Statement Format and more time on your products, customers and business development
Avoid cash flow problems.
Cash flow, and especially Projected Cash Flow Statement from operations, is the lifeblood of your business – do not ignore it! The level of cash flow in your company dictates the decisions you can make and how quickly you can grow your business. So you should monitor and manage cash flow regularly. Monthly cash flow forecasting will give you a current view of the cash inflows and outflows within your business and also what the next period looks like. Regular Cash Flow Statement By Month forecasting can highlight where cash gaps will be in the future and where there could be improvements made. Most importantly, a Cashflow Forecast will give you a good idea of the health of your business cash flow at a glance. Finding potential cash flow gaps ahead of time can save you and your business both time and money. You can make decisions and take actions before things get too bad, ensuring your Cash Flow Statement Projection is maintained, based on your forecasts.
Convenient, All-In-One Dashboard
Includes all required forecasting reports, including assumptions, p&l proforma, pro forma cash flow projection, balance sheets, performance reviews and summaries for months and years (incl. numerous graphs and KPIs).
Track your spending and staying within budget
Have you written a vague idea of cash inflows and cash outflows on the back of a napkin? All is well and good. Looking at the pro forma income statement will give you a snapshot of the past business performance, but it won't show the future in terms of the Cash Flow Statement. With a cash flow statement projection, you can plan future cash inflows and cash outflows and compare it to the budget, which can be invaluable information.
REPORTS and INPUTS
Break Even
Break Even Excel integrated into this Herbal Medicine Center Pro Forma Projection shows the sales volume or amount of units sold required to break even after all costs, including fixed and variable expenses related to the business operations.
The break even excel calculation is a critical business and financial planning tool because financial assumptions involved in these calculations determine the company's ability to bring profits.
Burn and Runway
The cash burn rate shows the difference between the cash inflows and cash outflows of the company. It is essential to monitor this metric because it shows how long the company will last with its current funding level. Business owners can also see a clear picture of how various business strategies change the cash burn rate.
Financial Statements
Our Herbal Medicine Center Five Year Financial Projection Template has pre-built consolidated financial statements: pro forma profit and loss, Balance Sheet, and statement of cash flows. These financial statements can be presented on a monthly, quarterly, and annual basis.
Users can also import existing financial statements and reports from Quickbooks, Xero, Freshbooks, and other accounting software to create rolling forecasts and to make actuals vs. forecasts comparison.
All in One Place
We created the fully modular Cashflow Projection that separates the financial core: financial statements, operating costs, hiring plan, cap table, valuation, and actuals reporting. It contains growth forecasts and revenue projections, and you can easily change or delete any input or projection.
The Excel Financial Model structure allows extending it by adding additional details or financial forecasting methods for specific business types. All cells and formulas are completely open and unlocked so that you can edit or change anything in the Herbal Medicine Center Excel Pro Forma Template.
Liquidity KPIs
Quick Ratio or Acid-Test Ratio. The quick ratio or acid-test ratio uses a firm's balance sheet data to analyze if it has sufficient short-term assets to cover its short-term liabilities. This metric ignores less liquid assets like such as inventory.
Performance KPIs
Lead-to-client conversion rate. Lead-to-Client Conversion Rate is an essential metric for the businesses that attract new clients with the Internet, social media, and other similar channels. Leads do not turn into customers automatically. Company's sale team need to convert these leads into actual customers.
The Lead-to-Conversion business metric is a good measure of the sales team's performance. Moreover, it indicates the quality of your product. If you have a low conversion rate, it may sign that your product is not attractive to the customers.
Cash Flow KPIs
Operating cash flow. Operating cash flow calculation shows how much cash the company generates from the business operations. This calculation does not include secondary sources of revenue, like interest or investments.
File types:
Excel – Single-User: .xlsx
Excel – Multi-User: .xlsx
Free Demo – .xlsx