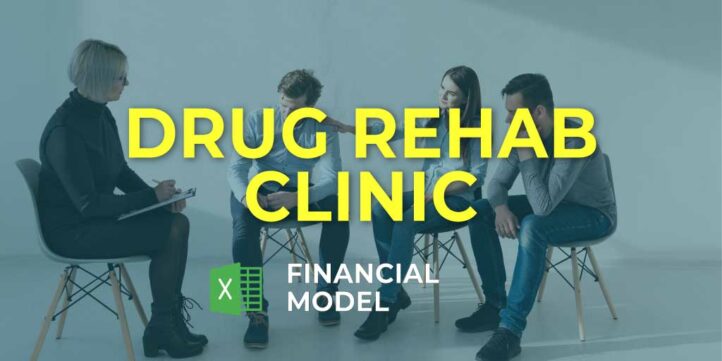 Clinics, Financial Model, Health Care, Wellness
5-year financial projections, Business Valuation, Financial Model, Financial Modeling, Financial Projection, Financial Projections, Free Financial Model Templates, Pro-Forma, Startup Financial Models, Three Statement Model | Three Financial Statements
NOTE: Single-User pertains to a limited Single User License where the template can only be used by one single user; while Multi-User is a license for users sharing the template with up to 20 members. Please refer to Terms of Use and License and Permitted Use for clarification.
DRUG REHAB CLINIC 3 WAY FORECAST MODEL KEY FEATURES
Video tutorial:
Build your plan and pitch for funding
Impress bankers and investors with a proven, solid drug rehab clinic financial model that impresses every time.
Convince investors and lenders
Enhance your pitches and impress potential financiers with a Financial Projection Template delivering the right information and expected financial and operational metrics. Facilitate your negotiations with investors for successful funding. Raise money more quickly and refocus on your core business.
External stakeholders, such as banks, may require a regular forecast.
If the business has a bank loan, the bank will ask for a Drug Rehab Clinic Financial Model Excel Template regularly.
Simple and Incredibly Practical
Simple-to-use yet very sophisticated Drug Rehab Clinic Startup Financial Model. Whatever size and stage of development your business is, with minimal planning experience and very basic knowledge of Excel you can get complete and reliable results.
5 years forecast horizon
Generate fully-integrated Drug Rehab Clinic Financial Model for 5 years (on a monthly basis). Automatic aggregation of annual summaries on outputs tabs.
Gaining trust from stakeholders
Investors and financing providers tend to think in terms of the big picture. They want the c-level of the companies they invest in to do the same to ensure they maintain a clear idea of the future. Providing stakeholders with a monthly cashflow forecast will demonstrate a level of awareness that leads to confidence and trust and will make it easier to raise more investment.
REPORTS and INPUTS
Valuation
With our pre-built valuation template in the Drug Rehab Clinic Financial Projection Template, you will receive all the data your investors might need.
The weighted average cost of capital (WACC) will show your stakeholders the minimum return on enterprise funds invested in its activities capital. Free cash flow valuation will show a cash flow available to all investors, including shareholders and creditors. Discounted cash flow will reflect the value of future cash flows in relation to the current time.
Dashboard
A financial dashboard in this Drug Rehab Clinic Cashflow Projection is a useful financial management tool. It helps track all your relevant finance key performance indicators (KPIs), assures effective cash management, and enables financial management to track expenses, sales, and profits in detail to meet and outperform a department or company's financial objectives.
Top Expenses
This Drug Rehab Clinic Budget Financial Model has a Top expenses tab that displays your company's four most significant expense categories and the rest of the expenses as the 'other'.
Financial KPIs
The Drug Rehab Clinic Finance Projection has key financial indicators (KPIs) that show sales and profitability performance: revenue growth rate, gross margin, and EBITDA margin.
It also has KPIs related to cash flows and raising investment: the cash burn rate, runway and funding need. You can choose the KPIs relevant to your company and industry, and monitor your company's performance. For example, SaaS companies typically monitor and manage customer lifetime value (LTV), customer acquisition costs (CAC), LTV/CAC ratio, and the churn rate. For SaaS businesses, these KPIs are crucial.
Burn and Runway
The cash burn rate shows the difference between the cash inflows and cash outflows of the company. It is essential to monitor this metric because it shows how long the company will last with its current funding level. Business owners can also see a clear picture of how various business strategies change the cash burn rate.
Performance KPIs
Return on assets. The return on assets financial metric can be calculated based on the information from two main financial statements: Balance Sheet and pro forma income statement. Return on assets measures the accomplishment of earnings to the assets, i.e., the amount of money used to get those earnings.
Profitability KPIs
EBITDA. Earnings before interest, tax, depreciation, and amortization (EBITDA) is the primary measure of a company's operating performance.
File types:
Excel – Single-User: .xlsx
Excel – Multi-User: .xlsx
Free Demo – .xlsx