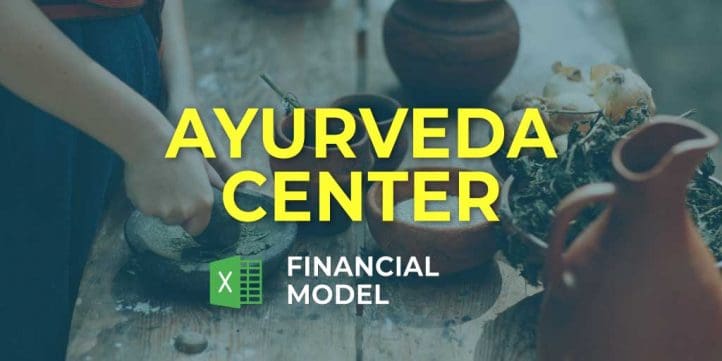 Clinics, Financial Model, Health Care, Wellness
5-year financial projections, Business Valuation, Financial Model, Financial Modeling, Financial Projection, Financial Projections, Free Financial Model Templates, Pro-Forma, Startup Financial Models, Three Statement Model | Three Financial Statements
NOTE: Single-User pertains to a limited Single User License where the template can only be used by one single user; while Multi-User is a license for users sharing the template with up to 20 members. Please refer to Terms of Use and License and Permitted Use for clarification.
AYURVEDA CENTER EXCEL PRO FORMA KEY FEATURES
Video tutorial:
Investors ready
Print ready (including a income statement projection, a Statement Of Cash Flows, a balance sheet, and a complete set of financial ratios).
Key Metrics Analysis
Creates 5-year Ayurveda Center Financial Projection Template Excel, proforma, financial statements, and financial ratios in GAAP or IFRS formats on the fly.
Update anytime
You can easily adjust inputs at the launch stage and throughout the further activities of your business to refine your Ayurveda Center Pro Forma Template.
Build your plan and pitch for funding
Impress bankers and investors with a proven, solid ayurveda center financial model that impresses every time.
Manage surplus cash
Most companies don't have excess cash in the bank. It is a well-known situation. But managing surplus cash for reinvestment in new market opportunities, or debt repayments can be essential to keeping stay in the business. Managers are entirely ready to plan for what to do with the cash surplus if they have the forecast of when and where the business will have surplus cash in the bank account. Cash Flow Statement Proforma will provide supplementary guidance on what to do with a cash surplus.
Identify cash gaps and surpluses before they happen.
Forecasting your future cash balance helps you see well in advance when you may have a cash deficit that could hurt your business. Cash Flow Statement will give you enough time to take action to prevent a crisis. It will enable you to access better loan rates or speed up incoming payment to bridge the gap. On the other side, if you know ahead of time that the large lump of cash will lay in your bank account within the next three months. In this case, you might need to explore options to reinvest it in your business to drive growth.
REPORTS and INPUTS
Performance KPIs
Cost of acquiring new customers. The cost of acquiring new customers is a critical financial metric for start-ups, and it should be in our Ayurveda Center Pro Forma Template. The cost of acquiring new customers is the total cost of the marketing divided by the customers' number during the year.
Liquidity KPIs
Accounts payable turnover (APT). The accounts payable turnover ratio (APT) is a short-term liquidity metric that helps to quantify the rate at which a company pays off its suppliers. Accounts payable turnover shows how many times a company pays off its accounts payable within a certain period.
This financial metric is a short-term debt of a company, and the accounts payable turnover ratio shows how efficiently a company pays its debts.
Financial KPIs
With the help of the financial key performance indicators (KPIs), you can track your company's performance and improve its financial health. This Ayurveda Center 3 Way Financial Model allows showing the key performance indicators in the form of charts.
Dashboard
The All-in-one dashboard in this Ayurveda Center Financial Projection Template contains all core financial inputs and core start-up metrics critical for the companies' financial analysis. It reflects the financial data from a Balance Sheet, an projected p&l statement, and a projected cash flow statement. Moreover, users can obtain financial information in the form of graphs or charts.
Profitability KPIs
EBITDA. Earnings before interest, tax, depreciation, and amortization (EBITDA) measures a company's operating performance based on the Income Statement figures. It is calculated by deduction from the earnings such expenses as interest, taxes, depreciation, and amortization. The formula is: EBITDA = Revenue – Expenses (excluding interest, taxes, depreciation, and amortization).
Operational KPIs
Our Ayurveda Center Financial Model Excel Spreadsheet has various operational performance graphs that will help business owners manage their business' finances and measure their overall performance. These operational performance graphs also help in making wise business decisions that consider the company's financial capability.
The financial graphs in this Ayurveda Center Financial Model In Excel Template help measure the company's financial health showing the operating cash flows' analysis, return on investment, debt to equity ratio, liquidity ratios, and other relevant financial information. Business owners can use these operational performance graphs both for internal and external purposes.
In particular, they can use these graphs to assess the company's overall financial performance or for the assessment of the project's financial feasibility. Such an approach will improve the financial management efficiency of the company. Business owners can also use these charts and graphs for the presentations for potential investors and bankers. The operational performance graphs have all the necessary pre-built formulas, and they are fully formatted. So, the users can just print out them and bring for the meeting with investors.
All in One Place
This Ayurveda Center Financial Projection Model Excel is key for investors. You will need a Cash Flow Proforma to validate how much money you need to start-up with and how much your investor can make on this investment. Remember that investors are not tolerant to start-ups that do not have a business plan or a 3 Way Financial Model Template.
File types:
Excel – Single-User: .xlsx
Excel – Multi-User: .xlsx
Free Demo – .xlsx