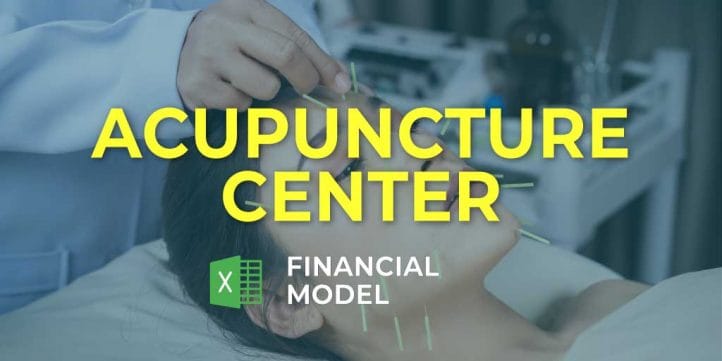 Clinics, Financial Model, Health Care, Wellness
5-year financial projections, Business Valuation, Financial Model, Financial Modeling, Financial Projection, Financial Projections, Free Financial Model Templates, Pro-Forma, Startup Financial Models, Three Statement Model | Three Financial Statements
NOTE: Single-User pertains to a limited Single User License where the template can only be used by one single user; while Multi-User is a license for users sharing the template with up to 20 members. Please refer to Terms of Use and License and Permitted Use for clarification.
ACUPUNCTURE CENTER FINANCIAL MODEL EXCEL KEY FEATURES
Video tutorial:
Build your plan and pitch for funding
Impress bankers and investors with a proven, solid acupuncture center financial model that impresses every time.
Get a Robust, Powerful and Flexible Financial Model
This well-tested, robust and powerful Acupuncture Center Financial Model Excel Spreadsheet is your solid foundation to plan a business model. Advanced users are free to expand and tailor all sheets as desired, to handle specific requirements or to get into greater detail.
Avoid Cash Flow Shortfalls
Unexpected Cash Flow Pro Forma shortfalls can cause significant damage to your business, and it may take months to recover. Negative Cash Flow can appear if you don't continuously track the incoming cash and outgoing of your business. Fortunately, you can solve Startup Cash Flow Statement shortfalls with a bit of effort. Forecasting your Cash Flow Forecast will help you identify — and plan for — market fluctuations, sales seasonality, and other cases that can lead to unpredictable Cash Flow Forecast. Startup Cash Flow Projection can even help you visualize Statement Of Cash Flows trends with the help of automatically generated charts and graphs.
Simple-to-use
A very sophisticated Acupuncture Center Pro Forma Projection, whatever size and stage of development your business is. Minimal previous planning experience and very basic knowledge of Excel is required: however, fully sufficient to get quick and reliable results.
Prove You Can Pay Back the Loan You Requested
When you apply for a business loan, bankers will study your Cashflow Forecast in an attempt to answer this question: Can this business pay back the loan? Requesting a loan without showing your Startup Cash Flow Projection for paying it back is a common way to land in the rejection pile. It is exceptionally accurate if your current cash flow won't cover all of your monthly operating expenses — plus your loan payment. Don't fall into this kind of situation. Use Cash Flow Statement By Month to strengthen your case by showing the banker exactly how you plan to use the loan and when you will start repaying the debt. This type of forecasting helps you create a road map that can impress a lender with the confidence they need to approve your loan.
Update anytime
You can easily adjust inputs at the launch stage and throughout the further activities of your business to refine your Acupuncture Center Cash Flow Proforma.
REPORTS and INPUTS
Financial Statements
Our Acupuncture Center Financial Model In Excel Template has a pre-built integrated financial statement structure that contains all the primary financial statements (Balance sheet, pro forma profit and loss, and cash flow pro forma) and creates financial forecasts for the next five years automatically.
This integrated financial statement structure has pre-built proformas, financial and managerial reports, and financial ratios. Users can choose the presentation of financial information in GAAP or IFRS format for their convenience.
All in One Place
Get a robust and expandable Acupuncture Center Excel Pro Forma Template. You can say that the 3 Way Financial Model is robust if it does not break down when you change your assumptions inside the Startup Financial Model. To make our Financial Model Excel robust and expandable, we have modeled as many scenarios as possible.
We have also foreseen that each business is unique, and users can add, delete, or adjust any financial information in the template.
Dashboard
A financial dashboard in this Acupuncture Center Finance Projection is a useful financial management tool. It helps track all your relevant finance key performance indicators (KPIs), assures effective cash management, and enables financial management to track expenses, sales, and profits in detail to meet and outperform a department or company's financial objectives.
Break Even
This Acupuncture Center Financial Projection Template Excel has a break even point analysis tab that predicts the period within which the company is supposed to move to a new level, i.e., start to bring profits to its owners. break even point excel uses forecasted revenues and expenses and makes Financial Projection Template Excel on the period when its overall revenues become significantly bigger than costs.
Liquidity KPIs
Accounts receivable turnover (ART). In the 3 Way Forecast, the accounts receivables turnover ratio (ART) calculates a metric that assesses a company's effectiveness in collecting its receivables. This ratio shows how successful the company is in managing its debts.
Sources and Uses
The sources and uses statement presented in this Acupuncture Center Financial Projection Template Excel show where a company is making money and spending those funds.
Valuation
With our pre-built valuation template in the Acupuncture Center Excel Financial Model Template, you will receive all the data your investors might need.
The weighted average cost of capital (WACC) will show your stakeholders the minimum return on enterprise funds invested in its activities capital. Free cash flow valuation will show a cash flow available to all investors, including shareholders and creditors. Discounted cash flow will reflect the value of future cash flows in relation to the current time.
File types:
Excel – Single-User: .xlsx
Excel – Multi-User: .xlsx
Free Demo – .xlsx