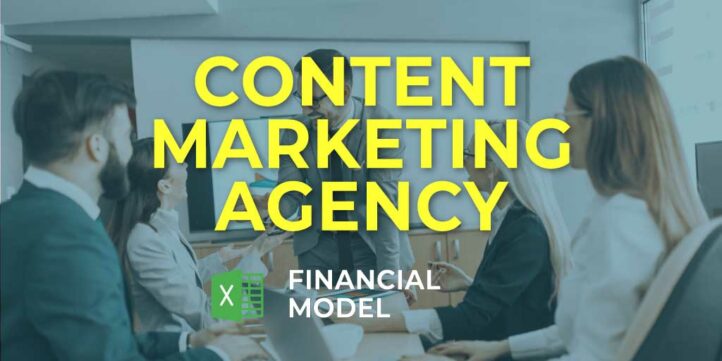 Financial Model, Marketing Agencies, Media, Newspaper & Journals
5-year financial projections, Amortization, Break-Even, Budget, Budgeting, Cap Table, Dashboard, DCF Model, Debt Amortization, Excel, Financial Model, Financial Planning, Financial Projections, Financial Reporting, Financial Statements, Forecast, Forecasting, Loans, NPV (Net Present Value), Pro-Forma, Revenue Projections, Startup Financial Models, Three Statement Model | Three Financial Statements, Uses and Sources of Funds, Valuation
NOTE: Single-User pertains to a limited Single User License where the template can only be used by one single user; while Multi-User is a license for users sharing the template with up to 20 members. Please refer to Terms of Use and License and Permitted Use for clarification.
CONTENT MARKETING AGENCY CASHFLOW PROJECTION KEY FEATURES
Video tutorial:
Spot problems with customer payments
Preparing the Cash Flow Projection encourages the business to look at how quickly customers are paying their debts. Identify unpaid invoices and take necessary actions to make them pay.
Simple and Incredibly Practical
Simple-to-use yet very sophisticated Content Marketing Agency Excel Financial Model tool. Whatever size and stage of development your business is, with minimal planning experience and very basic knowledge of Excel you can get complete and reliable results. Additionally, you will receive uncompromised after-sales service and access to valuable tutorial videos and blog posts.
Confidence in the future
Using our financial model, you can effectively plan, prevent risks, manage stocks and Startup Cash Flow Projection and foresee your prospects for the next 5 years.
Identify cash gaps and surpluses before they happen.
Forecasting your future cash balance helps you see well in advance when you may have a cash deficit that could hurt your business. Cashflow Forecast will give you enough time to take action to prevent a crisis. It will enable you to access better loan rates or speed up incoming payment to bridge the gap. On the other side, if you know ahead of time that the large lump of cash will lay in your bank account within the next three months. In this case, you might need to explore options to reinvest it in your business to drive growth.
Get it Right the First Time
Funding is a binary event: either you succeed or you fail. If you fail, most investors won't give you a second chance. Learn about the pros and cons with Content Marketing Agency Financial Model Excel.
Manage accounts receivable.
By creating a projected cash flow statement that takes invoices and bills into account, you'll be more easily able to identify who is systematically paying late. You could even go on to model different payment dates on overdue invoices to see the real effect of late payments on your cash flow.
REPORTS and INPUTS
All in One Place
Get a robust and expandable Content Marketing Agency Profit Loss Projection. You can say that the Financial Projection Template is robust if it does not break down when you change your assumptions inside the Financial Projection Model Excel. To make our Cash Flow Format In Excel robust and expandable, we have modeled as many scenarios as possible.
We have also foreseen that each business is unique, and users can add, delete, or adjust any financial information in the template.
Break Even
Our Content Marketing Agency Financial Projection Model has proforma for the break even analysis. Companies use break even point analysis to determine the price for their products or services that will generate enough revenue for the company to cover its costs.
Cash Flow KPIs
Operating cash flow. Operating cash flow calculation shows how much cash the company generates from the business operations. This calculation does not include secondary sources of revenue, like interest or investments.
CAPEX
A capital expenditure (CAPEX) reflects the company's investment in a business. Such an investment can be made in a piece of manufacturing equipment, an office supply, a vehicle, or others.
A CAPEX is typically steered towards the goal of rolling out a new product line or expanding a company's existing operations. The company does not report the money spent on CAPEX purchases directly in the pro forma profit and loss statement. It reflects these expenses as an asset in the balance sheets and, at the same time, deducts a part of this amount in the form of depreciation expenses for several years.
Financial Statements
The Content Marketing Agency Pro Forma Budget has a pre-built integrated financial statement structure. It has pre-built templates for the primary financial statements: Balance sheet, profit and loss statement proforma, cash flow statement by month, and Statement of Shareholders' Capital. All these financial statements are precisely defined and interconnected with the inputs and other spreadsheets within the model.
Burn and Runway
The cash burn rate is one of the tabs your future investors may be very interested in. This metrics shows the time left to a complete cash burn. Also, this template shows a cash burn ratio. The calculation is based on your average annual cash balance and average monthly operating cash outflows.
Benchmarks
Financial Projection Model Excel benchmark tab calculates the company's key performance indicators, either business or financial, and finds an industry-wide average as a comparison. The industry average metrics are then used to determine the relative value for benchmarking analysis.
Financial benchmarks are essential for the financial planning of the companies, especially for start-ups. These studies help companies determine the 'best practice' companies within the industry and compare their own financial results with these best practices. It is a useful financial and strategic management tool.
File types:
Excel – Single-User: .xlsx
Excel – Multi-User: .xlsx
Free Demo – .xlsx