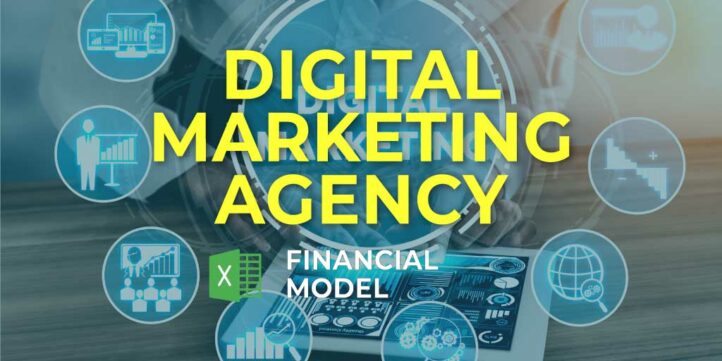 Financial Model, Marketing Agencies, Media
5-year financial projections, Amortization, Break-Even, Budget, Budgeting, Cap Table, Dashboard, DCF Model, Debt Amortization, Excel, Financial Model, Financial Planning, Financial Projections, Financial Reporting, Financial Statements, Forecast, Forecasting, Loans, NPV (Net Present Value), Pro-Forma, Revenue Projections, Startup Financial Models, Three Statement Model | Three Financial Statements, Uses and Sources of Funds, Valuation
NOTE: Single-User pertains to a limited Single User License where the template can only be used by one single user; while Multi-User is a license for users sharing the template with up to 20 members. Please refer to Terms of Use and License and Permitted Use for clarification.
DIGITAL MARKETING AGENCY 3 WAY FORECAST EXCEL TEMPLATE KEY FEATURES
Video tutorial:
Generate growth inspiration
By running various scenarios and looking at the effects they could have on your cash balance, you will begin to see which options are best for your business. Ones that are possible, and what is involved in making them work. Organic growth isn't the only option – there are growing funding options becoming available, and Projected Cash Flow Statement could be a way of looking at the impact an injection of cash could have on your business and its growth plans.
Investors ready
Print ready (including a p&l forecast, a Startup Cash Flow Projection, a balance sheet, and a complete set of financial ratios).
Identify potential shortfalls in cash balances in advance.
The Digital Marketing Agency Five Year Financial Projection Template works like an 'early warning system.' It is, by far, the most significant reason for a Cash Flow Statement For 5 Years.
5 years forecast horizon
Generate fully-integrated Digital Marketing Agency Financial Projection Model Excel for 5 years (on a monthly basis). Automatic aggregation of annual summaries on outputs tabs.
Get Investors to Notice
Most entrepreneurs can't get investors to return their calls. With the Digital Marketing Agency Finance Projection, you will secure meetings with potential investors easily.
Update anytime
With Financial Model Excel Spreadsheet you can easily adjust inputs at the launch stage and throughout the further activities of your store to refine your forecast.
REPORTS and INPUTS
Liquidity KPIs
Accounts receivable turnover (ART). In the Three Statement Financial Model, the accounts receivables turnover ratio (ART) calculates a metric that assesses a company's effectiveness in collecting its receivables. This ratio shows how successful the company is in managing its debts.
Costs
A Digital Marketing Agency Five Year Financial Projection Template is an important financial tool that enables users to identify actual and forecasted expenditures, as well as financial resources needed to cover these costs. With a well-developed cost budget, you can see the areas where you can save money and the areas of high priority. As a part of a business plan, the cost budget supports the process of pitching to investors and loan applications.
CAPEX
A capital expenditure (CAPEX) reflects the company's investment in a business. Such an investment can be made in a piece of manufacturing equipment, an office supply, a vehicle, or others.
A CAPEX is typically steered towards the goal of rolling out a new product line or expanding a company's existing operations. The company does not report the money spent on CAPEX purchases directly in the projected p&l statement. It reflects these expenses as an asset in the balance sheets and, at the same time, deducts a part of this amount in the form of depreciation expenses for several years.
Cash Flow KPIs
Cash balance. The cash balance shows the total amount of money in a financial account of the company. Any company needs to hold in reserve enough amount of cash to meet current obligations.
Top Revenue
This Three Way Financial Model has a tab for a detailed analysis of the company's revenue streams. With this template, users can analyze the revenue streams by each product or service category separately.
Top Expenses
In the Top expenses section of our Digital Marketing Agency Cash Flow Format In Excel, you can track your more significant expenses divided into four categories. The model also has an 'other' category, and you can expand or change this table according to your needs.
You can reflect your company's historical data or make a Financial Projection Excel for the five years.
Financial Statements
Our Digital Marketing Agency Financial Model has a pre-built integrated financial summary that contains all the financial information from other spreadsheets, including the primary financial statements: Balance Sheet, Statement of financial position, and cash flow statement. Our specialists have already formatted this financial summary for your pitch deck.
File types:
Excel – Single-User: .xlsx
Excel – Multi-User: .xlsx
Free Demo – .xlsx