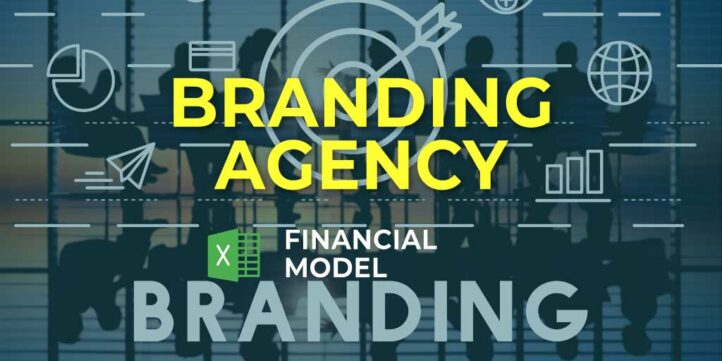 Financial Model, Marketing Agencies
5-year financial projections, Amortization, Break-Even, Budget, Budgeting, Cap Table, Dashboard, DCF Model, Debt Amortization, Excel, Financial Model, Financial Planning, Financial Projections, Financial Reporting, Financial Statements, Forecast, Forecasting, Loans, NPV (Net Present Value), Pro-Forma, Revenue Projections, Startup Financial Models, Three Statement Model | Three Financial Statements, Uses and Sources of Funds, Valuation
NOTE: Single-User pertains to a limited Single User License where the template can only be used by one single user; while Multi-User is a license for users sharing the template with up to 20 members. Please refer to Terms of Use and License and Permitted Use for clarification.
BRANDING AGENCY FINANCIAL MODEL IN EXCEL KEY FEATURES
Video tutorial:
Generate growth inspiration
By running various scenarios and looking at the effects they could have on your cash balance, you will begin to see which options are best for your business. Ones that are possible, and what is involved in making them work. Organic growth isn't the only option – there are growing funding options becoming available, and Cash Flow Statement For 5 Years could be a way of looking at the impact an injection of cash could have on your business and its growth plans.
Get Investors to Notice
Most entrepreneurs can't get investors to return their calls. With the Branding Agency Finance Projection, you will secure meetings with potential investors easily.
Identify cash gaps and surpluses before they happen.
Forecasting your future cash balance helps you see well in advance when you may have a cash deficit that could hurt your business. Cashflow Forecast will give you enough time to take action to prevent a crisis. It will enable you to access better loan rates or speed up incoming payment to bridge the gap. On the other side, if you know ahead of time that the large lump of cash will lay in your bank account within the next three months. In this case, you might need to explore options to reinvest it in your business to drive growth.
Saves you time
Financial Projection Model allows you to spend less time on finances and more time on your products, customers and business development
Currency for inputs and denomination
In Financial Model Excel Spreadsheet define any currency code or symbol and preferred denomination (e.g. 000s) to reflect your preferences.
5 years forecast horizon
Generate fully-integrated Branding Agency Three Statement Financial Model for 5 years (on a monthly basis). Automatic aggregation of annual summaries on outputs tabs.
REPORTS and INPUTS
Top Revenue
When the company's management starts to make a Cash Flow Proforma, revenue is the most crucial component in the Financial Model In Excel. Revenue is one of the main drivers of the enterprise's value in the 3 Way Forecast. That is why financial analysts must pay special attention to the planning and devising the best strategy to approach modeling future revenue streams.
Revenue forecasts should also have assumptions about the growth rate based on historical financial data. Users can find all the components of wise financial planning of the revenue streams in our Branding Agency Financial Projection Model Excel.
Costs
A Branding Agency Cash Flow Format In Excel is an important financial tool that enables users to identify actual and forecasted expenditures, as well as financial resources needed to cover these costs. With a well-developed cost budget, you can see the areas where you can save money and the areas of high priority. As a part of a business plan, the cost budget supports the process of pitching to investors and loan applications.
Valuation
This Branding Agency Cash Flow Proforma Template contains a valuation analysis template that will allow users to perform a Discounted Cash Flow valuation (DCF). It will also help users analyze such financial metrics as residual value, replacement costs, market comparables, recent transaction comparables, etc.
Cash Flow KPIs
Cash balance. The cash balance shows the total amount of money in a financial account of the company. Any company needs to hold in reserve enough amount of cash to meet current obligations.
All in One Place
This Branding Agency Three Statement Financial Model Template will give the entrepreneurs financial assumptions regarding costs and income that can be brought together to get the business's full picture.
CAPEX
Detailed capital expenditure (i.e., CAPEX ) planning and automatic calculation of depreciation is an essential part of any Cash Flow Format In Excel. Our CAPEX calculation template allows users to apply straight-line or double-declining balance depreciation for financial planning purposes.
Operational KPIs
Financial graphs and charts in this Branding Agency Financial Projection Model Excel help the stakeholders visually track liquidity, budgets, expenses, cash flow, and many other company financial metrics. These graphs will also help a company's management avoid problems by reflecting its financial data in real-time, with a comprehensive financial information overview.
These operational performance graphs will help the business owners and financial managers ensure the best possible performance and financial health of their company because regular financial analytics procedures and the highest quality of financial data are the company's top priorities.
Our financial graphs will also help the company's financial specialists raise financial issues at the general meetings and deliver understandable financial information to other departments and external stakeholders.
File types:
Excel – Single-User: .xlsx
Excel – Multi-User: .xlsx
Free Demo – .xlsx