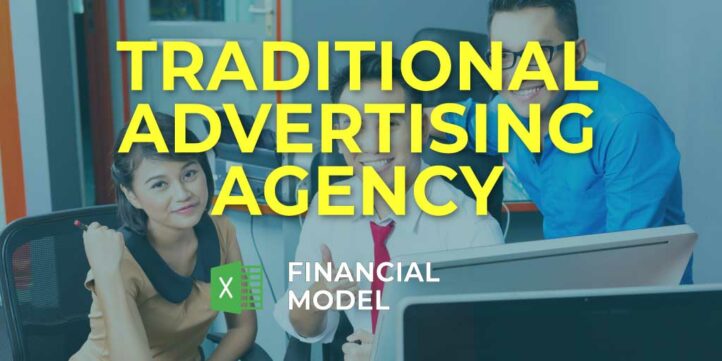 Financial Model, Marketing Agencies, Media, Newspaper & Journals, Service Businesses
5-year financial projections, Amortization, Break-Even, Budget, Budgeting, Business Valuation, Cap Table, Cash Flow Projections, Dashboard, DCF Model, Debt Amortization, Debt Schedule, Excel, Financial Feasibility, Financial Model, Financial Projections, Financial Reporting, Financial Statements, Forecast, Forecasting, Loans, NPV (Net Present Value), Pro-Forma, Profitability Analysis, Revenue Projections, Startup Financial Models, Three Statement Model | Three Financial Statements, Uses and Sources of Funds, Valuation
NOTE: Single-User pertains to a limited Single User License where the template can only be used by one single user; while Multi-User is a license for users sharing the template with up to 20 members. Please refer to Terms of Use and License and Permitted Use for clarification.
TRADITIONAL ADVERTISING AGENCY 3 WAY FINANCIAL MODEL TEMPLATE KEY FEATURES
Video tutorial:
Graphical visualization in a convenient dashboard all in one
All necessary reports and calculations, including variable data for your easement, are displayed on a convenient Financial Projection Excel dashboard tab. You do not need to move between sheets to compare important data – everything is visible immediately.
Gaining trust from stakeholders
Investors and financing providers tend to think in terms of the big picture. They want the c-level of the companies they invest in to do the same to ensure they maintain a clear idea of the future. Providing stakeholders with a monthly pro forma cash flow projection will demonstrate a level of awareness that leads to confidence and trust and will make it easier to raise more investment.
Update anytime
You can easily adjust inputs at the launch stage and throughout the further activities of your business to refine your Traditional Advertising Agency Budget Financial Model.
Manage surplus cash
Most companies don't have excess cash in the bank. It is a well-known situation. But managing surplus cash for reinvestment in new market opportunities, or debt repayments can be essential to keeping stay in the business. Managers are entirely ready to plan for what to do with the cash surplus if they have the forecast of when and where the business will have surplus cash in the bank account. Cash Flow Statement Projection will provide supplementary guidance on what to do with a cash surplus.
It is part of the reports set you need.
It doesn't matter you are worried about cash or not, setting up, and managing a Traditional Advertising Agency 3 Way Financial Model should be a cornerstone of your reporting set. It's the main report of your business that must have in place to grow sustainably. Before you rush into rent more office space or making a new hire, you should always run a Startup Cash Flow Projection scenario. You can model how that action would impact your cash balance in the nearest future. Knowing whether or not plans are possible is crucial to minimizing risk.
Get a robust, powerful financial model which is fully expandable
This well-tested, robust and powerful Traditional Advertising Agency 3 Way Financial Model is your solid foundation to plan traditional advertising agency business model. Advanced users are free to expand and tailor all sheets as desired, to handle specific requirements or to get into greater detail.
REPORTS and INPUTS
Sources and Uses
The sources and uses statement presented in this Traditional Advertising Agency 3 Way Forecast Model show where a company is making money and spending those funds.
Top Expenses
This Traditional Advertising Agency Budget Financial Model has a Top expenses tab that displays your company's four most significant expense categories and the rest of the expenses as the 'other'.
Benchmarks
The financial benchmarking study tab in this Five Year Financial Projection Template will help the companies assess their key performance indicators and compare them with other companies' KPIs.
The term 'benchmarking' means the process of comparing the business, financial or other metrics of your company to that of other firms within the same industry. It is essential to use other businesses' best practices in the same industry as a 'benchmark' to improve your own company's standards.
As a result of the benchmarking study, companies can learn how to operate in a certain industry more efficiently. This benefit makes the financial benchmarking study an essential planning tool for start-ups.
Valuation
With our pre-built valuation template in the Traditional Advertising Agency Budget Financial Model, you will receive all the data your investors might need.
The weighted average cost of capital (WACC) will show your stakeholders the minimum return on enterprise funds invested in its activities capital. Free cash flow valuation will show a cash flow available to all investors, including shareholders and creditors. Discounted cash flow will reflect the value of future cash flows in relation to the current time.
Cash Flow KPIs
Cash balance. The cash balance shows the total amount of money in a financial account of the company. Any company needs to hold in reserve enough amount of cash to meet current obligations.
Break Even
break even excel calculation is a part of this Traditional Advertising Agency Profit Loss Projection. This financial indicator is essential for every start-up to understand whether it is appropriate for doing this kind of business.
Break-even analysis shows the company's required revenue level that will cover all the business costs, including taxes. When this revenue level is reached, the company begins to bring in profits, which means that the start-up investments start to pay off.
Performance KPIs
Cost of acquiring new customers. The cost of acquiring new customers is a critical financial metric for start-ups, and it should be in our Traditional Advertising Agency Pro Forma. The cost of acquiring new customers is the total cost of the marketing divided by the customers' number during the year.
File types:
Excel – Single-User: .xlsx
Excel – Multi-User: .xlsx
Free Demo – .xlsx