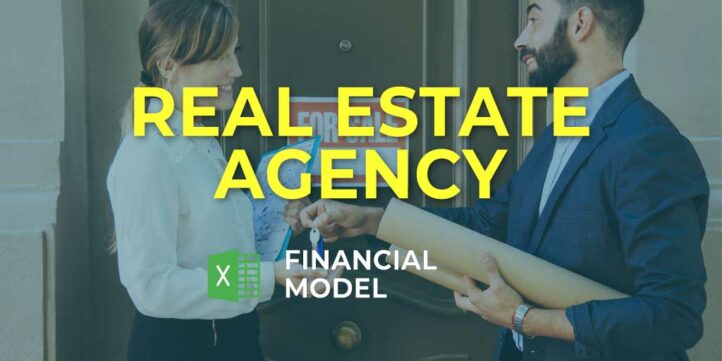 Commercial Properties, Financial Model, Furnished Apartments, Marketing Agencies, Real Estate, Residential Properties, Service Businesses
5-year financial projections, Amortization, Break-Even, Budget, Budgeting, Cap Table, Dashboard, DCF Model, Debt Amortization, Excel, Financial Model, Financial Planning, Financial Projections, Financial Reporting, Financial Statements, Forecast, Forecasting, Loans, NPV (Net Present Value), Revenue Projections, Three Statement Model | Three Financial Statements, Uses and Sources of Funds, Valuation
NOTE: Single-User pertains to a limited Single User License where the template can only be used by one single user; while Multi-User is a license for users sharing the template with up to 20 members. Please refer to Terms of Use and License and Permitted Use for clarification.
REAL ESTATE AGENCY BUDGET FINANCIAL MODEL KEY FEATURES
Video tutorial:
Gaining trust from stakeholders
Investors and financing providers tend to think in terms of the big picture. They want the c-level of the companies they invest in to do the same to ensure they maintain a clear idea of the future. Providing stakeholders with a monthly projected cash flow statement format will demonstrate a level of awareness that leads to confidence and trust and will make it easier to raise more investment.
Print-ready Reports
Solid package of print-ready reports, including a pro forma income statement, cashflow forecast, a balance sheet, and a complete set of financial ratios.
Track your spending and staying within budget
Have you written a vague idea of cash inflows and cash outflows on the back of a napkin? All is well and good. Looking at the profit and loss projection will give you a snapshot of the past business performance, but it won't show the future in terms of the Cash Flow Statement For 5 Years. With a projected cashflow statement, you can plan future cash inflows and cash outflows and compare it to the budget, which can be invaluable information.
Get Investors to Notice
Most entrepreneurs can't get investors to return their calls. With the Real Estate Agency Startup Financial Model, you will secure meetings with potential investors easily.
Build your plan and pitch for funding
Impress bankers and investors with a proven, solid real estate agency financial model that impresses every time.
Graphical visualization in a convenient dashboard all in one
All necessary reports and calculations, including variable data for your easement, are displayed on a convenient Budget Spreadsheet dashboard tab. You do not need to move between sheets to compare important data – everything is visible immediately.
REPORTS and INPUTS
Cap Table
The Cap table template in our Real Estate Agency Financial Model Excel Template includes four rounds of financing, and it shows how the shares issued to new investors impact the investment income. After each round of financing, the Cap table shows users the ownership structure and the percentage of changes, i.e., the dilution.
Sources and Uses
As you can understand from the title, a Sources and Uses of Funds statement represents the company's financing sources and spending policies.
In respect of the 'Sources', this statement shows the company's money for its business activities and how it gets this money. Usually, companies have a mix of funding sources, such as business loans, investors' money, share issue, and others.
The 'Uses' section of the Sources and Uses statement shows the stakeholders how the company spends its money. For example, this statement may reflect the cost of land, building, or equipment the company plans to acquire. It also may reflect the start-up costs.
Financial KPIs
In the Financial Model In Excel you can visually track your key financial indicators (KPIs) for 24 months and up to five years.
The model all KPIs you might need for your company:
– EBITDA/EBIT shows your company's operational performance;
– CASH FLOWS show your company's inflows and outflows;
– CASH BALANCE this is the forecast of cash in hand you will have.
Operational KPIs
Our Real Estate Agency Cashflow Projection has various operational performance graphs that will help business owners manage their business' finances and measure their overall performance. These operational performance graphs also help in making wise business decisions that consider the company's financial capability.
The financial graphs in this Real Estate Agency Cash Flow Proforma Template help measure the company's financial health showing the operating cash flows' analysis, return on investment, debt to equity ratio, liquidity ratios, and other relevant financial information. Business owners can use these operational performance graphs both for internal and external purposes.
In particular, they can use these graphs to assess the company's overall financial performance or for the assessment of the project's financial feasibility. Such an approach will improve the financial management efficiency of the company. Business owners can also use these charts and graphs for the presentations for potential investors and bankers. The operational performance graphs have all the necessary pre-built formulas, and they are fully formatted. So, the users can just print out them and bring for the meeting with investors.
Costs
Start-up costs are an essential part of any Financial Projection Template. They begin to accrue before actual operations start, so it is crucial to monitor them early to avoid overspendings and underfunding. Our Real Estate Agency Cash Flow Proforma Template has the proforma for start-up costs that show both funding and expenses. You can use this proforma to monitor your expenses and create cost budgets.
CAPEX
CapEx is important both for the start-ups and actively growing companies that put their efforts in investing in a new property, plant, and equipment (PP&E), as well as new products and new technologies. Such capital expenditures usually make a significant part of the company's expenditures; therefore, financial analysts and investors pay close attention to this financial report.
The company should reflect its capital expenditures in the Balance Sheet, and this type of expenditure does not significantly impact cash flows.
Top Revenue
This Excel Pro Forma has a tab for a detailed analysis of the company's revenue streams. With this template, users can analyze the revenue streams by each product or service category separately.
File types:
Excel – Single-User: .xlsx
Excel – Multi-User: .xlsx
Free Demo – .xlsx