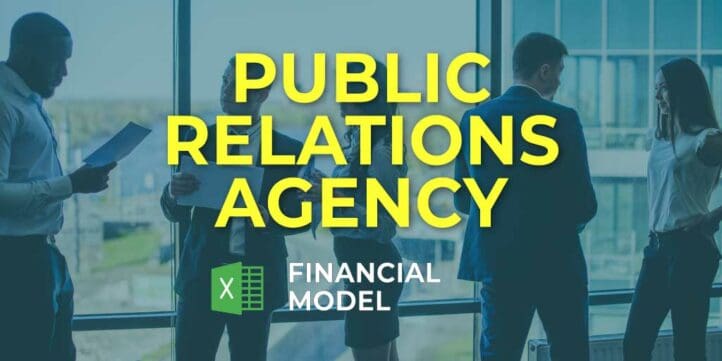 Event Organizers, Financial Model, Marketing Agencies, Service Businesses
5-year financial projections, Amortization, Break-Even, Budget, Budgeting, Cap Table, Dashboard, DCF Model, Debt Amortization, Excel, Financial Model, Financial Planning, Financial Projections, Financial Reporting, Financial Statements, Forecast, Forecasting, Loans, NPV (Net Present Value), Pro-Forma, Revenue Projections, Startup Financial Models, Three Statement Model | Three Financial Statements, Uses and Sources of Funds, Valuation
NOTE: Single-User pertains to a limited Single User License where the template can only be used by one single user; while Multi-User is a license for users sharing the template with up to 20 members. Please refer to Terms of Use and License and Permitted Use for clarification.
PUBLIC RELATIONS AGENCY FINANCIAL PROJECTION TEMPLATE EXCEL KEY FEATURES
Video tutorial:
Save time and money
Via Excel Pro Forma you can without effort and special education get all the necessary calculations and you will not need to spend money on expensive financial consultants. Your task is building a strategy, evolution, and creativity, and we have already done the routine calculations instead of you.
We do the math
3 Way Financial Model Template has all the required features ready with no formula writing, no formatting, no programming, no charting, and no expensive external consultants! Concentrate on the task of planning rather than programming.
Manage accounts receivable.
By creating a projected cashflow statement that takes invoices and bills into account, you'll be more easily able to identify who is systematically paying late. You could even go on to model different payment dates on overdue invoices to see the real effect of late payments on your cash flow.
Get Investors to Notice
Most entrepreneurs can't get investors to return their calls. With the Public Relations Agency Financial Projection Template, you will secure meetings with potential investors easily.
It is part of the reports set you need.
It doesn't matter you are worried about cash or not, setting up, and managing a Public Relations Agency Three Statement Financial Model Template should be a cornerstone of your reporting set. It's the main report of your business that must have in place to grow sustainably. Before you rush into rent more office space or making a new hire, you should always run a Cash Flow Statement Forecast scenario. You can model how that action would impact your cash balance in the nearest future. Knowing whether or not plans are possible is crucial to minimizing risk.
Saves you time
Financial Projection Template allows you to spend less time on finances and more time on your products, customers and business development
REPORTS and INPUTS
Cap Table
The Financial Projection Excel and its Capitalization table (or Cap table) summarizes your investors' information, their share in the company, and how much they have paid for these shares.
Financial KPIs
A Public Relations Agency Pro Forma Template Excel outputs include both company and sector-specific key performance indicators KPIs. These KPIs include profitability metrics, cash flow metrics, and liquidity metrics. It also has KPIs crucial for the attraction of investments.
Operational KPIs
Financial graphs and charts in this Public Relations Agency Cash Flow Format In Excel help the stakeholders visually track liquidity, budgets, expenses, cash flow, and many other company financial metrics. These graphs will also help a company's management avoid problems by reflecting its financial data in real-time, with a comprehensive financial information overview.
These operational performance graphs will help the business owners and financial managers ensure the best possible performance and financial health of their company because regular financial analytics procedures and the highest quality of financial data are the company's top priorities.
Our financial graphs will also help the company's financial specialists raise financial issues at the general meetings and deliver understandable financial information to other departments and external stakeholders.
Costs
Our Public Relations Agency Cash Flow Proforma has a well-developed methodology for creating a cost budget. You can plan and forecast your costs from operations and other expenses for up to 72 months. The cost budget has a detailed hiring plan while also automatically handling the expenses' accounting treatment. You can set salaries, job positions, and the time of hiring.
Moreover, the model allows users to calculate hiring as the company scales automatically. Pre-built expense forecasting curves enable users to set how an expense changes over time. These pre-built options include % of revenues, % of salaries, % of any revenue category, growth (or decline) rates that stay the same or change over time, ongoing expenses, expenses that periodically reoccur, expenses that regularly change, and many more. Costs can be allocated to key expense areas and labeled for accounting treatment as SG&A, COGS, or CAPEX.
Burn and Runway
Our Public Relations Agency Financial Model Excel automatically creates cash runway and cash burn analysis based on the forecasted revenues and expenses that, in their turn, show net loss, net profit, cash on hand, and excel break even formula. You can also forecast funding requirements using a set of parameters around funding (e.g., equity, debt, grants) and expected runway to raise (for example, 18 months of forecasted expenses).
All in One Place
A well-developed and easy-to-use 3 Way Forecast Model. You do not to be a financial expert to design your start-up Financial Projection Template. Everything you need is the right set of financial tools, and our Public Relations Agency Budget Spreadsheet will give you them.
Benchmarks
This Pro Forma Projection has a tab for financial benchmarking study. This study involves a financial analysis performance and comparing the company's results with other companies' financial indicators in the industry. Conduction of the financial benchmarking study helps users assess a company's overall competitiveness, efficiency, and productivity.
File types:
Excel – Single-User: .xlsx
Excel – Multi-User: .xlsx
Free Demo – .xlsx