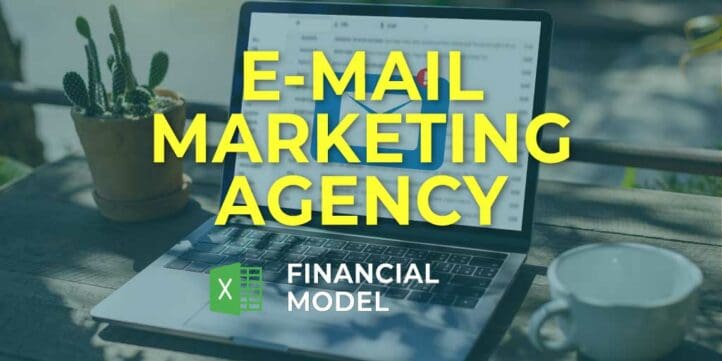 Financial Model, Marketing Agencies, Media
5-year financial projections, Amortization, Break-Even, Budget, Budgeting, Cap Table, Dashboard, DCF Model, Debt Amortization, Excel, Financial Model, Financial Planning, Financial Projections, Financial Reporting, Financial Statements, Forecast, Forecasting, Loans, Pro-Forma, Revenue Projections, Startup Financial Models, Three Statement Model | Three Financial Statements, Uses and Sources of Funds, Valuation
NOTE: Single-User pertains to a limited Single User License where the template can only be used by one single user; while Multi-User is a license for users sharing the template with up to 20 members. Please refer to Terms of Use and License and Permitted Use for clarification.
EMAIL MARKETING AGENCY FINANCIAL MODEL IN EXCEL KEY FEATURES
Video tutorial:
Build your plan and pitch for funding
Impress bankers and investors with a proven, strategic Email Marketing Agency Cashflow Projection that impresses every time.
Plan for Future Growth
Cash Flow Statement Projection can help you plan for future growth and expansion. No matter you're extending your company with new employees and need to take into account increased staff expenses. Or to scale production to keep up with increased sales, future projections help you see accurately where you're running — and how you'll get there. Forecasting is also a well-known goal-setting framework to help you plan out the financial steps your company has to take to reach targets. There's power in Cashflow Forecast and the insight they can provide your business. Fortunately, this competitive advantage comes with little effort when you use the Cash Flow Statement Forecast.
Convince investors and lenders
Enhance your pitches and impress potential financiers with a 3 Way Forecast Model delivering the right information and expected financial and operational metrics. Facilitate your negotiations with investors for successful funding. Raise money more quickly and refocus on your core business.
Great Value for Money
Use a robust and proven Email Marketing Agency Financial Model Excel based on years of experience at an affordable price. This financial projection has a one-off payment and absolutely no hidden fees or monthly payments.
Integrated Model to convince Investors
Financial Model includes and connects everything (assumptions, calculations, outputs) and presents it in an investor-friendly, deal-proven way.
Track your spending and staying within budget
Have you written a vague idea of cash inflows and cash outflows on the back of a napkin? All is well and good. Looking at the p&l projection will give you a snapshot of the past business performance, but it won't show the future in terms of the Cash Flow Projection. With a cash flow statement by month, you can plan future cash inflows and cash outflows and compare it to the budget, which can be invaluable information.
REPORTS and INPUTS
All in One Place
Our Email Marketing Agency Financial Model Excel Spreadsheet has all financial reports crucial for start-ups and existing businesses. It has proformas for p&l forecast, cash flow pro forma, and balance sheet. It also has templates for performance reviews and summaries on a monthly, quarterly, and annual basis.
Profitability KPIs
Growth of net income. Many financial metrics can be calculated from the Email Marketing Agency Financial Model In Excel. Entrepreneurs want to see the growth of their company, and the growth of net income is one of the essential metrics that shows that the company is growing and developing. This metric means that the sales are growing and costs are managed wisely, and, respectively, the profit and loss proforma shows the net income growth.
Top Expenses
The Top expenses tab of the Email Marketing Agency Excel Pro Forma reflects your company's annual expenses, both total and grouped by four categories.
This Financial Projection provides an overview of annual expenses on customer acquisition, COSS placeholders, wages & salaries, fixed and variable expenses, and all other expenses.
Financial Statements
The Email Marketing Agency Financial Model In Excel Template has a pre-built integrated financial statement structure. It has pre-built templates for the primary financial statements: Balance sheet, projected income statement, cash flow statement, and Statement of Shareholders' Capital. All these financial statements are precisely defined and interconnected with the inputs and other spreadsheets within the model.
Operational KPIs
Our Email Marketing Agency Financial Projection Template Excel has convenient, informative, and easy-to-use operational performance graphs. Here you may visually track your company's key operational performance indicators (KPIs) in the form of charts. These operational performance graphs show the stakeholders the financial information related to the company's liquidity, revenues, expenses, cash flows, and other financial metrics. This financial information in the form of graphs will help a business owner to create presentations for banks and investors with minimum efforts.
Valuation
With our pre-built valuation template in the Email Marketing Agency Cash Flow Proforma Template, you will receive all the data your investors might need.
The weighted average cost of capital (WACC) will show your stakeholders the minimum return on enterprise funds invested in its activities capital. Free cash flow valuation will show a cash flow available to all investors, including shareholders and creditors. Discounted cash flow will reflect the value of future cash flows in relation to the current time.
Break Even
A break even point analysis tab in this 3 Way Forecast Excel Template shows the excel break even formula. This calculation illustrates when your company is supposed to become profitable. In other words, a break even excel indicates when the company's overall revenues exceed its expenses.
File types:
Excel – Single-User: .xlsx
Excel – Multi-User: .xlsx
Free Demo – .xlsx