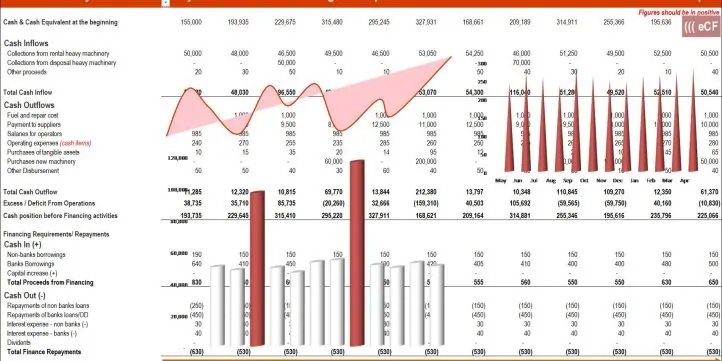 Construction, Equipment Rental, Financial Model, Manufacturing, Service Businesses
Cash Flow Projections, Excel, Financial Model, Financial Modeling, Financial Planning, Financial Projections, Financial Statements
Need help with keeping track of all cash flow of your business for Rental Heavy Machinery? If you do, then try this Cash Flow Projection for Rental Heavy Machinery Excel Template.
This template will help you analyze where the cash is coming from and going out, as cash flow statements are prepared. It has three main categories which are:
Operating cash flows which include day-to-day transactions
Investing cash flows which includes transactions that are done for expansion purposes
Financing cash flows which includes transactions relating to the amount of dividend paid out to stockholders
A Rental machinery business highly relies on tracking the cash flows which is critical to the business, therefore, the cash flow projection is necessary to keep your business moving. Basically, this model template is mainly for rental heavy machinery, however, it is very easy to customize for your business.
The Paid version and Free version are both designed to open in MS Excel with .xlsx file types.