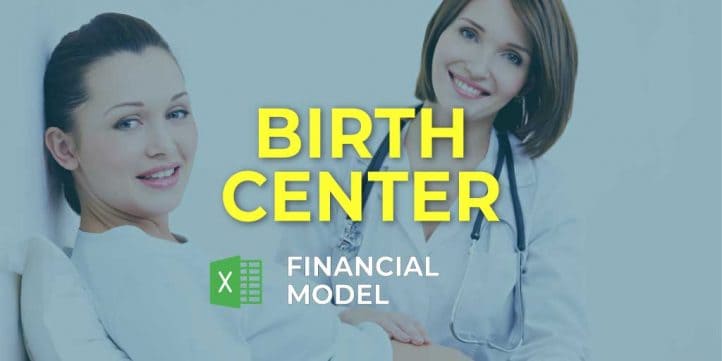 Clinics, Financial Model, Health Care, Hospitals
5-year financial projections, Business Valuation, Financial Model, Financial Modeling, Financial Projection, Financial Projections, Free Financial Model Templates, Pro-Forma, Startup Financial Models, Three Statement Model | Three Financial Statements
NOTE: Single-User pertains to a limited Single User License where the template can only be used by one single user; while Multi-User is a license for users sharing the template with up to 20 members. Please refer to Terms of Use and License and Permitted Use for clarification.
BIRTH CENTER CASH FLOW PROFORMA KEY FEATURES
Video tutorial:
Saves you time
Pro Forma Template allows you to spend less time on finances and more time on your products, customers and business development
Saves you time
Allows you to spend less time on Statement Of Cash Flows and more time on your products, customers and business development
Manage accounts receivable.
By creating a cashflow forecast that takes invoices and bills into account, you'll be more easily able to identify who is systematically paying late. You could even go on to model different payment dates on overdue invoices to see the real effect of late payments on your cash flow.
Get it Right the First Time
Funding is a binary event: either you succeed or you fail. If you fail, most investors won't give you a second chance. Learn about the pros and cons with Birth Center Financial Projection Template.
Key Metrics Analysis
Creates 5-year Birth Center Pro Forma Budget, proforma, financial statements, and financial ratios in GAAP or IFRS formats on the fly.
Integrated Model to convince Investors
Financial Projection Template includes and connects everything (assumptions, calculations, outputs) and presents it in an investor-friendly, deal-proven way.
REPORTS and INPUTS
Valuation
With our pre-built valuation template in the Birth Center Excel Pro Forma, you will receive all the data your investors might need.
The weighted average cost of capital (WACC) will show your stakeholders the minimum return on enterprise funds invested in its activities capital. Free cash flow valuation will show a cash flow available to all investors, including shareholders and creditors. Discounted cash flow will reflect the value of future cash flows in relation to the current time.
Costs
A Birth Center Financial Model Excel Template is an important financial tool that enables users to identify actual and forecasted expenditures, as well as financial resources needed to cover these costs. With a well-developed cost budget, you can see the areas where you can save money and the areas of high priority. As a part of a business plan, the cost budget supports the process of pitching to investors and loan applications.
Financial Statements
The template has a three-statement Pro Forma with integrated proformas. It allows users to create a company's Balance Sheet, pro forma p&l statement, and a startup cash flow statement with minimum efforts. For these proformas, users can input either historical or forecasted financial data. Forecasted financial statements show how a company will perform under various circumstances and allow users to integrate different assumptions in the 3 Way Forecast Model.
For example, the company's management can see the economic impact of its decisions, such as price changes.
Our well-built Birth Center Cash Flow Format In Excel shows stakeholders how the company's functions work together and how management's decisions impact its overall financial performance.
Loan opt-in
Similar to the amortization of the Birth Center Budget Financial Model assets, a loan amortization reflects the spreading out the repayment of a loan for a certain period that covers several reporting periods. The process of loan amortization includes a series of fixed payments over time. Usually, companies make these payments on a monthly basis, but there may also be quarterly or annual payments.
All in One Place
Our Birth Center Five Year Financial Projection Template has all financial reports crucial for start-ups and existing businesses. It has proformas for pro forma income statement for startup, pro forma cash flow projection, and balance sheet. It also has templates for performance reviews and summaries on a monthly, quarterly, and annual basis.
Dashboard
This Birth Center Cash Flow Format In Excel has an all-in-one dashboard. This tab is a snapshot of a business's start-up metrics at a particular point in time. You can see your core start-up financials, revenue breakdown by years, cash flow statement data, profitability forecasts, and cumulative cash flow on this dashboard in the form of charts and graphs.
Burn and Runway
The cash burn rate is one of the tabs your future investors may be very interested in. This metrics shows the time left to a complete cash burn. Also, this template shows a cash burn ratio. The calculation is based on your average annual cash balance and average monthly operating cash outflows.
File types:
Excel – Single-User: .xlsx
Excel – Multi-User: .xlsx
Free Demo – .xlsx