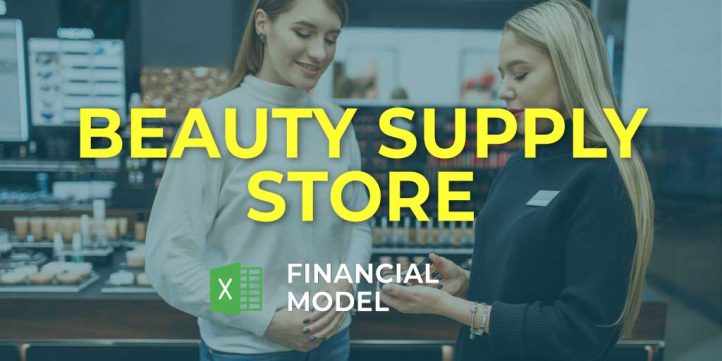 NOTE: Single-User pertains to a limited Single User License where the template can only be used by one single user; while Multi-User is a license for users sharing the template with up to 20 members. Please refer to Terms of Use and License and Permitted Use for clarification.
BEAUTY SUPPLY STORE BUDGET SPREADSHEET KEY FEATURES
Video tutorial:
Get a Robust, Powerful and Flexible Financial Model
This well-tested, robust and powerful Beauty Supply Store Profit Loss Projection is your solid foundation to plan a business model. Advanced users are free to expand and tailor all sheets as desired, to handle specific requirements or to get into greater detail.
Investors ready
Print ready (including a profit and loss proforma, a Cash Flow Statement Forecast, a balance sheet, and a complete set of financial ratios).
Update anytime
With Cash Flow Proforma Template you can easily adjust inputs at the launch stage and throughout the further activities of your store to refine your forecast.
Print-ready Reports
Solid package of print-ready reports, including a forecasted income statement, cash flow pro forma, a balance sheet, and a complete set of financial ratios.
Convenient, All-In-One Dashboard
Includes all required forecasting reports, including assumptions, profit and loss proforma, cash flow statement by month, balance sheets, performance reviews and summaries for months and years (incl. numerous graphs and KPIs).
Build your plan and pitch for funding
Impress bankers and investors with a proven, strategic Beauty Supply Store Pro Forma Projection that impresses every time.
REPORTS and INPUTS
CAPEX
A capital expenditure (CAPEX) reflects the company's investment in a business. Such an investment can be made in a piece of manufacturing equipment, an office supply, a vehicle, or others.
A CAPEX is typically steered towards the goal of rolling out a new product line or expanding a company's existing operations. The company does not report the money spent on CAPEX purchases directly in the pro forma profit and loss. It reflects these expenses as an asset in the balance sheets and, at the same time, deducts a part of this amount in the form of depreciation expenses for several years.
All in One Place
We created the fully modular Budget Spreadsheet that separates the financial core: financial statements, operating costs, hiring plan, cap table, valuation, and actuals reporting. It contains growth forecasts and revenue projections, and you can easily change or delete any input or projection.
The Budget Spreadsheet structure allows extending it by adding additional details or financial forecasting methods for specific business types. All cells and formulas are completely open and unlocked so that you can edit or change anything in the Beauty Supply Store 3 Way Forecast Excel Template.
Dashboard
In this Pro Forma Template Excel, users will find a Dashboard with core financial metrics relevant to their business. This financial dashboard is a snapshot of all critical financial metrics at a particular point in time. In particular, on this dashboard, you will see your core financials, such as revenue breakdown by years, cash flow pro forma, profitability forecasts, and cumulative cash flows.
Top Expenses
In the Top expenses section of our Beauty Supply Store Cash Flow Format In Excel, you can track your more significant expenses divided into four categories. The model also has an 'other' category, and you can expand or change this table according to your needs.
You can reflect your company's historical data or make a Budget Spreadsheet for the five years.
Profitability KPIs
EBIT. Earnings before interest and tax (EBIT) is a measure of a company's earning power from ongoing operations, equal to earnings before deduction of interest payments and income taxes. EBIT shows the operating performance of the company that excludes income and expenditures from unusual and non-operational activities.
Costs
Start-up costs are an essential part of any 3 Way Forecast. They begin to accrue before actual operations start, so it is crucial to monitor them early to avoid overspendings and underfunding. Our Beauty Supply Store Financial Projection Model Template has the proforma for start-up costs that show both funding and expenses. You can use this proforma to monitor your expenses and create cost budgets.
Liquidity KPIs
Working Capital. The working capital financial metric reflects the money you need for short-term operations. Working capital shows the difference between current assets and current liabilities.
File types:
Excel – Single-User: .xlsx
Excel – Multi-User: .xlsx
Free Demo – .xlsx