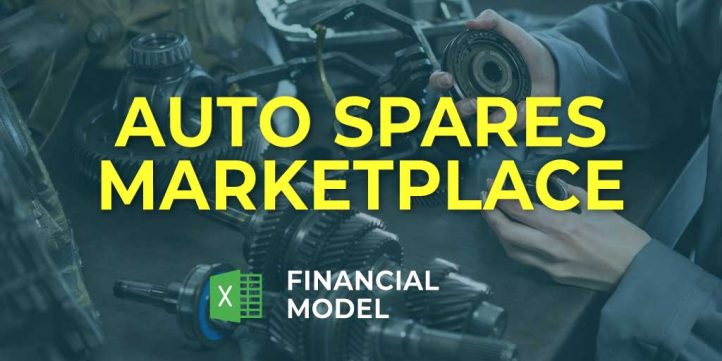 NOTE: Single-User pertains to a limited Single User License where the template can only be used by one single user; while Multi-User is a license for users sharing the template with up to 20 members. Please refer to Terms of Use and License and Permitted Use for clarification.
AUTO SPARES MARKETPLACE BUDGET SPREADSHEET KEY FEATURES
Run different scenarios
A Cash Flow Statement For 5 Years shows you what your cash balance will look like taking into account the numbers you put into the template. It means you can play with the various variables that impact your cash flow forecast, i.e., wages, sales inflow, supplier payments, taxes, and so on. By adjusting the input amounts, you will be able to see what impact they will have on your businesses' cash flow and when this impact is likely to occur. A well-known example of this is the ability to forecast the effect a new member of staff might have on your cash flow over different periods. Increase the wage costs and see what happens to your cash flow. Running different scenarios in your Cash Flow Statement By Month can have several benefits.
Simple-to-use
A very sophisticated Auto Spares Marketplace Financial Model Excel Template, whatever size and stage of development your business is. Minimal previous planning experience and very basic knowledge of Excel is required: however, fully sufficient to get quick and reliable results.
Better decision making
Make better operational decisions with the help of creating Pro Forma Cash Flow Projection scenarios in your Excel Template. Perhaps you have to choose between new staff members or investment in equipment, and you are wondering which decision to chose. Variants forecasting will give you the information you need to make these decisions with confidence that you know what impact they will have on your cash balance.
It is part of the reports set you need.
It doesn't matter you are worried about cash or not, setting up, and managing a Auto Spares Marketplace Five Year Financial Projection Template should be a cornerstone of your reporting set. It's the main report of your business that must have in place to grow sustainably. Before you rush into rent more office space or making a new hire, you should always run a Cash Flow Forecast scenario. You can model how that action would impact your cash balance in the nearest future. Knowing whether or not plans are possible is crucial to minimizing risk.
External stakeholders, such as banks, may require a regular forecast.
If the business has a bank loan, the bank will ask for an Auto Spares Marketplace Cashflow Projection regularly.
Get it Right the First Time
Funding is a binary event: either you succeed or you fail. If you fail, most investors won't give you a second chance. Learn about the pros and cons of the Auto Spares Marketplace Budget Financial Model.
REPORTS and INPUTS
Break Even
This Auto Spares Marketplace Three Statement Financial Model Template has an excel break even formula tab that predicts the period within which the company is supposed to move to a new level, i.e., start to bring profits to its owners. break-even point analysis uses forecasted revenues and expenses and makes P&L Projection on the period when its overall revenues become significantly bigger than costs.
Top Expenses
In the Top expenses section of our Auto Spares Marketplace Excel Financial Model Template, you can track your more significant expenses divided into four categories. The model also has an 'other' category, and you can expand or change this table according to your needs.
You can reflect your company's historical data or make an Excel Pro Forma Template for the five years.
Cash Flow KPIs
Cash conversion cycle (CCC). The cash conversion cycle (CCC) is a financial metric that expresses the time it takes for a company to convert its resources in the form of inventory and other resources into cash flows. The cash conversion cycle is also called the Net Operating Cycle.
CCC measures how long each dollar that the company inputted is tied up in the production and sales process before it gets converted into cash.
The cash conversion cyc metric accounts for various factors, such as how much time it takes to sell inventory, how much time it takes to collect accounts receivable, and how much time it takes to pay obligations.
Cap Table
A Cap table is a critical spreadsheet for any start-up company that shows all the company's shares, who owns them, and the investors' prices for these shares. The Cash Flow Format In Excel (cap table tab) also reflects each investor's percentage of ownership in the company and its dilution.
Sources and Uses
As you can understand from the title, a Sources and Uses of Funds statement represents the company's financing sources and spending policies.
In respect of the 'Sources', this statement shows the company's money for its business activities and how it gets this money. Usually, companies have a mix of funding sources, such as business loans, investors' money, share issue, and others.
The 'Uses' section of the Sources and Uses statement shows the stakeholders how the company spends its money. For example, this statement may reflect the cost of land, building, or equipment the company plans to acquire. It also may reflect the start-up costs.
Operational KPIs
Our Auto Spares Marketplace Financial Projection Excel has convenient, informative, and easy-to-use operational performance graphs. Here you may visually track your company's key operational performance indicators (KPIs) in the form of charts. These operational performance graphs show the stakeholders the financial information related to the company's liquidity, revenues, expenses, cash flows, and other financial metrics. This financial information in the form of graphs will help a business owner to create presentations for banks and investors with minimum effort.
All in One Place
This Auto Spares Marketplace Financial Projection Model reflects all the main aspects of your business. It will be a roadmap that enables entrepreneurs to understand their business and their perspectives. As a start-up 3 Way Forecast Excel Template, it will help understand cash flows and determine the cash burn rate. This is very important for any business because it shows how long money will last and which milestones the business owner can achieve with these expenditures.
File types:
Excel – Single-User: .xlsx
Excel – Multi-User: .xlsx
Free Demo – .xlsx