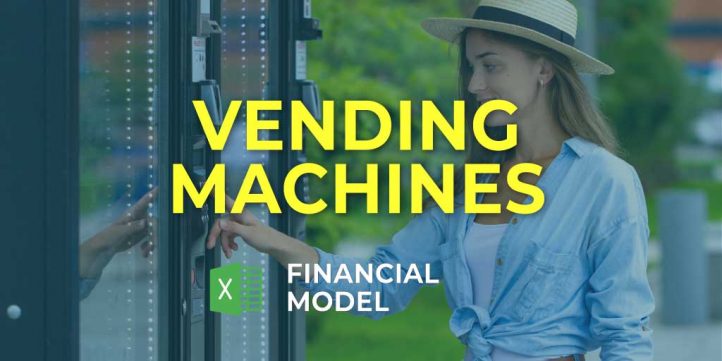 NOTE: Single-User pertains to a limited Single User License where the template can only be used by one single user; while Multi-User is a license for users sharing the template with up to 20 members. Please refer to Terms of Use and License and Permitted Use for clarification.
VENDING MACHINES BUDGET FINANCIAL MODEL KEY FEATURES
Video tutorial:
Update anytime
With Financial Projection Excel you can easily adjust inputs at the launch stage and throughout the further activities of your store to refine your forecast.
5 years forecast horizon
Generate fully-integrated Vending Machines 3 Way Financial Model for 5 years (on a monthly basis). Automatic aggregation of annual summaries on outputs tabs.
Spot problems with customer payments
Preparing the Cash Flow Pro Forma encourages the business to look at how quickly customers are paying their debts. Identify unpaid invoices and take necessary actions to make them pay.
Print-ready Reports
Solid package of print-ready reports, including a p&l proforma, cash flow statement proforma, a balance sheet, and a complete set of financial ratios.
Save Time and Money
Vending Machines Three Way Financial Model allows you to start planning with minimum fuss and maximum of help. No writing formulas, no formatting, no programming, no charting, and no expensive external consultants. Plan the growth of your business instead of fiddling around with expensive techy things.
All necessary reports
When creating a Vending Machines Financial Model In Excel Template, you will not need to independently prepare financial reports and study the requirements for them. Our Excel template contains all the necessary reports and calculations that correspond with the lenders demand.
REPORTS and INPUTS
Valuation
This Vending Machines Budget Spreadsheet contains a valuation analysis template that will allow users to perform a Discounted Cash Flow valuation (DCF). It will also help users analyze such financial metrics as residual value, replacement costs, market comparables, recent transaction comparables, etc.
Operational KPIs
Our Vending Machines 3 Way Forecast Model has convenient, informative, and easy-to-use operational performance graphs. Here you may visually track your company's key operational performance indicators (KPIs) in the form of charts. These operational performance graphs show the stakeholders the financial information related to the company's liquidity, revenues, expenses, cash flows, and other financial metrics. This financial information in the form of graphs will help a business owner to create presentations for banks and investors with minimum efforts.
Dashboard
Our Vending Machines Financial Model has a dashboard that summarizes information from the other spreadsheets of the 3 Way Forecast. With this dashboard, you can set your key performance indicators (KPIs), and the dashboard will include them into the calculations and the information from the financial statements. You can create the dashboard with core financial information on a month-by-month basis and change any time you need.
Cash Flow KPIs
Cash conversion cycle (CCC). The cash conversion cycle (CCC) is a financial metric that expresses the time it takes for a company to convert its resources in the form of inventory and other resources into cash flows. The cash conversion cycle is also called the Net Operating Cycle.
CCC measures how long each dollar that the company inputted is tied up in the production and sales process before it gets converted into cash.
The cash conversion cycl metric accounts for various factors, such as how much time it takes to sell inventory, how much time it takes to collect accounts receivable, and how much time it takes to pay obligations.
All in One Place
Our integrated Vending Machines Financial Projection Template Excel includes and connects everything you need for investors' meeting. It has financial assumptions, proformas, calculations, cash flow forecasts, and other templates. Moreover, our Financial Projection Model Excel presents it in an investor-friendly way.
Benchmarks
The financial benchmarking study tab in this Finance Projection will help the companies assess their key performance indicators and compare them with other companies' KPIs.
The term 'benchmarking' means the process of comparing the business, financial or other metrics of your company to that of other firms within the same industry. It is essential to use other businesses' best practices in the same industry as a 'benchmark' to improve your own company's standards.
As a result of the benchmarking study, companies can learn how to operate in a certain industry more efficiently. This benefit makes the financial benchmarking study an essential planning tool for start-ups.
Financial KPIs
With the help of the financial key performance indicators (KPIs), you can track your company's performance and improve its financial health. This Vending Machines Financial Model allows showing the key performance indicators in the form of charts.
File types:
Excel – Single-User: .xlsx
Excel – Multi-User: .xlsx
Free Demo – .xlsx