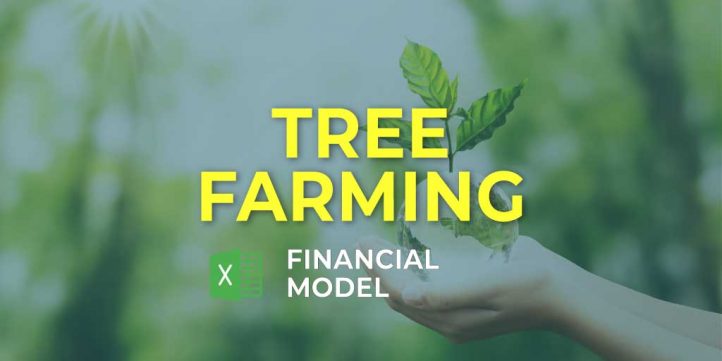 NOTE: Single-User pertains to a limited Single User License where the template can only be used by one single user; while Multi-User is a license for users sharing the template with up to 20 members. Please refer to Terms of Use and License and Permitted Use for clarification.
TREE FARMING 3 WAY FORECAST KEY FEATURES
Video tutorial:
Update anytime
You can easily adjust inputs at the launch stage and throughout the further activities of your business to refine your Tree Farming Financial Model Excel Spreadsheet.
Get a Robust, Powerful and Flexible Financial Model
This well-tested, robust and powerful Tree Farming 3 Way Financial Model is your solid foundation to plan a business model. Advanced users are free to expand and tailor all sheets as desired, to handle specific requirements or to get into greater detail.
Saves you time
Allows you to spend less time on Cash Flow Forecast and more time on your products, customers and business development
Track your spending and staying within budget
Have you written a vague idea of cash inflows and cash outflows on the back of a napkin? All is well and good. Looking at the projected income statement will give you a snapshot of the past business performance, but it won't show the future in terms of the Startup Cash Flow Statement. With a startup cash flow statement, you can plan future cash inflows and cash outflows and compare it to the budget, which can be invaluable information.
Easy to follow
Clear and transparent Tree Farming Pro Forma Budget structure (15+ separate tabs, each focusing on a specific planning category, colour coded => input, calculation and report sheets).
Currency for inputs and denomination
In Profit Loss Projection define any currency code or symbol and preferred denomination (e.g. 000s) to reflect your preferences.
REPORTS and INPUTS
Costs
Start-up costs are an essential part of any Financial Projection Model Excel. They begin to accrue before actual operations start, so it is crucial to monitor them early to avoid overspendings and underfunding. Our Tree Farming Pro Forma has the proforma for start-up costs that show both funding and expenses. You can use this proforma to monitor your expenses and create cost budgets.
Sources and Uses
The Sources and Uses statement in our Tree Farming Budget Spreadsheet shows users that financial planning does not have to be complicated. This statement shows the company's stakeholders, e.g., lenders, how much financing the company needs, and how it plans to get it. There may be cases when the company does not need more funding. It wants to show its current investors that it has additional or alternative funding sources it can attract in case of unexpected events. These additional sources of funding may be interesting for banks, for example.
While putting together the Sources and Uses statement, companies and especially start-ups can include alternative funding sources, such as crowdfunding campaigns.
Another part of the Sources and Uses statement is the ways the company plans to use obtained funds. The total figure in this section should balance with the figure if the 'Sources' section, i.e., both parts of the Sources and Uses section, should balance.
Burn and Runway
The cash burn rate is one of the tabs your future investors may be very interested in. This metrics shows the time left to a complete cash burn. Also, this template shows a cash burn ratio. The calculation is based on your average annual cash balance and average monthly operating cash outflows.
All in One Place
Our integrated Tree Farming Excel Pro Forma includes and connects everything you need for investors' meeting. It has financial assumptions, proformas, calculations, cash flow forecasts, and other templates. Moreover, our Pro Forma presents it in an investor-friendly way.
Loan opt-in
Our Tree Farming Budget Financial Model has a loan amortization schedule that will help users track everything related to their loans. You can find this template in the 'Capital' tab.
The loan amortization schedule has proformas with pre-built formulas for internal calculations of the loans, interest, and equity.
CAPEX
CapEx is important both for the start-ups and actively growing companies that put their efforts in investing in a new property, plant, and equipment (PP&E), as well as new products and new technologies. Such capital expenditures usually make a significant part of the company's expenditures; therefore, financial analysts and investors pay close attention to this financial report.
The company should reflect its capital expenditures in the Balance Sheet, and this type of expenditure does not significantly impact cash flows.
Break Even
Breakeven Analysis studies the volume of sales or units the company needs to break even to cover its variable and fixed costs. This Tree Farming Financial Model Excel Template helps companies determine the period when it is supposed to become profitable.
The calculation of the break-even point helps financial specialists in several ways. First of all, it shows the company's owners if this type of business is worthy of starting up. It also helps the company's managers determine the price for its products or services that will help cover all company's costs, both fixed and variable.
File types:
Excel – Single-User: .xlsx
Excel – Multi-User: .xlsx
Free Demo – .xlsx