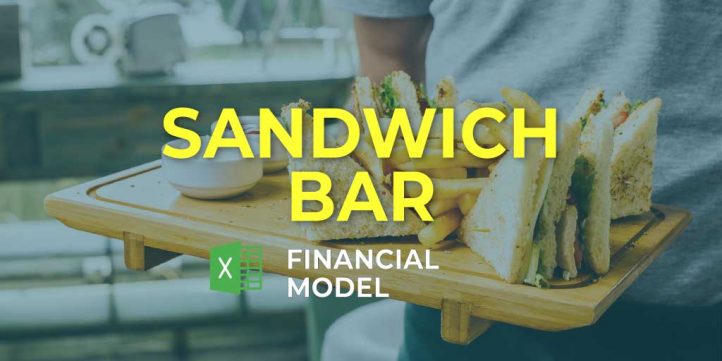 Cafes & Bars, Financial Model, Hospitality
5-year financial projections, Business Valuation, Financial Model, Financial Modeling, Financial Projection, Financial Projections, Pro-Forma, Startup Financial Models, Three Statement Model | Three Financial Statements
NOTE: Single-User pertains to a limited Single User License where the template can only be used by one single user; while Multi-User is a license for users sharing the template with up to 20 members. Please refer to Terms of Use and License and Permitted Use for clarification.
SANDWICH BAR FINANCIAL MODEL IN EXCEL TEMPLATE KEY FEATURES
Video tutorial:
Works for startups
Cash Flow Format In Excel creates a financial summary formatted for your pitch deck
Plan for Future Growth
Cash Flow Statement For 5 Years can help you plan for future growth and expansion. No matter you're extending your company with new employees and need to take into account increased staff expenses. Or to scale production to keep up with increased sales, future projections help you see accurately where you're running — and how you'll get there. Forecasting is also a well-known goal-setting framework to help you plan out the financial steps your company has to take to reach targets. There's power in Cash Flow Statement and the insight they can provide your business. Fortunately, this competitive advantage comes with little effort when you use the Statement Of Cash Flows.
Key Metrics Analysis
Creates 5-year Sandwich Bar 3 Way Financial Model Template, proforma, financial statements, and financial ratios in GAAP or IFRS formats on the fly.
Manage accounts receivable.
By creating a cash flow statement by month that takes invoices and bills into account, you'll be more easily able to identify who is systematically paying late. You could even go on to model different payment dates on overdue invoices to see the real effect of late payments on your cash flow.
Better decision making
Make better operational decisions with the help of creating Startup Cash Flow Statement scenarios in your Excel Template. Perhaps you have to choose between new staff members or investment in equipment, and you are wondering which decision to chose. Variants forecasting will give you the information you need to make these decisions with confidence that you know what impact they will have on your cash balance.
We do the math
Pro Forma Template has all the required features ready with no formula writing, no formatting, no programming, no charting, and no expensive external consultants! Concentrate on the task of planning rather than programming.
REPORTS and INPUTS
Profitability KPIs
Revenue breakdown. The Sandwich Bar Financial Model In Excel has a revenue breakdown proforma in the form of a chart. It shows the revenue from five products monthly. If needed, you can add more products or change the period for financial analysis.
Cap Table
In our Sandwich Bar Pro Forma Projection, a Capitalization table, or Cap table is a spreadsheet critical for start-ups that shows the company's ownership structure. It lists your company's shares and options, if any. It also shows the prices your investors have paid for these shares and each investor's percentage of ownership in the company.
Top Expenses
In the Top expenses section of our Sandwich Bar Three Statement Financial Model, you can track your more significant expenses divided into four categories. The model also has an 'other' category, and you can expand or change this table according to your needs.
You can reflect your company's historical data or make a Financial Model for the five years.
Burn and Runway
The cash burn rate shows the difference between the cash inflows and cash outflows of the company. It is essential to monitor this metric because it shows how long the company will last with its current funding level. Business owners can also see a clear picture of how various business strategies change the cash burn rate.
Valuation
This Cashflow Projection has a valuation report template that will allow users to perform a Discounted Cash Flow valuation with just a few rate inputs in the Cost of Capital.
Liquidity KPIs
Working Capital. The working capital financial metric reflects the money you need for short-term operations. Working capital shows the difference between current assets and current liabilities.
Performance KPIs
Sales growth year-to-date. Every entrepreneur wants to see the company grow month-over-month. In some industries, sales depend on the season or other external factors. The sales growth year-to-date metric shows the pace at which the company's sales revenue increases or decreases.
Users can monitor sales volumes over various periods – daily, weekly, monthly, or yearly. Sales growth metric helps to manage sales growth goals in the form of a percentage of last month's sales volume or others. If the company has several sales teams, the management can monitor this metric for each team separately. It will help to monitor better each team's achievements.
File types:
Excel – Single-User: .xlsx
Excel – Multi-User: .xlsx
Free Demo – .xlsx