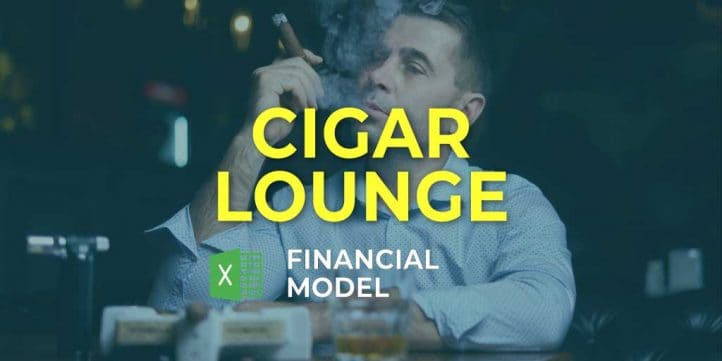 Cafes & Bars, Financial Model, Hospitality
5-year financial projections, Business Valuation, Financial Model, Financial Modeling, Financial Projection, Financial Projections, Pro-Forma, Startup Financial Models, Three Statement Model | Three Financial Statements
NOTE: Single-User pertains to a limited Single User License where the template can only be used by one single user; while Multi-User is a license for users sharing the template with up to 20 members. Please refer to Terms of Use and License and Permitted Use for clarification.
CIGAR LOUNGE PRO FORMA KEY FEATURES
Video tutorial:
Print-ready Reports
Solid package of print-ready reports, including a income statement projection, cashflow forecast, a balance sheet, and a complete set of financial ratios.
Easy to follow
Clear and transparent Cigar Lounge 3 Way Forecast Model structure (15+ separate tabs, each focusing on a specific planning category, colour coded => input, calculation and report sheets).
Simple and Incredibly Practical
Simple-to-use yet very sophisticated Cigar Lounge Pro Forma Template. Whatever size and stage of development your business is, with minimal planning experience and very basic knowledge of Excel you can get complete and reliable results.
Identify cash gaps and surpluses before they happen.
Forecasting your future cash balance helps you see well in advance when you may have a cash deficit that could hurt your business. Startup Cash Flow Statement will give you enough time to take action to prevent a crisis. It will enable you to access better loan rates or speed up incoming payment to bridge the gap. On the other side, if you know ahead of time that the large lump of cash will lay in your bank account within the next three months. In this case, you might need to explore options to reinvest it in your business to drive growth.
Saves you time
Allows you to spend less time on Cash Flow Statement For 5 Years and more time on your products, customers and business development
Works for startups
Three Statement Financial Model Template creates a financial summary formatted for your pitch deck
REPORTS and INPUTS
Sources and Uses
This Cigar Lounge Pro Forma Template Excel has a Sources and Uses template. This tab shows users the company's funding structure and sources and uses of these funds.
Financial Statements
The Cigar Lounge 3 Way Financial Model has a pre-built integrated financial statement structure. It has pre-built templates for the primary financial statements: Balance sheet, projected p&l statement, cash flow statement projection, and Statement of Shareholders' Capital. All these financial statements are precisely defined and interconnected with the inputs and other spreadsheets within the model.
Cash Flow KPIs
Cash balance. The cash balance shows the total amount of money in a financial account of the company. Any company needs to hold in reserve enough amount of cash to meet current obligations.
Profitability KPIs
Gross profit margin. A gross profit margin is a frequently used financial ratio that is one of the main indicators of a company's financial health. It reflects the difference between the revenues and the cost of sales. When the gross profit margin is improving, it means that the company's expenses related to the sale of goods or services are decreasing and/or revenues from such sales are increasing. A gross profit margin is usually reflected as percentage.
Burn and Runway
Our Cigar Lounge Pro Forma Budget automatically creates cash runway and cash burn analysis based on the forecasted revenues and expenses that, in their turn, show net loss, net profit, cash on hand, and break even analysis. You can also forecast funding requirements using a set of parameters around funding (e.g., equity, debt, grants) and expected runway to raise (for example, 18 months of forecasted expenses).
Top Expenses
The Top expenses tab of the Cigar Lounge Cashflow Projection reflects your company's annual expenses, both total and grouped by four categories.
This Finance Projection provides an overview of annual expenses on customer acquisition, COSS placeholders, wages & salaries, fixed and variable expenses, and all other expenses.
Break Even
Our Cigar Lounge Profit Loss Projection has proforma for the break even point excel. Companies use break even point analysis to determine the price for their products or services that will generate enough revenue for the company to cover its costs.