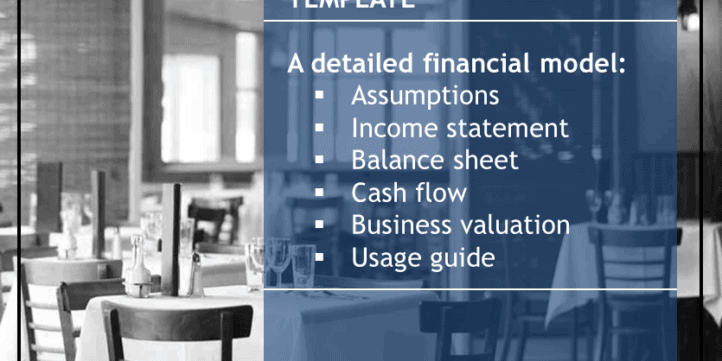 Cafes & Bars, Financial Model, Hospitality, Restaurant
10-year financial projections, 5-year financial projections, Break-Even, Business Valuation, Cash Flow Analysis, Cash Flow Projections, Cost Projections, DCF Model, Debt Schedule, Excel, Financial Feasibility, Financial Model, Financial Modeling, Financial Planning, Financial Projection, Financial Projections, Financial Ratios, Financial Statements, Forecast, Forecasting, Franchise Model, Investor Cash Flows, Investors, IRR (Internal Rate of Return), KPIs (Key Performance Indicators), NPV (Net Present Value), Payback Period, Post Money Valuation, Pre Money Valuation, Pro-Forma, Profitability Analysis, Project Plan, Revenue Projections, ROI, Stress Test, Valuation, WACC (Weighted Average Cost of Capital)
1. OVERVIEW:
Our full-fledged financial model in excel format has the functionality to run unlimited activity scenarios.
It is built due to our vast experience in the marketplace and our extensive relationship with restaurant owners and experts.
You can plan revenues, costs, assets, cash flow, valuation, returns, and funding needs in great detail and scale-up a successful restaurant.
For a one-time charge of $95 and our free support after purchase, the study accounts for:
– A new restaurant or scaling up & restructuring an existing one
– Flexibility to run infinite activity levels
– All restaurant types due to many food & beverage menu combinations
– Easy-to-use model due to straight-forward formulas & financial sheets
– Highest standards in financial modeling to ensure an accurate study
– A conservative base case scenario as a starting point for users
The model assumptions – like the split between beverage & food; options for manpower & assets; variety of price lists & menu composition – will define your needed restaurant format.
2. THE MODEL STRUCTURE
– "INPUT" sheets: We included an exhaustive list of all revenues, costs, assets/liabilities, cash flows, valuation items that permit running smooth restaurant operations.
– "FINANCIAL STATEMENT" sheets are: Income statement, Balance sheet, and Cash flow statement are all a function of the "Input" sheets.
– "VALUATION" sheets are: Valuation sheet and Ratios sheet are a function of the "Input" sheets and showcase the financial performance of the restaurant.
3 THE FUNCTIONALITIES:
a. FUNDING: The model accounts for the totality of sources of finance along with their paybacks: bank loan, debt, equity, own funding.
b. REVENUES:
– The menu caters to a wide mix of F&B items.
– Volumes sold change with outlet capacity, restaurant format & weekdays/weekends flows.
– Prices are listed for each F&B item.
– Growth rates are changeable.
c. COSTS:
– The model accounts for operating and capital costs.
– Cost of goods sold is a function of revenues and changeable by the user.
– Operating costs are highly detailed, the user can add/delete/edit the needed ones.
– Capital expenditures (including depreciation) determine the asset size of the restaurant and changeable by the user.
d. PROFITABILITY:
– Returns, cash flow position, net present value, and other financials are detailed in the balance sheet, income statement, cash flow statement, and valuation sheet.
– The model accounts for payables/receivables, inventory, cost of capital among other items to accurately project the financials
You will get two files:
Excel Model = .xlsm
Macro Documentation = .docx