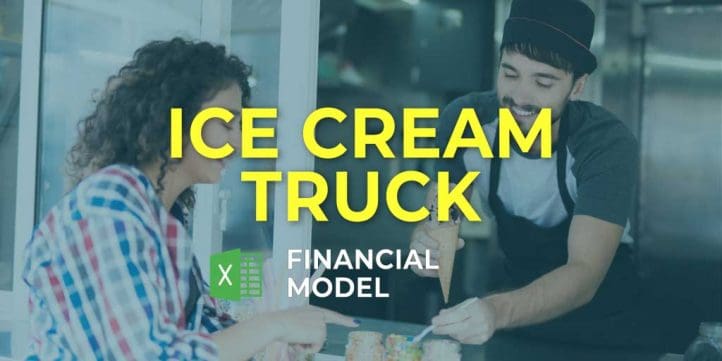 Financial Model, Food Truck, Hospitality
5-year financial projections, Business Valuation, Financial Model, Financial Modeling, Financial Projection, Financial Projections, Pro-Forma, Startup Financial Models, Three Statement Model | Three Financial Statements
NOTE: Single-User pertains to a limited Single User License where the template can only be used by one single user; while Multi-User is a license for users sharing the template with up to 20 members. Please refer to Terms of Use and License and Permitted Use for clarification.
ICE CREAM TRUCK FINANCIAL MODEL EXCEL SPREADSHEET KEY FEATURES
Video tutorial:
Update anytime
With 3 Way Forecast you can easily adjust inputs at the launch stage and throughout the further activities of your store to refine your forecast.
Identify potential shortfalls in cash balances in advance.
The Ice Cream Truck Financial Projection Model Template works like an 'early warning system.' It is, by far, the most significant reason for a Cash Flow Statement By Month.
Easy to follow
Clear and transparent Ice Cream Truck Pro Forma Budget structure (15+ separate tabs, each focusing on a specific planning category, colour coded => input, calculation and report sheets).
We do the math
Cashflow Projection has all the features above ready with no formula writing, no formatting, no programming, no charting, and no expensive external consultants!
All necessary reports
When creating a Ice Cream Truck Three Statement Financial Model, you will not need to independently prepare financial reports and study the requirements for them. Our Excel template contains all the necessary reports and calculations that correspond with the lenders demand.
It is part of the reports set you need.
It doesn't matter you are worried about cash or not, setting up, and managing a Ice Cream Truck 3 Way Forecast Model should be a cornerstone of your reporting set. It's the main report of your business that must have in place to grow sustainably. Before you rush into rent more office space or making a new hire, you should always run a Statement Of Cash Flows scenario. You can model how that action would impact your cash balance in the nearest future. Knowing whether or not plans are possible is crucial to minimizing risk.
REPORTS and INPUTS
Dashboard
A financial dashboard in this Ice Cream Truck Finance Projection is a useful financial management tool. It helps track all your relevant finance key performance indicators (KPIs), assures effective cash management, and enables financial management to track expenses, sales, and profits in detail to meet and outperform a department or company's financial objectives.
Top Revenue
When the company's management starts to make a 3 Way Financial Model Template, revenue is the most crucial component in the Pro Forma Budget. Revenue is one of the main drivers of the enterprise's value in the Financial Projection Model Template. That is why financial analysts must pay special attention to the planning and devising the best strategy to approach modeling future revenue streams.
Revenue forecasts should also have assumptions about the growth rate based on historical financial data. Users can find all the components of wise financial planning of the revenue streams in our Ice Cream Truck Three Statement Financial Model.
Valuation
With our pre-built valuation template in the Ice Cream Truck Pro Forma Template, you will receive all the data your investors might need.
The weighted average cost of capital (WACC) will show your stakeholders the minimum return on enterprise funds invested in its activities capital. Free cash flow valuation will show a cash flow available to all investors, including shareholders and creditors. Discounted cash flow will reflect the value of future cash flows in relation to the current time.
Operational KPIs
Our Ice Cream Truck Five Year Financial Projection Template has convenient, informative, and easy-to-use operational performance graphs. Here you may visually track your company's key operational performance indicators (KPIs) in the form of charts. These operational performance graphs show the stakeholders the financial information related to the company's liquidity, revenues, expenses, cash flows, and other financial metrics. This financial information in the form of graphs will help a business owner to create presentations for banks and investors with minimum efforts.
Liquidity KPIs
Liquidity Position. The liquidity position of a company is an essential indication of the financial health of the enterprise. To assess the liquidity position of the company, it is necessary to calculate the liquidity ratio. Many companies set a target liquidity ratio that reflects the specifics of their business and industry. Such target liquidity ratios ensure that companies have enough cash to meet their obligations. Therefore, we recommend setting a target liquidity ratio for your 3 Way Financial Model Template.
Cap Table
The capitalization table helps business owners to calculate shareholder's ownership dilution. The Cap table in our Ice Cream Truck Budget Spreadsheet has four rounds of funding, and users can apply all of them or one or two rounds for their financial projections.
Benchmarks
A benchmarking study as the element of the Financial Projection Excel is usually used to evaluate a business's performance by focusing on one or more particular indicators and comparing them with similar indicators of other companies in the industry.
In respect of the financial benchmarking study, these indicators could be profit margins, cost margins, cost per unit, productivity margins, or others. Later the company's performance indicators should be compared to that of other companies within the same industry.
Benchmarking is a useful strategic management tool, which is essential for start-ups. Companies can evaluate any economic, business, or financial metric or process and compare them to the processes of 'best practice' companies within the same field or industry.
File types:
Excel – Single-User: .xlsx
Excel – Multi-User: .xlsx
Free Demo – .xlsx