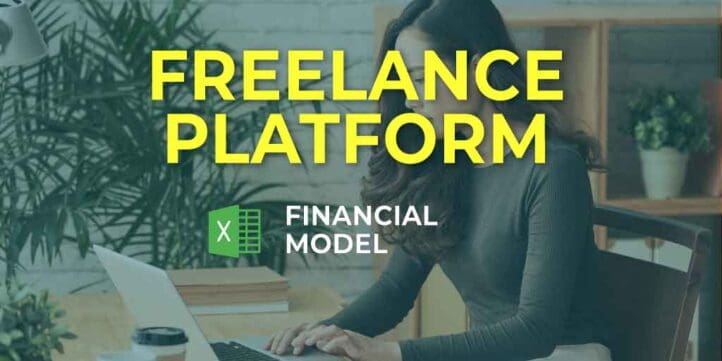 Financial Model, Marketplaces, Online Businesses & IT
5-year financial projections, Break-Even, Budget, Budgeting, Business Valuation, Cash Flow Projections, Excel, Financial Feasibility, Financial Model, Financial Modeling, Financial Planning, Financial Projection, Financial Projections, Financial Statements, Forecast, Forecasting, Investor Cash Flows, Revenue Projections, Three Statement Model | Three Financial Statements, Uses and Sources of Funds
NOTE: Single-User pertains to a limited Single User License where the template can only be used by one single user; while Multi-User is a license for users sharing the template with up to 20 members. Please refer to Terms of Use and License and Permitted Use for clarification.
FREELANCE PLATFORM EXCEL PRO FORMA TEMPLATE KEY FEATURES
Spot problems with customer payments
Preparing the Cashflow Forecast encourages the business to look at how quickly customers are paying their debts. Identify unpaid invoices and take necessary actions to make them pay.
Update anytime
With Cash Flow Proforma you can easily adjust inputs at the launch stage and throughout the further activities of your store to refine your forecast.
Simple-to-use
A very sophisticated Freelance Platform 3 Way Financial Model, whatever size and stage of development your business is. Minimal previous planning experience and very basic knowledge of Excel is required: however, fully sufficient to get quick and reliable results.
Gaining trust from stakeholders
Investors and financing providers tend to think in terms of the big picture. They want the c-level of the companies they invest in to do the same to ensure they maintain a clear idea of the future. Providing stakeholders with a monthly cash flow statement by month will demonstrate a level of awareness that leads to confidence and trust and will make it easier to raise more investment.
Saves you time
Allows you to spend less time on Cash Flow Statement For 5 Years and more time on your products, customers and business development
5 years forecast horizon
Generate fully-integrated Freelance Platform Excel Financial Model Template for 5 years (on a monthly basis). Automatic aggregation of annual summaries on outputs tabs.
REPORTS and INPUTS
CAPEX
CapEx is important both for the start-ups and actively growing companies that put their efforts in investing in a new property, plant, and equipment (PP&E), as well as new products and new technologies. Such capital expenditures usually make a significant part of the company's expenditures; therefore, financial analysts and investors pay close attention to this financial report.
The company should reflect its capital expenditures in the Balance Sheet, and this type of expenditure does not significantly impact cash flows.
Top Revenue
When the company's management starts to make a Excel Financial Model Template, revenue is the most crucial component in the Three Statement Financial Model Template. Revenue is one of the main drivers of the enterprise's value in the Financial Projection Model. That is why financial analysts must pay special attention to the planning and devising the best strategy to approach modeling future revenue streams.
Revenue forecasts should also have assumptions about the growth rate based on historical financial data. Users can find all the components of wise financial planning of the revenue streams in our Freelance Platform 3 Way Forecast Excel Template.
Operational KPIs
Our Freelance Platform Three Way Financial Model has convenient, informative, and easy-to-use operational performance graphs. Here you may visually track your company's key operational performance indicators (KPIs) in the form of charts. These operational performance graphs show the stakeholders the financial information related to the company's liquidity, revenues, expenses, cash flows, and other financial metrics. This financial information in the form of graphs will help a business owner to create presentations for banks and investors with minimum efforts.
Valuation
This Freelance Platform Pro Forma Projection contains a valuation analysis template that will allow users to perform a Discounted Cash Flow valuation (DCF). It will also help users analyze such financial metrics as residual value, replacement costs, market comparables, recent transaction comparables, etc.
Loan opt-in
Our Freelance Platform Budget Spreadsheet has a pre-built feature for automatic loan calculation. This Profit Loss Projection includes the fees, interest, and principal payments.
Top Expenses
In the Top expenses section of our Freelance Platform Finance Projection, you can track your more significant expenses divided into four categories. The model also has an 'other' category, and you can expand or change this table according to your needs.
You can reflect your company's historical data or make a Excel Financial Model for the five years.
Dashboard
The All-in-one dashboard in this Freelance Platform Pro Forma Budget contains all core financial inputs and core start-up metrics critical for the companies' financial analysis. It reflects the financial data from a Balance Sheet, an profit and loss proforma, and a cash flow statement proforma. Moreover, users can obtain financial information in the form of graphs or charts.
File types:
Excel – Single-User: .xlsx
Excel – Multi-User: .xlsx
Free Demo – .xlsx