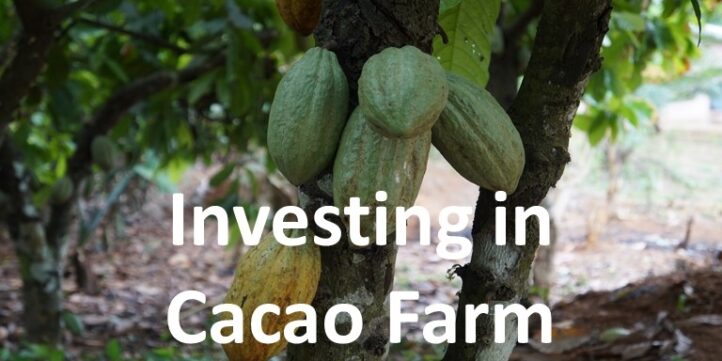 Agriculture, Financial Model
Debt Schedule, Excel, Financial Analysis, Financial Model, Financial Modeling, Financial Planning, Financial Projection, Financial Projections, Financial Ratios, Financial Statements, IRR (Internal Rate of Return), NPV (Net Present Value), Startup Financial Models, Three Statement Model | Three Financial Statements
Investing in a Cacao Farm – Financial Model
This financial model template is designed to help cacao farmers assess the viability of cacao farms. It includes the area under land management, newly planted areas, harvested areas, yields, planting costs, growing costs, harvesting costs, processing costs, operating expenditures, capital expenditures, three financial statements, and other financial metrics to assess the cacao plantations' financial feasibility further.
This Excel Spreadsheet will provide valuable inputs for existing and aspiring cacao farmers planning to invest in a new farm or buy an existing one. The three financial statements – income statement, cash flow statement, and balance sheet, summarizes the projections and assumptions in 10 years. Cacao trees bear fruits after three years, making it crucial to have a more extended projection to assess its payback period, return on investment, and other metrics for the projected years.
A debt schedule sheet for fundraising is built for cacao farmers planning to acquire funding from banks and investors. This sheet computes necessary bank ratios and other metrics banks and investors want to see about the project's feasibility. It also shows the total funding needed to continue its operation. This cacao farming financial model template will serve as a financial planning tool for cacao farmers before investing.
This Excel Spreadsheet has a simple approach and easy to follow:
Executive Summary
This worksheet contains essential metrics that help establish the viability of the cacao farm. It has figures and charts for visual presentations of the computations and serves as a financial report. The tables are 10-year projections of a financial summary containing income statement, land under management, profit per hectare, balance sheet, cash flows, land owned/rented, uses, and funds sources. The financial metrics both show the Free Cash Flows – unlevered and levered, with computations of the funding required, profit, multiple, Internal Rate of Return (IRR), average annual cash on cash yield, payback period, and Net Present Value (NPV).
Assumptions
Presented in this worksheet are the assumptions necessary to build the financials of the cacao plantations.
The general setting is where is you can edit the currency, first year of operation, financial year-end, type of crop, areas (hectare, acre), volume (ton, kg, lb.)
Land areas, acquisition year, year planted, and ownership (owned or rented)
Target harvest yield, rump-up percentage of harvest, percentage, and price per cacao type
Assumptions for cost and price inflation rates, depreciation period, taxes, working capital, interest rates, and dividend policy
Direct costs for planting, growing, and harvesting, operating costs (OPEX), capital expenditures (CAPEX)
Uses and sources of funds
Valuation assumptions such as the Exit Valuation Multiples, Investment Period, and Discount Rate
Lands under Management
This worksheet shows up to 20 farm areas under management, projected land owned/rented, newly planted area, harvested area, yield, and harvest volume.
Operating Model
Contains calculations of the projected annual production volumes, prices, revenue breakdown, planting costs, growing costs, harvesting costs, processing costs, operating expenses, capital expenditures, and fixed assets schedules.
Debt Schedule
This worksheet presents two layers of financial debt and adjustment based on drawdown and repayment of these two debt facilities.
Financials
Includes the annual financial projections such as the projected Income Statement, Balance Sheet, Cash Flow Statement, Financial Ratios, a Standardized Income Statement, Profit per Hectare (or Acre) analysis, Free Cash Flow calculation – unlevered and levered, debt schedule, and dividend policy schedule.
Terms & Abbreviations
It shows the cell color codes and the terms and abbreviations used in the spreadsheet.
This financial model template is a helpful financial planning tool to assess the cacao production viability. Both existing and aspiring cacao farmers will find this financial spreadsheet helpful to know if it is worth pursuing their projects. The cacao farmers can also use it to get financing from banks and investing since it has a customized worksheet for fund sourcing.
Using this spreadsheet, you will test how the changes in variables (planted areas, yield, prices, costs adjustments) affect the project's economics.
The model is available in two versions, a fully editable Excel version, and a PDF Demo Preview Version. The current model version number is 1.1.
File Types:
.xlsx (MS Excel)
.pdf (PDF Demo Version)