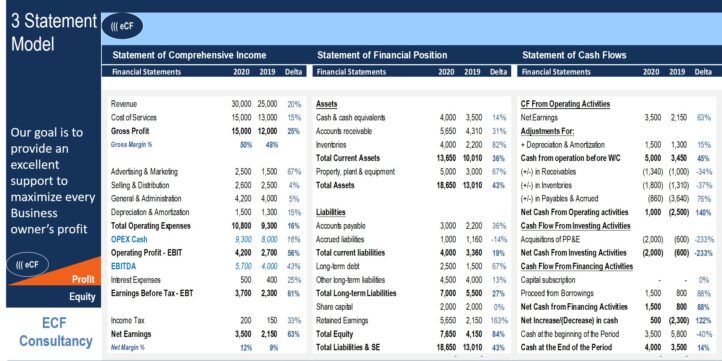 General Overview
The template is the combination of the three major reports on business. It will contain the cash flow statement, the income statement, and the balance sheet of the business. All three together produce an overall picture of the health of the business
Why is Financial Statement Important?
The financial statement tells if the business is profitable if it will stay profitable, and if there are any large problems looming, such as a continuous drop in sales over time. Reading the financial statement will give an overall view of the condition of the business and if there are any warnings signs of possible future problems
When Will a Company Prepare a Financial Statement?
Every business will ready a financial statement to go with their end of year results, to give interested parties the overview of how the business is functioning. If a business is looking to increase credit facilities with a bank or trying to raise capital for an expansion, it will produce a financial statement for the end of a fiscal quarter or the most recent month. When preparing a financial statement for such purposes the best practice is to use general accountancy language, understood by all parties. A financial statement that may accompany an end of year report and readjust by employees, is often in terms familiar to just those involved
Conclusion and customization
Highly versatile, very sophisticated financial template and friendly user
If you have any inquiry, modification or to customize the model for your business please reach us through: [email protected]
This model template comes as a FREE version in .xlsx file type which can be opened using MS Excel.