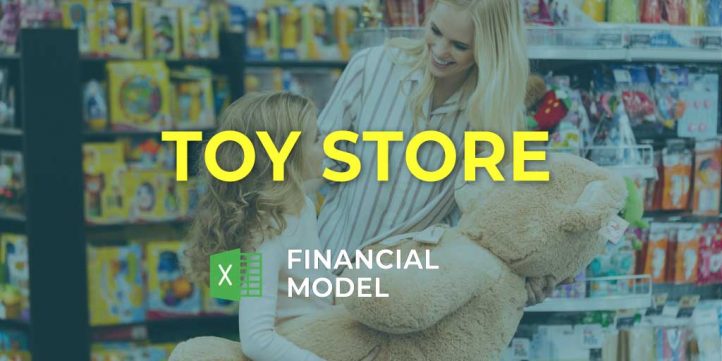 NOTE: Single-User pertains to a limited Single User License where the template can only be used by one single user; while Multi-User is a license for users sharing the template with up to 20 members. Please refer to Terms of Use and License and Permitted Use for clarification.
TOY STORE 3 WAY FINANCIAL MODEL TEMPLATE KEY FEATURES
Video tutorial:
Get a Robust, Powerful and Flexible Financial Model
This well-tested, robust and powerful Toy Store Three Statement Financial Model Template is your solid foundation to plan a business model. Advanced users are free to expand and tailor all sheets as desired, to handle specific requirements or to get into greater detail.
Track your spending and staying within budget
Have you written a vague idea of cash inflows and cash outflows on the back of a napkin? All is well and good. Looking at the pro forma p&l statement will give you a snapshot of the past business performance, but it won't show the future in terms of the Cash Flow Pro Forma. With a cash flow forecast, you can plan future cash inflows and cash outflows and compare it to the budget, which can be invaluable information.
Identify potential shortfalls in cash balances in advance.
The Toy Store Pro Forma Template Excel works like an 'early warning system.' It is, by far, the most significant reason for a Pro Forma Cash Flow Projection.
Simple and Incredibly Practical
Simple-to-use yet very sophisticated Toy Store 3 Way Forecast Excel Template tool. Whatever size and stage of development your business is, with minimal planning experience and very basic knowledge of Excel you can get complete and reliable results. Additionally, you will receive uncompromised after-sales service and access to valuable tutorial videos and blog posts.
Plan for Future Growth
Cash Flow Statement Proforma can help you plan for future growth and expansion. No matter you're extending your company with new employees and need to take into account increased staff expenses. Or to scale production to keep up with increased sales, future projections help you see accurately where you're running — and how you'll get there. Forecasting is also a well-known goal-setting framework to help you plan out the financial steps your company has to take to reach targets. There's power in Projected Cash Flow Statement and the insight they can provide your business. Fortunately, this competitive advantage comes with little effort when you use the Cash Flow Statement Forecast.
5 years forecast horizon
Generate fully-integrated Toy Store Financial Model Excel Template for 5 years (on a monthly basis). Automatic aggregation of annual summaries on outputs tabs.
REPORTS and INPUTS
Performance KPIs
Return on assets. The return on assets financial metric can be calculated based on the information from two main financial statements: Balance Sheet and profit and loss pro forma. Return on assets measures the accomplishment of earnings to the assets, i.e., the amount of money used to get those earnings.
Valuation
With our pre-built valuation template in the Toy Store Pro Forma Template Excel, you will receive all the data your investors might need.
The weighted average cost of capital (WACC) will show your stakeholders the minimum return on enterprise funds invested in its activities capital. Free cash flow valuation will show a cash flow available to all investors, including shareholders and creditors. Discounted cash flow will reflect the value of future cash flows in relation to the current time.
Dashboard
The All-in-one dashboard in this Toy Store Finance Projection contains all core financial inputs and core start-up metrics critical for the companies' financial analysis. It reflects the financial data from a Balance Sheet, an pro forma profit and loss statement, and a cash flow statement forecast. Moreover, users can obtain financial information in the form of graphs or charts.
Burn and Runway
The cash burn rate shows the difference between the cash inflows and cash outflows of the company. It is essential to monitor this metric because it shows how long the company will last with its current funding level. Business owners can also see a clear picture of how various business strategies change the cash burn rate.
Financial Statements
Our Toy Store Excel Financial Model Template has a pre-built integrated financial statement structure that contains all the primary financial statements (Balance sheet, p&l proforma, and cash flow statement projection) and creates financial forecasts for the next five years automatically.
This integrated financial statement structure has pre-built proformas, financial and managerial reports, and financial ratios. Users can choose the presentation of financial information in GAAP or IFRS format for their convenience.
Cap Table
In our Toy Store Financial Projection Excel, a Capitalization table, or Cap table is a spreadsheet critical for start-ups that shows the company's ownership structure. It lists your company's shares and options, if any. It also shows the prices your investors have paid for these shares and each investor's percentage of ownership in the company.
Top Revenue
When the company's management starts to make a Excel Financial Model, revenue is the most crucial component in the Cash Flow Format In Excel. Revenue is one of the main drivers of the enterprise's value in the Financial Model. That is why financial analysts must pay special attention to the planning and devising the best strategy to approach modeling future revenue streams.
Revenue forecasts should also have assumptions about the growth rate based on historical financial data. Users can find all the components of wise financial planning of the revenue streams in our Toy Store Financial Model Excel Spreadsheet.
File types:
Excel – Single-User: .xlsx
Excel – Multi-User: .xlsx
Free Demo – .xlsx