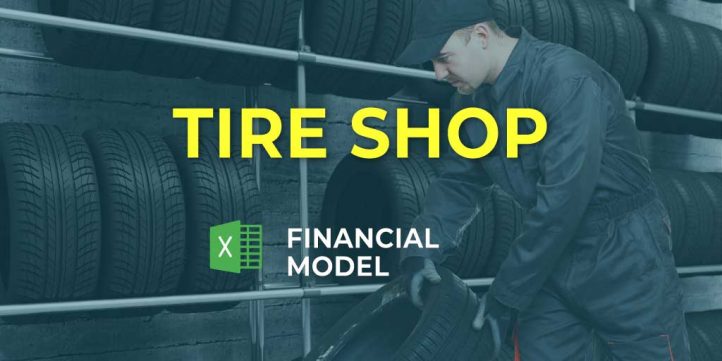 NOTE: Single-User pertains to a limited Single User License where the template can only be used by one single user; while Multi-User is a license for users sharing the template with up to 20 members. Please refer to Terms of Use and License and Permitted Use for clarification.
TIRE SHOP EXCEL PRO FORMA KEY FEATURES
Video tutorial:
Simple and Incredibly Practical
Simple-to-use yet very sophisticated Tire Shop Three Statement Financial Model. Whatever size and stage of development your business is, with minimal planning experience and very basic knowledge of Excel you can get complete and reliable results.
Get it Right the First Time
Funding is a binary event: either you succeed or you fail. If you fail, most investors won't give you a second chance. Learn about the pros and cons with Tire Shop 3 Way Forecast Model.
Works for startups
3 Way Forecast Excel Template creates a financial summary formatted for your pitch deck
Manage surplus cash
Most companies don't have excess cash in the bank. It is a well-known situation. But managing surplus cash for reinvestment in new market opportunities, or debt repayments can be essential to keeping stay in the business. Managers are entirely ready to plan for what to do with the cash surplus if they have the forecast of when and where the business will have surplus cash in the bank account. Cash Flow Statement For 5 Years will provide supplementary guidance on what to do with a cash surplus.
Save Time and Money
Tire Shop 3 Way Forecast Excel Template allows you to start planning with minimum fuss and maximum of help. No writing formulas, no formatting, no programming, no charting, and no expensive external consultants. Plan the growth of your business instead of fiddling around with expensive techy things.
Save time and money
Via 3 Way Forecast you can without effort and special education get all the necessary calculations and you will not need to spend money on expensive financial consultants. Your task is building a strategy, evolution, and creativity, and we have already done the routine calculations instead of you.
REPORTS and INPUTS
Burn and Runway
Our Tire Shop Budget Financial Model automatically creates cash runway and cash burn analysis based on the forecasted revenues and expenses that, in their turn, show net loss, net profit, cash on hand, and excel break even formula. You can also forecast funding requirements using a set of parameters around funding (e.g., equity, debt, grants) and expected runway to raise (for example, 18 months of forecasted expenses).
Dashboard
Our Tire Shop Financial Projection Model Template has a dashboard that summarizes information from the other spreadsheets of the Pro Forma Template Excel. With this dashboard, you can set your key performance indicators (KPIs), and the dashboard will include them into the calculations and the information from the financial statements. You can create the dashboard with core financial information on a month-by-month basis and change any time you need.
Cash Flow KPIs
Cash balance. The cash balance shows the total amount of money in a financial account of the company. Any company needs to hold in reserve enough amount of cash to meet current obligations.
Top Expenses
It is very important for a start-up and existing company to monitor, plan, and manage its costs and expenses to maintain a good profitability level.
For this purpose, it is necessary to analyze the highest costs and always work on their optimization. In our 3 Way Financial Model Template we have created a Top expense report helps users with this task. It summarizes the four biggest expense categories and the rest of the expenses as the 'other', so the users can easily monitor these expenses and track the tendencies related to their increase or decrease from year to year.
Valuation
This Tire Shop Financial Model Excel contains a valuation analysis template that will allow users to perform a Discounted Cash Flow valuation (DCF). It will also help users analyze such financial metrics as residual value, replacement costs, market comparables, recent transaction comparables, etc.
Top Revenue
The Top revenue tab in the 3 Way Financial Model shows off the financial information regarding each of your offerings. In particular, with the help of this Tire Shop Excel Pro Forma Template, you can obtain an annual breakdown of your revenue streams, including the revenue depth and revenue bridge.
Break Even
This Three Statement Financial Model Template has a break-even analysis for five years. It presents the calculation of the break even formula excel, both numeric and in the form of a chart.
File types:
Excel – Single-User: .xlsx
Excel – Multi-User: .xlsx
Free Demo – .xlsx