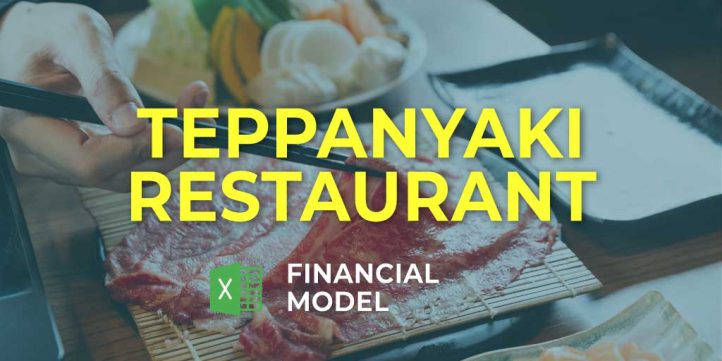 Financial Model, Hospitality, Restaurant
5-year financial projections, Business Valuation, Financial Model, Financial Modeling, Financial Projection, Financial Projections, Pro-Forma, Startup Financial Models, Three Statement Model | Three Financial Statements
NOTE: Single-User pertains to a limited Single User License where the template can only be used by one single user; while Multi-User is a license for users sharing the template with up to 20 members. Please refer to Terms of Use and License and Permitted Use for clarification.
TEPPANYAKI RESTAURANT EXCEL PRO FORMA TEMPLATE KEY FEATURES
Video tutorial:
Works for startups
P&L Projection creates a financial summary formatted for your pitch deck
All necessary reports
When creating a Teppanyaki Restaurant Excel Pro Forma, you will not need to independently prepare financial reports and study the requirements for them. Our Excel template contains all the necessary reports and calculations that correspond with the lenders demand.
Better decision making
Make better operational decisions with the help of creating Cash Flow Pro Forma scenarios in your Excel Template. Perhaps you have to choose between new staff members or investment in equipment, and you are wondering which decision to chose. Variants forecasting will give you the information you need to make these decisions with confidence that you know what impact they will have on your cash balance.
Spot problems with customer payments
Preparing the Cash Flow Statement For 5 Years encourages the business to look at how quickly customers are paying their debts. Identify unpaid invoices and take necessary actions to make them pay.
Save Time and Money
Teppanyaki Restaurant Financial Projection Model allows you to start planning with minimum fuss and maximum of help. No writing formulas, no formatting, no programming, no charting, and no expensive external consultants. Plan the growth of your business instead of fiddling around with expensive techy things.
We do the math
Pro Forma Template Excel has all the required features ready with no formula writing, no formatting, no programming, no charting, and no expensive external consultants! Concentrate on the task of planning rather than programming.
REPORTS and INPUTS
Operational KPIs
Our Teppanyaki Restaurant Financial Projection Template has convenient, informative, and easy-to-use operational performance graphs. Here you may visually track your company's key operational performance indicators (KPIs) in the form of charts. These operational performance graphs show the stakeholders the financial information related to the company's liquidity, revenues, expenses, cash flows, and other financial metrics. This financial information in the form of graphs will help a business owner to create presentations for banks and investors with minimum efforts.
CAPEX
A capital expenditure (CAPEX) reflects the company's investment in a business. Such an investment can be made in a piece of manufacturing equipment, an office supply, a vehicle, or others.
A CAPEX is typically steered towards the goal of rolling out a new product line or expanding a company's existing operations. The company does not report the money spent on CAPEX purchases directly in the pro forma income statement. It reflects these expenses as an asset in the balance sheets and, at the same time, deducts a part of this amount in the form of depreciation expenses for several years.
Top Revenue
This Financial Projection Template Excel has a tab for a detailed analysis of the company's revenue streams. With this template, users can analyze the revenue streams by each product or service category separately.
Top Expenses
It is very important for a start-up and existing company to monitor, plan, and manage its costs and expenses to maintain a good profitability level.
For this purpose, it is necessary to analyze the highest costs and always work on their optimization. In our Excel Pro Forma we have created a Top expense report helps users with this task. It summarizes the four biggest expense categories and the rest of the expenses as the 'other', so the users can easily monitor these expenses and track the tendencies related to their increase or decrease from year to year.
All in One Place
This Teppanyaki Restaurant Budget Spreadsheet will give the entrepreneurs financial assumptions regarding costs and income that can be brought together to get the business's full picture.
Financial KPIs
A Teppanyaki Restaurant Startup Financial Model outputs include both company and sector-specific key performance indicators KPIs. These KPIs include profitability metrics, cash flow metrics, and liquidity metrics. It also has KPIs crucial for the attraction of investments.
Cash Flow KPIs
Operating cash flow. Operating cash flow calculation shows how much cash the company generates from the business operations. This calculation does not include secondary sources of revenue, like interest or investments.
File types:
Excel – Single-User: .xlsx
Excel – Multi-User: .xlsx
Free Demo – .xlsx