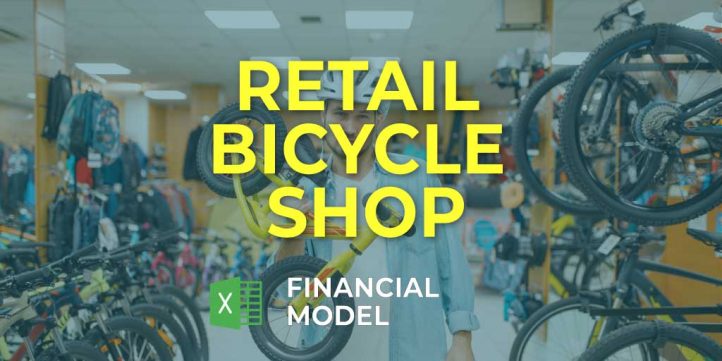 NOTE: Single-User pertains to a limited Single User License where the template can only be used by one single user; while Multi-User is a license for users sharing the template with up to 20 members. Please refer to Terms of Use and License and Permitted Use for clarification.
RETAIL BICYCLE SHOP BUDGET SPREADSHEET KEY FEATURES
Video tutorial:
Simple-to-use
A very sophisticated Retail Bicycle Shop Three Statement Financial Model Template, whatever size and stage of development your business is. Minimal previous planning experience and very basic knowledge of Excel is required: however, fully sufficient to get quick and reliable results.
Currency for inputs and denomination
In Excel Pro Forma define any currency code or symbol and preferred denomination (e.g. 000s) to reflect your preferences.
Better decision making
Make better operational decisions with the help of creating Cash Flow Statement Projection scenarios in your Excel Template. Perhaps you have to choose between new staff members or investment in equipment, and you are wondering which decision to chose. Variants forecasting will give you the information you need to make these decisions with confidence that you know what impact they will have on your cash balance.
Key Metrics Analysis
Creates 5-year Retail Bicycle Shop Budget Spreadsheet, proforma, financial statements, and financial ratios in GAAP or IFRS formats on the fly.
Get a Robust, Powerful and Flexible Financial Model
This well-tested, robust and powerful Retail Bicycle Shop Three Way Financial Model is your solid foundation to plan a business model. Advanced users are free to expand and tailor all sheets as desired, to handle specific requirements or to get into greater detail.
It is part of the reports set you need.
It doesn't matter you are worried about cash or not, setting up, and managing a Retail Bicycle Shop 3 Way Forecast Excel Template should be a cornerstone of your reporting set. It's the main report of your business that must have in place to grow sustainably. Before you rush into rent more office space or making a new hire, you should always run a Cash Flow Statement Projection scenario. You can model how that action would impact your cash balance in the nearest future. Knowing whether or not plans are possible is crucial to minimizing risk.
REPORTS and INPUTS
Sources and Uses
The sources and uses of funds proforma in this Retail Bicycle Shop Pro Forma Budget tell stakeholders the sources where a company obtains its money and how it spends it.
Costs
A Retail Bicycle Shop Financial Projection Excel is an important financial tool that enables users to identify actual and forecasted expenditures, as well as financial resources needed to cover these costs. With a well-developed cost budget, you can see the areas where you can save money and the areas of high priority. As a part of a business plan, the cost budget supports the process of pitching to investors and loan applications.
Dashboard
Our 3 Way Financial Model Template has an all-in-one dashboard. This dashboard is a useful financial planning tool that helps financial professionals create fast, reliable, and transparent financial reports to the management and other company's stakeholders.
With this financial dashboard's help, users can assess the company's financial data, drill into financial details, or validate figures fast and easy. Our specialists understand that the company's financial management, especially the start-up's management, is under pressure to deliver fast decisions and results. This all-in-one financial dashboard is an effective financial tool that will help with these tasks.
With this dashboard, you will get data at your fingertips. You will be able to perform financial analysis, assess key performance indicators (KPIs), and other financial information you may need to generate actionable insights and make wise financial decisions.
Loan opt-in
A loan amortization schedule is a table that shows the company's stakeholders the details of the periodic payments for an amortizing loan. It reflects the principal of an amortizing loan that is paid down over the life of the loan. In most cases, such payments have equal amounts, and the company regularly makes them during a certain period.
A Retail Bicycle Shop Financial Projection Model includes the pre-built amortization calculator, which reflects the initial amount, periodic terms, and interest rate of the loan. With this loan amortization schedule, the companies can better plan and track how much they still owe and how they plan to repay the loans.
Top Revenue
When the company's management starts to make a Financial Projection Model Excel, revenue is the most crucial component in the Excel Pro Forma. Revenue is one of the main drivers of the enterprise's value in the Three Statement Financial Model. That is why financial analysts must pay special attention to the planning and devising the best strategy to approach modeling future revenue streams.
Revenue forecasts should also have assumptions about the growth rate based on historical financial data. Users can find all the components of wise financial planning of the revenue streams in our Retail Bicycle Shop Pro Forma Budget.
Cash Flow KPIs
Cash balance. The cash balance shows the total amount of money in a financial account of the company. Any company needs to hold in reserve enough amount of cash to meet current obligations.
Cap Table
In our Retail Bicycle Shop Cash Flow Proforma Template, a Capitalization table, or Cap table is a spreadsheet critical for start-ups that shows the company's ownership structure. It lists your company's shares and options, if any. It also shows the prices your investors have paid for these shares and each investor's percentage of ownership in the company.
File types:
Excel – Single-User: .xlsx
Excel – Multi-User: .xlsx
Free Demo – .xlsx