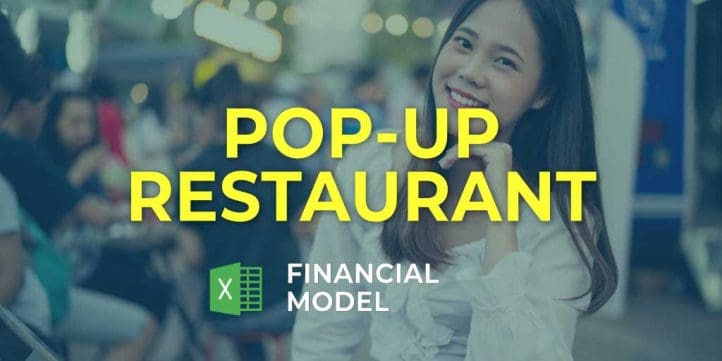 Financial Model, Hospitality, Restaurant
5-year financial projections, Business Valuation, Financial Model, Financial Modeling, Financial Projection, Financial Projections, Pro-Forma, Startup Financial Models, Three Statement Model | Three Financial Statements
NOTE: Single-User pertains to a limited Single User License where the template can only be used by one single user; while Multi-User is a license for users sharing the template with up to 20 members. Please refer to Terms of Use and License and Permitted Use for clarification.
POP UP RESTAURANT EXCEL FINANCIAL MODEL TEMPLATE KEY FEATURES
Video tutorial:
Works for startups
Three Statement Financial Model creates a financial summary formatted for your pitch deck
Avoid cash flow problems.
Cash flow, and especially Cash Flow Projection from operations, is the lifeblood of your business – do not ignore it! The level of cash flow in your company dictates the decisions you can make and how quickly you can grow your business. So you should monitor and manage cash flow regularly. Monthly cash flow forecasting will give you a current view of the cash inflows and outflows within your business and also what the next period looks like. Regular Cash Flow Statement Proforma forecasting can highlight where cash gaps will be in the future and where there could be improvements made. Most importantly, a Cashflow Forecast will give you a good idea of the health of your business cash flow at a glance. Finding potential cash flow gaps ahead of time can save you and your business both time and money. You can make decisions and take actions before things get too bad, ensuring your Startup Cash Flow Statement is maintained, based on your forecasts.
Save time and money
Via Excel Financial Model Template you can without effort and special education get all the necessary calculations and you will not need to spend money on expensive financial consultants. Your task is building a strategy, evolution, and creativity, and we have already done the routine calculations instead of you.
It is part of the reports set you need.
It doesn't matter you are worried about cash or not, setting up, and managing a Pop Up Restaurant Financial Model Excel Template should be a cornerstone of your reporting set. It's the main report of your business that must have in place to grow sustainably. Before you rush into rent more office space or making a new hire, you should always run a Projected Cash Flow Statement Format scenario. You can model how that action would impact your cash balance in the nearest future. Knowing whether or not plans are possible is crucial to minimizing risk.
Print-ready Reports
Solid package of print-ready reports, including a pro forma p&l statement, pro forma cash flow projection, a balance sheet, and a complete set of financial ratios.
Generate growth inspiration
By running various scenarios and looking at the effects they could have on your cash balance, you will begin to see which options are best for your business. Ones that are possible, and what is involved in making them work. Organic growth isn't the only option – there are growing funding options becoming available, and Cash Flow Statement Projection could be a way of looking at the impact an injection of cash could have on your business and its growth plans.
REPORTS and INPUTS
CAPEX
CapEx (short for capital expenditures) is the company's expenses related to the acquisition, maintenance, or improvement of fixed assets such as property, buildings, factories, equipment, and technology. CapEx is included in the balance sheet, and it also can be reflected partially in the profit and loss pro forma and projected cash flow statement format.
Financial KPIs
In the Financial Projection Model Excel you can visually track key financial indicators over the five years period as well as 24 months period.
– EBITDA/EBIT shows your company's operational performance
– CASH FLOWS shows your company's inflows and outflows
– CASH BALANCE this is the forecast of cash in hand you will have.
Burn and Runway
This Pop Up Restaurant Financial Model Excel Spreadsheet automatically calculates the cash burn rate based on the inputs from other spreadsheets, in particular, from the cash flow statement forecast.
Cash Flow KPIs
Cash conversion cycle (CCC). The cash conversion cycle (CCC) is a financial metric that expresses the time it takes for a company to convert its resources in the form of inventory and other resources into cash flows. The cash conversion cycle is also called the Net Operating Cycle.
CCC measures how long each dollar that the company inputted is tied up in the production and sales process before it gets converted into cash.
The cash conversion cycle metric accounts for various factors, such as how much time it takes to sell inventory, how much time it takes to collect accounts receivable, and how much time it takes to pay obligations.
Profitability KPIs
Net profit margin. Net profit margin is a business metric that shows how efficient your company is at generating profit compared to its revenue. In other words, this net profit margin metric tells users how each dollar translates into profits.
The Net profit margin metric is an excellent way to forecast and manage the long-term growth of a business, i.e., how the income exceeds the business's costs.
Sources and Uses
The statement of the sources and uses of cash gives users a summary of where capital will come from (the ""Sources"") and how this capital will be spent (the ""Uses""). The statement is structured in the way that the total amounts of the sources and uses accounts should equal each other.
The sources and uses statement is critical for the situations when the company considers recapitalization, restructuring, or mergers & acquisitions (M&A) procedures.
Liquidity KPIs
Accounts receivable turnover (ART). In the Three Way Financial Model, the accounts receivables turnover ratio (ART) calculates a metric that assesses a company's effectiveness in collecting its receivables. This ratio shows how successful the company is in managing its debts.
File types:
Excel – Single-User: .xlsx
Excel – Multi-User: .xlsx
Free Demo – .xlsx