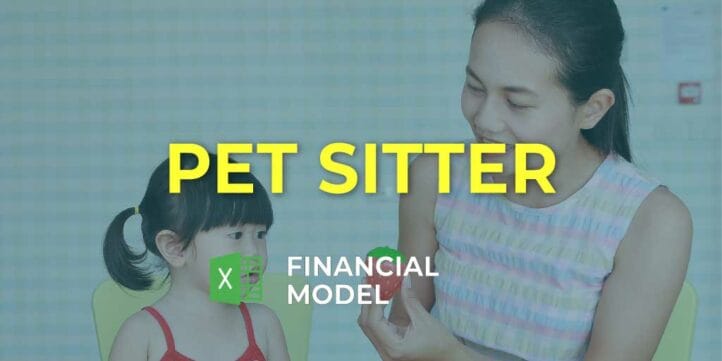 NOTE: Single-User pertains to a limited Single User License where the template can only be used by one single user; while Multi-User is a license for users sharing the template with up to 20 members. Please refer to Terms of Use and License and Permitted Use for clarification.
PET SITTER CASH FLOW PROFORMA KEY FEATURES
Video tutorial:
Simple and Incredibly Practical
Simple-to-use yet very sophisticated Pet Sitter Financial Model In Excel Template. Whatever size and stage of development your business is, with minimal planning experience and very basic knowledge of Excel you can get complete and reliable results.
Investors ready
Print-ready (including a forecasted income statement, a Cash Flow Projection, a balance sheet, and a complete set of financial ratios).
Manage surplus cash
Most companies don't have excess cash in the bank. It is a well-known situation. But managing surplus cash for reinvestment in new market opportunities, or debt repayments can be essential to keeping stay in the business. Managers are entirely ready to plan for what to do with the cash surplus if they have the forecast of when and where the business will have surplus cash in the bank account. Pro Forma Cash Flow Projection will provide supplementary guidance on what to do with a cash surplus.
Avoid cash flow problems.
Cash flow, and especially the Projected Cashflow Statement from operations, is the lifeblood of your business – do not ignore it! The level of cash flow in your company dictates the decisions you can make and how quickly you can grow your business. So you should monitor and manage cash flow regularly. Monthly cash flow forecasting will give you a current view of the cash inflows and outflows within your business and also what the next period looks like. Regular Startup Cash Flow Projection forecasting can highlight where cash gaps will be in the future and where there could be improvements made. Most importantly, a Cash Flow Statement For 5 Years will give you a good idea of the health of your business cash flow at a glance. Finding potential cash flow gaps ahead of time can save you and your business both time and money. You can make decisions and take actions before things get too bad, ensuring your Startup Cash Flow Projection is maintained, based on your forecasts.
Update anytime
You can easily adjust inputs at the launch stage and throughout the further activities of your business to refine your Pet Sitter 3 Way Forecast Model.
Get Investors to Notice
Most entrepreneurs can't get investors to return their calls. With the Pet Sitter Financial Model In Excel, you will secure meetings with potential investors easily.
REPORTS and INPUTS
Profitability KPIs
Earnings growth. The Pet Sitter Excel Pro Forma Template has many financial metrics, including the earning growth and growth of net income. Starting the company, we want to see its growth, and the pro forma income statement for a startup is the best way to monitor such development and to be sure that the company is developing in the right way. In particular, we can monitor sales and revenue growth reflected in the earnings growth.
Performance KPIs
Lead-to-client conversion rate. Lead-to-Client Conversion Rate is an essential metric for businesses that attract new clients with the Internet, social media, and other similar channels. Leads do not turn into customers automatically. Company's sale team need to convert these leads into actual customers.
The Lead-to-Conversion business metric is a good measure of the sales team's performance. Moreover, it indicates the quality of your product. If you have a low conversion rate, it may sign that your product is not attractive to the customers.
Dashboard
Our Pet Sitter Financial Projection Model has a dashboard that summarizes information from the other spreadsheets of the 3 Way Forecast Model. With this dashboard, you can set your key performance indicators (KPIs), and the dashboard will include them in the calculations and the information from the financial statements. You can create the dashboard with core financial information on a month-by-month basis and change it any time you need.
Sources and Uses
The statement of the sources and uses of cash gives users a summary of where capital will come from (the ""Sources"") and how this capital will be spent (the ""Uses""). The statement is structured in the way that the total amounts of the sources and uses accounts should equal each other.
The sources and uses statement are critical for the situations when the company considers recapitalization, restructuring, or mergers & acquisitions (M&A) procedures.
Costs
Our Pet Sitter Excel Pro Forma Template has a well-developed methodology for creating a cost budget. You can plan and forecast your costs from operations and other expenses for up to 72 months. The cost budget has a detailed hiring plan while also automatically handling the expenses' accounting treatment. You can set salaries, job positions, and the time of hiring.
Moreover, the model allows users to calculate hiring as the company scales automatically. Pre-built expense forecasting curves enable users to set how an expense changes over time. These pre-built options include % of revenues, % of salaries, % of any revenue category, growth (or decline) rates that stay the same or change over time, ongoing expenses, expenses that periodically reoccur, expenses that regularly change, and many more. Costs can be allocated to key expense areas and labeled for accounting treatment as SG&A, COGS, or CAPEX.
Break-Even
This Pet Sitter Financial Projection Template has a break-even analysis tab that predicts the period within which the company is supposed to move to a new level, i.e., start to bring profits to its owners. excel break even formula uses forecasted revenues and expenses and makes Excel Financial Model Template on the period when its overall revenues become significantly bigger than costs.
Loan opt-in
Our Three Statement Financial Model Template has a built-in loan amortization schedule with both the principal (i.e., the amount of loan borrowed) and the interest calculation. A loan amortization schedule template will calculate your company's payment amount, including the information on the principal, interest rate, time length of the loan, and the payments' frequency.
File types:
Excel – Single-User: .xlsx
Excel – Multi-User: .xlsx
Free Demo – .xlsx