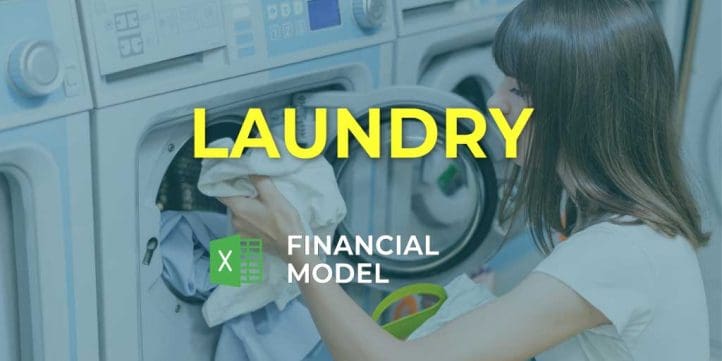 Cleaning, Dry Cleaning, Financial Model, Service Businesses
5-year financial projections, Business Valuation, Excel, Financial Model, Financial Modeling, Financial Projection, Financial Projections, Pro-Forma, Startup Financial Models, Three Statement Model | Three Financial Statements
NOTE: Single-User pertains to a limited Single User License where the template can only be used by one single user; while Multi-User is a license for users sharing the template with up to 20 members. Please refer to Terms of Use and License and Permitted Use for clarification.
LAUNDRY PROFIT LOSS PROJECTION KEY FEATURES
Video tutorial:
All necessary reports
When creating a Laundry Financial Model, you will not need to independently prepare financial reports and study the requirements for them. Our Excel template contains all the necessary reports and calculations that correspond with the lender's demand.
Easy to follow
Clear and transparent Laundry 3 Way Financial Model structure (15+ separate tabs, each focusing on a specific planning category, color-coded => input, calculation, and report sheets).
Get a Robust, Powerful, and Flexible Financial Model
This well-tested, robust and powerful Laundry 3 Way Forecast Excel Template is your solid foundation to plan a business model. Advanced users are free to expand and tailor all sheets as desired, to handle specific requirements, or to get into greater detail.
Save Time and Money
Laundry Financial Model Excel Template allows you to start planning with minimum fuss and maximum help. No writing formulas, no formatting, no programming, no charting, and no expensive external consultants. Plan the growth of your business instead of fiddling around with expensive techy things.
Generate growth inspiration
By running various scenarios and looking at the effects they could have on your cash balance, you will begin to see which options are best for your business. Ones that are possible, and what is involved in making them work. Organic growth isn't the only option – there are growing funding options becoming available, and Cash Flow Statement could be a way of looking at the impact an injection of cash could have on your business and its growth plans.
5 years forecast horizon
Generates a fully integrated Laundry 3 Way Forecast Model for 5 years (on a monthly basis). Automatic aggregation of annual summaries on outputs tabs.
REPORTS and INPUTS
Profitability KPIs
Growth of net income. Many financial metrics can be calculated from the Laundry Cash Flow Proforma. Entrepreneurs want to see the growth of their company, and the growth of net income is one of the essential metrics that shows that the company is growing and developing. This metric means that the sales are growing and costs are managed wisely, and, respectively, the p&l proforma shows the net income growth.
Top Expenses
The Top expenses tab of the Laundry Excel Pro Forma Template reflects your company's annual expenses, both total and grouped by four categories.
This Financial Projection provides an overview of annual expenses on customer acquisition, COSS placeholders, wages & salaries, fixed and variable expenses, and all other expenses.
Operational KPIs
Financial graphs and charts in this Laundry Pro Forma help the stakeholders visually track liquidity, budgets, expenses, cash flow, and many other company financial metrics. These graphs will also help a company's management avoid problems by reflecting its financial data in real-time, with a comprehensive financial information overview.
These operational performance graphs will help the business owners and financial managers ensure the best possible performance and financial health of their company because regular financial analytics procedures and the highest quality of financial data are the company's top priorities.
Our financial graphs will also help the company's financial specialists raise financial issues at the general meetings and deliver understandable financial information to other departments and external stakeholders.
Valuation
With our Laundry Five Year Financial Projection Template, you will get proformas for valuation analysis. You will be able to perform a Discounted Cash Flow (DCF) valuation analysis and other valuations you may need.
Cap Table
In our Laundry Excel Pro Forma Template, a Capitalization table, or Cap table is a spreadsheet critical for start-ups that shows the company's ownership structure. It lists your company's shares and options if any. It also shows the prices your investors have paid for these shares and each investor's percentage of ownership in the company.
CAPEX
Detailed capital expenditure (i.e., CAPEX ) planning and automatic calculation of depreciation is an essential part of any Cash Flow Format In Excel. Our CAPEX calculation template allows users to apply straight-line or double-declining balance depreciation for financial planning purposes.
All in One Place
Our integrated Laundry Excel Pro Forma Template includes and connects everything you need for investors' meetings. It has financial assumptions, proformas, calculations, cash flow forecasts, and other templates. Moreover, our Pro Forma presents it in an investor-friendly way.
File types:
Excel – Single-User: .xlsx
Excel – Multi-User: .xlsx
Free Demo – .xlsx