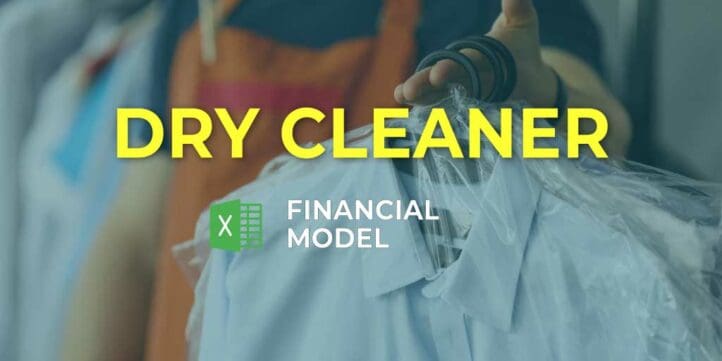 Cleaning, Dry Cleaning, Financial Model, Service Businesses
5-year financial projections, Business Valuation, Financial Model, Financial Modeling, Financial Projection, Financial Projections, Free Financial Model Templates, Pro-Forma, Startup Financial Models, Three Statement Model | Three Financial Statements
NOTE: Single-User pertains to a limited Single User License where the template can only be used by one single user; while Multi-User is a license for users sharing the template with up to 20 members. Please refer to Terms of Use and License and Permitted Use for clarification.
DRY CLEANER 3 WAY FORECAST MODEL KEY FEATURES
Video tutorial:
External stakeholders, such as banks, may require a regular forecast.
If the business has a bank loan, the bank will ask for a Dry Cleaner Five Year Financial Projection Template regularly.
Get Investors to Notice
Most entrepreneurs can't get investors to return their calls. With the Dry Cleaner Financial Model, you will secure meetings with potential investors easily.
Graphical visualization in a convenient dashboard all in one
All necessary reports and calculations, including variable data for your easement, are displayed on a convenient Cash Flow Format In the Excel dashboard tab. You do not need to move between sheets to compare important data – everything is visible immediately.
Integrated Model to convince Investors
Three Way Financial Model includes and connects everything (assumptions, calculations, outputs) and presents it in an investor-friendly, deal-proven way.
Get a robust, powerful financial model which is fully expandable
This well-tested, robust and powerful Dry Cleaner Three Statement Financial Model is your solid foundation to plan a dry cleaner business model. Advanced users are free to expand and tailor all sheets as desired, to handle specific requirements, or to get into greater detail.
Save Time and Money
Dry Cleaner Finance Projection allows you to start planning with minimum fuss and maximum help. No writing formulas, no formatting, no programming, no charting, and no expensive external consultants. Plan the growth of your business instead of fiddling around with expensive techy things.
REPORTS and INPUTS
Operational KPIs
Financial graphs and charts in this Dry Cleaner Pro Forma Template Excel help the stakeholders visually track liquidity, budgets, expenses, cash flow, and many other company financial metrics. These graphs will also help a company's management avoid problems by reflecting its financial data in real-time, with a comprehensive financial information overview.
These operational performance graphs will help the business owners and financial managers ensure the best possible performance and financial health of their company because regular financial analytics procedures and the highest quality of financial data are the company's top priorities.
Our financial graphs will also help the company's financial specialists raise financial issues at the general meetings and deliver understandable financial information to other departments and external stakeholders.
Top Expenses
It is very important for a start-up and existing company to monitor, plan, and manage its costs and expenses to maintain a good profitability level.
For this purpose, it is necessary to analyze the highest costs and always work on their optimization. In our 3 Way Financial Model Template we have created a Top expense report helps users with this task. It summarizes the four biggest expense categories and the rest of the expenses as the 'other', so the users can easily monitor these expenses and track the tendencies related to their increase or decrease from year to year.
Liquidity KPIs
Working Capital. The working capital financial metric reflects the money you need for short-term operations. Working capital shows the difference between current assets and current liabilities.
Financial KPIs
With the help of the financial key performance indicators (KPIs), you can track your company's performance and improve its financial health. This Dry Cleaner Excel Pro Forma allows showing the key performance indicators in the form of charts.
Cash Flow KPIs
Cash balance. The cash balance shows the total amount of money in the financial account of the company. Any company needs to hold in reserve enough amount of cash to meet current obligations.
Performance KPIs
Return on equity. The return on equity financial metric can be calculated based on the information both from the Balance Sheet and statement of profit and loss proforma. It measures the correspondence of earnings to the equity, i.e., the amount of money used to get profits.
Dashboard
A financial dashboard in this Dry Cleaner 3 Way Financial Model Template is a useful financial management tool. It helps track all your relevant finance key performance indicators (KPIs), assures effective cash management, and enables financial management to track expenses, sales, and profits in detail to meet and outperform a department or company's financial objectives.
File types:
Excel – Single-User: .xlsx
Excel – Multi-User: .xlsx
Free Demo – .xlsx