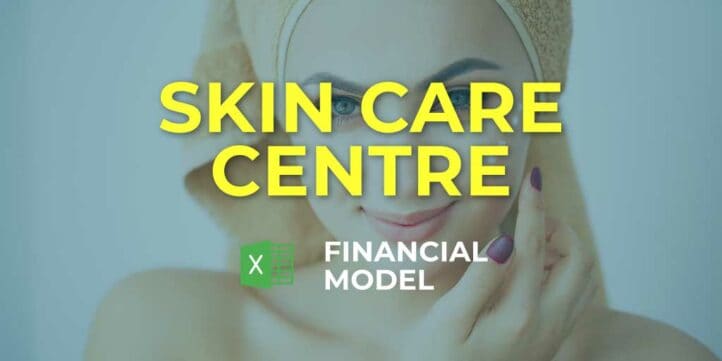 Beauty Shops & Centers, Financial Model, Health Care, Service Businesses, Wellness
5-year financial projections, Break-Even, Budgeting, Business Valuation, Cap Table, Cash Flow Projections, Cost Calculation, Cost Projections, DCF Model, Debt Amortization, Debt Schedule, Excel, Financial Feasibility, Financial Model, Financial Modeling, Financial Planning, Financial Projection, Financial Projections, Financial Reporting, Financial Statements, Forecast, Free Financial Model Templates, Pre Money Valuation, Pro-Forma, Profitability Analysis, Revenue Projections, Startup Financial Models, Three Statement Model | Three Financial Statements, Uses and Sources of Funds, Valuation, WACC (Weighted Average Cost of Capital)
NOTE: Single-User pertains to a limited Single User License where the template can only be used by one single user; while Multi-User is a license for users sharing the template with up to 20 members. Please refer to Terms of Use and License and Permitted Use for clarification.
SKIN CARE BUDGET FINANCIAL MODEL KEY FEATURES
Video tutorial:
Easy to follow
Clear and transparent Skin Care 3 Way Financial Model structure (15+ separate tabs, each focusing on a specific planning category, colour coded => input, calculation and report sheets).
We do the math
Pro Forma Template has all the features above ready with no formula writing, no formatting, no programming, no charting, and no expensive external consultants!
Simple and Incredibly Practical
Simple-to-use yet very sophisticated Skin Care Financial Projection tool. Whatever size and stage of development your business is, with minimal planning experience and very basic knowledge of Excel you can get complete and reliable results. Additionally, you will receive uncompromised after-sales service and access to valuable tutorial videos and blog posts.
Prove You Can Pay Back the Loan You Requested
When you apply for a business loan, bankers will study your Cash Flow Statement For 5 Years in an attempt to answer this question: Can this business pay back the loan? Requesting a loan without showing your Cash Flow Statement for paying it back is a common way to land in the rejection pile. It is exceptionally accurate if your current cash flow won't cover all of your monthly operating expenses — plus your loan payment. Don't fall into this kind of situation. Use Cash Flow Statement to strengthen your case by showing the banker exactly how you plan to use the loan and when you will start repaying the debt. This type of forecasting helps you create a road map that can impress a lender with the confidence they need to approve your loan.
Manage accounts receivable.
By creating a cash flow statement for 5 years that takes invoices and bills into account, you'll be more easily able to identify who is systematically paying late. You could even go on to model different payment dates on overdue invoices to see the real effect of late payments on your cash flow.
Integrated Model to convince Investors
Cash Flow Proforma Template includes and connects everything (assumptions, calculations, outputs) and presents it in an investor-friendly, deal-proven way.
REPORTS and INPUTS
Operational KPIs
Our Skin Care Financial Projection Excel has convenient, informative, and easy-to-use operational performance graphs. Here you may visually track your company's key operational performance indicators (KPIs) in the form of charts. These operational performance graphs show the stakeholders the financial information related to the company's liquidity, revenues, expenses, cash flows, and other financial metrics. This financial information in the form of graphs will help a business owner to create presentations for banks and investors with minimum efforts.
Performance KPIs
Payback period. The cost of acquiring new customers should be compared to the profits that these customers generate. When these two numbers are divided, the result is called a payback period.
Benchmarks
This Three Way Financial Model has a tab for financial benchmarking study. This study involves a financial analysis performance and comparing the company's results with other companies' financial indicators in the industry. Conduction of the financial benchmarking study helps users assess a company's overall competitiveness, efficiency, and productivity.
Valuation
With our pre-built valuation template in the Skin Care Financial Projection Model, you will receive all the data your investors might need.
The weighted average cost of capital (WACC) will show your stakeholders the minimum return on enterprise funds invested in its activities capital. Free cash flow valuation will show a cash flow available to all investors, including shareholders and creditors. Discounted cash flow will reflect the value of future cash flows in relation to the current time.
Cap Table
The Skin Care Finance Projection has built-in proformas to calculate discounted cash flows and various sales' and EBITDA valuations. Business owners can use these valuations to assess the exit value and perform the financial projections of returns to investors.
Users can use the Cap table or ignore it; it will not have a negative impact on the other financial calculations in the model.
Top Expenses
In the Top expenses section of our Skin Care Three Statement Financial Model, you can track your more significant expenses divided into four categories. The model also has an 'other' category, and you can expand or change this table according to your needs.
You can reflect your company's historical data or make a Budget Financial Model for the five years.
Financial KPIs
In the Cashflow Projection you can visually track key financial indicators over the five years period as well as 24 months period.
– EBITDA/EBIT shows your company's operational performance
– CASH FLOWS shows your company's inflows and outflows
– CASH BALANCE this is the forecast of cash in hand you will have.
File types:
Excel – Single-User: .xlsx
Excel – Multi-User: .xlsx
Free Demo – .xlsx