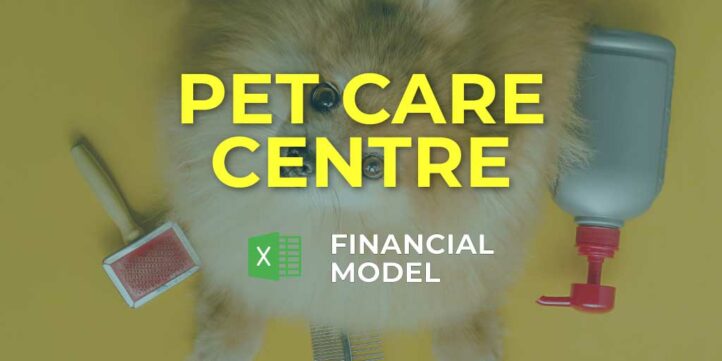 Beauty Shops & Centers, Clinics, Financial Model, Service Businesses
5-year financial projections, Break-Even, Budgeting, Business Valuation, Cash Flow Projections, Cost Calculation, Cost Projections, DCF Model, Debt Amortization, Debt Schedule, Excel, Financial Feasibility, Financial Model, Financial Modeling, Financial Planning, Financial Projection, Financial Projections, Financial Reporting, Financial Statements, Forecast, Forecasting, Free Financial Model Templates, KPIs (Key Performance Indicators), Pro-Forma, Revenue Projections, Startup Financial Models, Three Statement Model | Three Financial Statements, Uses and Sources of Funds, Valuation, WACC (Weighted Average Cost of Capital)
NOTE: Single-User pertains to a limited Single User License where the template can only be used by one single user; while Multi-User is a license for users sharing the template with up to 20 members. Please refer to Terms of Use and License and Permitted Use for clarification.
DOG GROOMING FINANCIAL MODEL EXCEL KEY FEATURES
Video tutorial:
Gaining trust from stakeholders
Investors and financing providers tend to think in terms of the big picture. They want the c-level of the companies they invest in to do the same to ensure they maintain a clear idea of the future. Providing stakeholders with a monthly projected cash flow statement will demonstrate a level of awareness that leads to confidence and trust and will make it easier to raise more investment.
Get Investors to Notice
Most entrepreneurs can't get investors to return their calls. With the Dog Grooming Excel Pro Forma Template, you will secure meetings with potential investors easily.
Build your plan and pitch for funding
Impress bankers and investors with a proven, strategic Dog Grooming Finance Projection that impresses every time.
External stakeholders, such as banks, may require a regular forecast.
If the business has a bank loan, the bank will ask for a Dog Grooming Five Year Financial Projection Template regularly.
Avoid cash flow problems.
Cash flow, and especially Projected Cash Flow Statement Format from operations, is the lifeblood of your business – do not ignore it! The level of cash flow in your company dictates the decisions you can make and how quickly you can grow your business. So you should monitor and manage cash flow regularly. Monthly cash flow forecasting will give you a current view of the cash inflows and outflows within your business and also what the next period looks like. Regular Cash Flow Statement For 5 Years forecasting can highlight where cash gaps will be in the future and where there could be improvements made. Most importantly, a Projected Cashflow Statement will give you a good idea of the health of your business cash flow at a glance. Finding potential cash flow gaps ahead of time can save you and your business both time and money. You can make decisions and take actions before things get too bad, ensuring your Projected Cash Flow Statement is maintained, based on your forecasts.
Better decision making
Make better operational decisions with the help of creating Cashflow Forecast scenarios in your Excel Template. Perhaps you have to choose between new staff members or investment in equipment, and you are wondering which decision to chose. Variants forecasting will give you the information you need to make these decisions with confidence that you know what impact they will have on your cash balance.
REPORTS and INPUTS
Cash Flow KPIs
Operating cash flow. Operating cash flow calculation shows how much cash the company generates from the business operations. This calculation does not include secondary sources of revenue, like interest or investments.
Liquidity KPIs
Accounts receivable turnover (ART). In the Financial Projection, the accounts receivables turnover ratio (ART) calculates a metric that assesses a company's effectiveness in collecting its receivables. This ratio shows how successful the company is in managing its debts.
Performance KPIs
Payback period. The cost of acquiring new customers should be compared to the profits that these customers generate. When these two numbers are divided, the result is called a payback period.
Break Even
The Dog Grooming Three Statement Financial Model Template has an integrated template for the break-even analysis. The break even point analysis calculation helps the company's management understand when the company is expected to become profitable. This Excel Pro Forma will automatically generate y break-even timing, break-even units, and break-even revenue of the company.
CAPEX
This Dog Grooming 3 Way Forecast Model consist a CapEx calculation with pre-built formulas helps users calculate the volume of capital expenditures using numbers in the projected income statement and balance sheet.
Financial KPIs
The Dog Grooming Five Year Financial Projection Template has key financial indicators (KPIs) that show sales and profitability performance: revenue growth rate, gross margin, and EBITDA margin.
It also has KPIs related to cash flows and raising investment: the cash burn rate, runway and funding need. You can choose the KPIs relevant to your company and industry, and monitor your company's performance. For example, SaaS companies typically monitor and manage customer lifetime value (LTV), customer acquisition costs (CAC), LTV/CAC ratio, and the churn rate. For SaaS businesses, these KPIs are crucial.
Cap Table
The 3 Way Financial Model and its Capitalization table (or Cap table) summarizes your investors' information, their share in the company, and how much they have paid for these shares.
File types:
Excel – Single-User: .xlsx
Excel – Multi-User: .xlsx
Free Demo – .xlsx