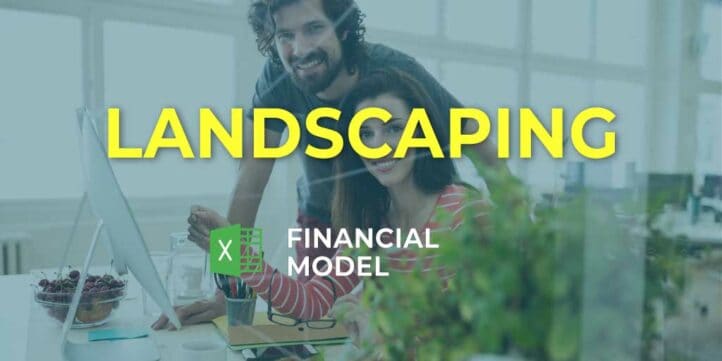 Agriculture, Financial Model, Service Businesses
5-year financial projections, Business Valuation, Financial Model, Financial Modeling, Financial Projection, Financial Projections, Pro-Forma, Startup Financial Models, Three Statement Model | Three Financial Statements
NOTE: Single-User pertains to a limited Single User License where the template can only be used by one single user; while Multi-User is a license for users sharing the template with up to 20 members. Please refer to Terms of Use and License and Permitted Use for clarification.
LANDSCAPING PRO FORMA TEMPLATE KEY FEATURES
Video tutorial:
Works for startups
Excel Pro Forma creates a financial summary formatted for your pitch deck
Identify potential shortfalls in cash balances in advance.
The Landscaping Cash Flow Proforma Template works like an 'early warning system.' It is, by far, the most significant reason for a Projected Cash Flow Statement Format.
Manage accounts receivable.
By creating a cash flow statement forecast that takes invoices and bills into account, you'll be more easily able to identify who is systematically paying late. You could even go on to model different payment dates on overdue invoices to see the real effect of late payments on your cash flow.
External stakeholders, such as banks, may require a regular forecast.
If the business has a bank loan, the bank will ask for a Landscaping Cashflow Projection regularly.
Build your plan and pitch for funding
Impress bankers and investors with a proven, strategic Landscaping Excel Pro Forma Template that impresses every time.
Print-ready Reports
Solid package of print-ready reports, including a projected p&l statement, projected cash flow statement format, a balance sheet, and a complete set of financial ratios.
REPORTS and INPUTS
Cap Table
The Landscaping Three Statement Financial Model Template has built-in proformas to calculate discounted cash flows and various sales' and EBITDA valuations. Business owners can use these valuations to assess the exit value and perform the financial projections of returns to investors.
Users can use the Cap table or ignore it; it will not have a negative impact on the other financial calculations in the model.
All in One Place
A well-developed and easy-to-use 3 Way Forecast Model. You do not to be a financial expert to design your start-up P&L Projection. Everything you need is the right set of financial tools, and our Landscaping 3 Way Forecast Model will give you them.
Liquidity KPIs
Liquidity Position. The liquidity position of a company is an essential indication of the financial health of the enterprise. To assess the liquidity position of the company, it is necessary to calculate the liquidity ratio. Many companies set a target liquidity ratio that reflects the specifics of their business and industry. Such target liquidity ratios ensure that companies have enough cash to meet their obligations. Therefore, we recommend setting a target liquidity ratio for your Pro Forma Template.
Top Expenses
The Top expenses tab of the Landscaping Three Statement Financial Model Template reflects your company's annual expenses, both total and grouped by four categories.
This Financial Projection Model Excel provides an overview of annual expenses on customer acquisition, COSS placeholders, wages & salaries, fixed and variable expenses, and all other expenses.
Costs
Our Landscaping Cashflow Projection has a well-developed methodology for creating a cost budget. You can plan and forecast your costs from operations and other expenses for up to 72 months. The cost budget has a detailed hiring plan while also automatically handling the expenses' accounting treatment. You can set salaries, job positions, and the time of hiring.
Moreover, the model allows users to calculate hiring as the company scales automatically. Pre-built expense forecasting curves enable users to set how an expense changes over time. These pre-built options include % of revenues, % of salaries, % of any revenue category, growth (or decline) rates that stay the same or change over time, ongoing expenses, expenses that periodically reoccur, expenses that regularly change, and many more. Costs can be allocated to key expense areas and labeled for accounting treatment as SG&A, COGS, or CAPEX.
Profitability KPIs
EBIT. Earnings before interest and tax (EBIT) is a financial metric that subtracts the cost of sales and other operating expenses from revenues.
Sources and Uses
The sources and uses of funds proforma in this Landscaping Financial Projection Model Template tell stakeholders the sources where a company obtains its money and how it spends it.
File types:
Excel – Single-User: .xlsx
Excel – Multi-User: .xlsx
Free Demo – .xlsx