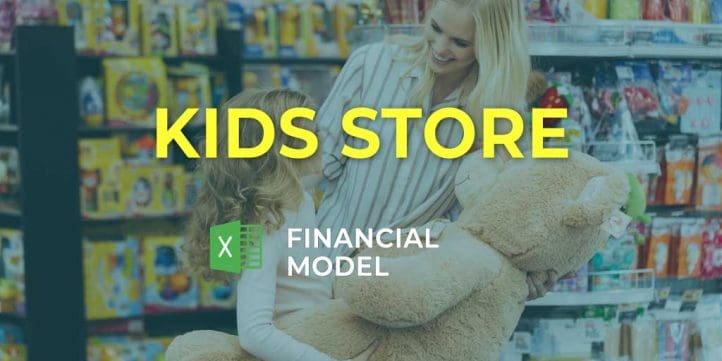 NOTE: Single-User pertains to a limited Single User License where the template can only be used by one single user; while Multi-User is a license for users sharing the template with up to 20 members. Please refer to Terms of Use and License and Permitted Use for clarification.
KIDS STORE BUDGET SPREADSHEET KEY FEATURES
Video tutorial:
Convince investors and lenders
Enhance your pitches and impress potential financiers with a 3 Way Forecast Model delivering the right information and expected financial and operational metrics. Facilitate your negotiations with investors for successful funding. Raise money more quickly and refocus on your core business.
Easy to follow
Clear and transparent Kids Store Excel Financial Model Template structure (15+ separate tabs, each focusing on a specific planning category, colour coded => input, calculation and report sheets).
Build your plan and pitch for funding
Impress bankers and investors with a proven, strategic Kids Store 3 Way Forecast Excel Template that impresses every time.
Currency for inputs and denomination
In Pro Forma Budget define any currency code or symbol and preferred denomination (e.g. 000s) to reflect your preferences.
Predict the Influence of Upcoming Changes
Does your company plan to purchase new equipment or to launch a new product? Projected Cash Flow Statement enable you to obtain a complete picture of the effect that specific changes will have on your Cash Flow Projection. When planning your finances in the Startup Cash Flow Projection, you will forecast cash inflows and outflows based on future invoices, bills due, and payroll. You can then create multiple 'what if' scenarios, such as buying new equipment to choose the best way for you. Forecasting shows you how the upcoming changes will affect your cash balance.
Saves you time
Allows you to spend less time on Cash Flow Statement For 5 Years and more time on your products, customers and business development
REPORTS and INPUTS
Benchmarks
A benchmarking study as the element of the Financial Projection Template Excel is usually used to evaluate a business's performance by focusing on one or more particular indicators and comparing them with similar indicators of other companies in the industry.
In respect of the financial benchmarking study, these indicators could be profit margins, cost margins, cost per unit, productivity margins, or others. Later the company's performance indicators should be compared to that of other companies within the same industry.
Benchmarking is a useful strategic management tool, which is essential for start-ups. Companies can evaluate any economic, business, or financial metric or process and compare them to the processes of 'best practice' companies within the same field or industry.
Top Revenue
This Financial Projection Model has a tab for a detailed analysis of the company's revenue streams. With this template, users can analyze the revenue streams by each product or service category separately.
Valuation
This Kids Store Three Statement Financial Model contains a valuation analysis template that will allow users to perform a Discounted Cash Flow valuation (DCF). It will also help users analyze such financial metrics as residual value, replacement costs, market comparables, recent transaction comparables, etc.
Performance KPIs
Lead-to-client conversion rate. Lead-to-Client Conversion Rate is an essential metric for the businesses that attract new clients with the Internet, social media, and other similar channels. Leads do not turn into customers automatically. Company's sale team need to convert these leads into actual customers.
The Lead-to-Conversion business metric is a good measure of the sales team's performance. Moreover, it indicates the quality of your product. If you have a low conversion rate, it may sign that your product is not attractive to the customers.
Financial KPIs
A Kids Store P&L Projection outputs include both company and sector-specific key performance indicators KPIs. These KPIs include profitability metrics, cash flow metrics, and liquidity metrics. It also has KPIs crucial for the attraction of investments.
Liquidity KPIs
Liquidity Position. The liquidity position of a company is an essential indication of the financial health of the enterprise. To assess the liquidity position of the company, it is necessary to calculate the liquidity ratio. Many companies set a target liquidity ratio that reflects the specifics of their business and industry. Such target liquidity ratios ensure that companies have enough cash to meet their obligations. Therefore, we recommend setting a target liquidity ratio for your Financial Projection Model.
All in One Place
Our integrated Kids Store Budget Spreadsheet includes and connects everything you need for investors' meeting. It has financial assumptions, proformas, calculations, cash flow forecasts, and other templates. Moreover, our Pro Forma Template presents it in an investor-friendly way.
File types:
Excel – Single-User: .xlsx
Excel – Multi-User: .xlsx
Free Demo – .xlsx