This Financial Model for Mobile Apps provides an easy way to forecast the financial performance for an App sold in the App Stores and deriving revenues from paid downloads, advertisement, and subscriptions.
The template provides the following:
Executive Summary with key charts, key metrics and key assumptions. Simply change the assumptions on the right and see immediately the effect on Downloads, Installs, Subscribers, Revenues, Cash Flow on the left
Monthly and Yearly financial projections for 5 years
Key Metrics

Monthly App Downloads either Free or Paid
Installs (including Deinstalls)
Active Users
Paying Subscribers (if used)
Monthly Recurring Revenues (MRR)

Revenue Streams

Paid App Downloads
Advertisement revenues
Subscription revenues

Costs include

Acquisition costs via Cost per Click (CPC) estimate to get users to download the app
Commissions for the App Store
Employee costs
Webhosting and all other costs

Financial Statements (Monthly and Yearly) – Income Statement, Balance Sheet, Cash Flow Statement
Valuation of the App via Discounted Free Cash Flow (DCF) Analysis
IRR Analysis via Calculation of Free Cash Flow to Firm (FCFF)
Payback period (FCFF) and required months till EBITDA breakeven
Debt schedule which models two layers of financial debt (junior and senior debt) – if needed
Amortization schedule for software development costs
Fixed asset depreciation schedule
Forecast of all relevant financial ratios
Calculation of required funding amount
Print-friendly layout including charts and graphs
The Executive Summary Pages gives investor a comprehensive overview about the financial feasibility of your planned app project. We hope you like the model and it saves your valuable time.
See also the article how to build a financial model for a mobile app.
The model is available in two versions:
DEMO Version with only the input cells editable and formulas hidden
FULL VERSION with all cells editable and all formulas visible
Filetype: .xlsx (Microsoft Excel 2008 for Mac)
Screenshot of the Financial Model for Mobile Apps
Executive Summary Sheet (can be printed on 1 Page)
Left Column for Graphs
Right Column for Key Metrics and Key Assumptions
Allows to directly change the assumptions and see the impact on the financial projections and key metrics immediately
All remaining assumptions below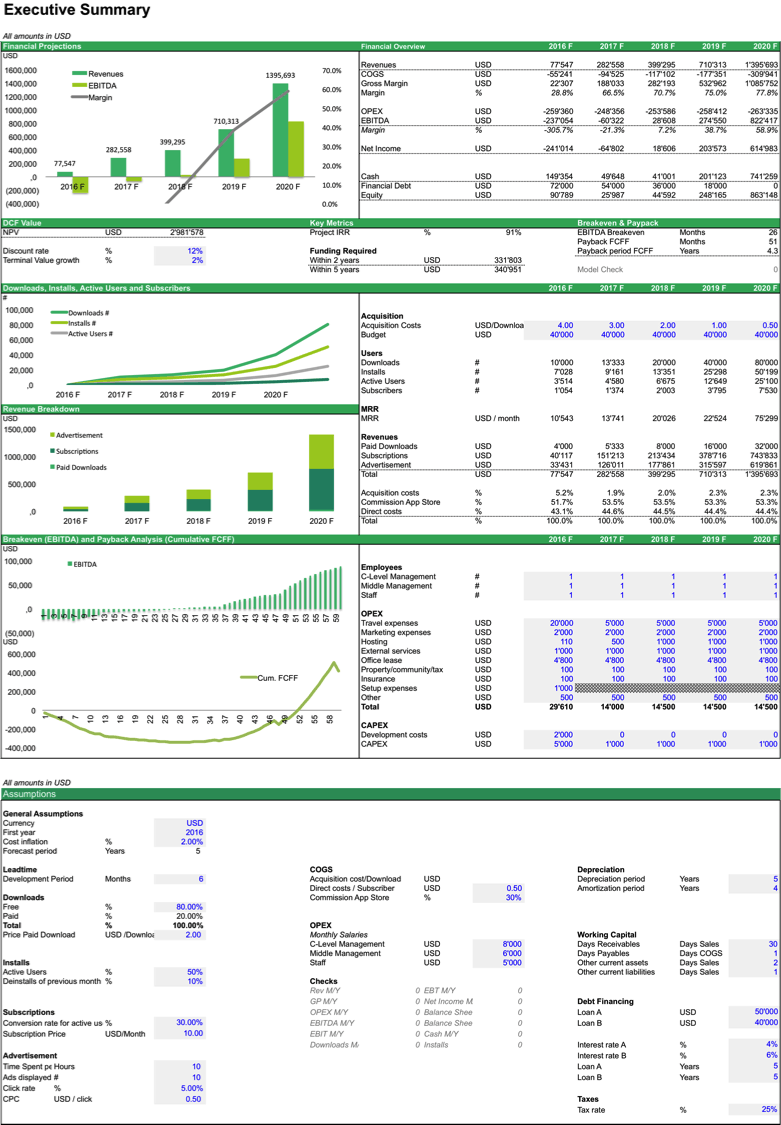 We hope the financial model templates saves valuable time and provides you with a solid framework to come up with a financial plan for your app project.
Users who purchased Financial Model for Mobile App, also purchased: