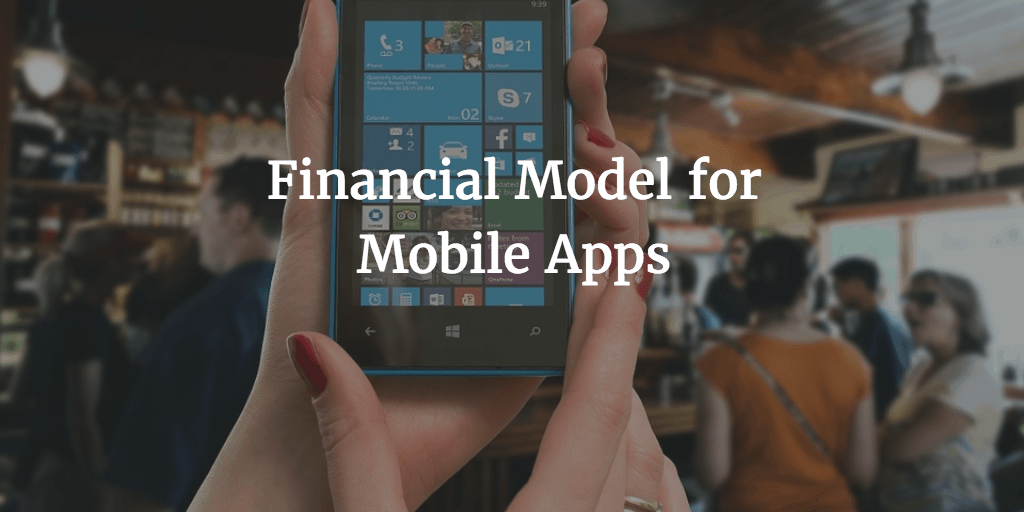 Financial Model, Mobile Apps, Online Businesses & IT
10-year financial projections, 5-year financial projections, Break-Even, CPC, Customer Acquisition Costs (CAC), DCF Model, Excel, Financial Feasibility, Financial Modeling, Financial Planning, Financial Projections, Forecasting, Free Financial Model Templates, IRR (Internal Rate of Return), NPV (Net Present Value), Payback Period, Sensitivity Analysis, Startup Financial Models, Three Statement Model | Three Financial Statements, Uses and Sources of Funds, Valuation
Screenshots refer to the Power Version (10-Year Forecast Period with Sensitivity Analysis)
Updated Version 6.0.2

The mobile app financial model in Excel provides a comprehensive financial plan template for a mobile app business or similar software development project. It is a comprehensive Startup Model but could also be used for an existing App business.
The model templates focus on five main sources of revenues such as revenues from paid app downloads, in-app purchases, subscription revenues, advertisement income from pay per click or pay per impression campaigns. All these revenue streams are linked to the expected growth in new app installs and active users. Increasing or lowering growth impacts active users.
The model also calculates the commissions to be paid to the app store owners. The objective of the model is to provide a key financial planning tool to support fundraising based on a solid financial plan and allowing investors and founders to obtain a deep understanding of how the economics of their app businesses work. The Excel model template provides monthly and yearly projections over a period of 5 or 10 years (depending on the model version). The financial model can serve as a basis for a Mobile App business plan.
Important note: For transaction-based marketplace business models, please check out the Digital Product Marketplace Model.
See an updated walk-through of the financial model template here:
The Mobile APP Excel model template provides the following:
Executive Summary

Financial Overview
Project metrics (IRR, NPV, Payback, Time to Break-Even, required funding, expected total profit, investment multiples)
Calculation of required funding (levered, unlevered without or with cash reserve)
Uses and sources of funding table
Investors – equity stakes and participation in equity investment
Pre- and Post Money Valuation Analysis
Key metrics by investor (IRR, required investment, expected profit investment multiple)
Key assumptions

Investment period
Exit Valuation (various methods available including EV/Sales, EV/EBITDA, EV/Active User, EV/App Installs, EV/Subscriber valuation multiples)
Traffic estimations from organic and paid app downloads
Conversion rate assumptions
Revenue estimations by source of revenue
Subscription assumptions
Churn assumptions
Employee assumptions (FTEs and Salary levels)
Cost assumptions
CAPEX and Software Development Costs (activated or expensed)
Net Working Capital assumptions
Dividend assumptions
etc.

Calculation of Customer Acquisition Costs (CAC)
Key Charts and Graphs
Sensitivity tables and tornado diagram which simulate effect of change in key business value drivers (only included in Pro and Power Versions)
Paid-Ad Campaign Profitability Analysis (only included in Pro and Power Versions)
Break-Even Analysis – required active users or app installs (only included in Pro and Power Versions)
Operating Model (Monthly)

Forecasted monthly App Downloads and App Installs depending on traffic source (organic or paid ads)
Monthly allocation of organic traffic (either manual estimation or monthly step increase model)
Breakdown by app store
Monthly churn (app de-installs)
Monthly App Downloads either Free or Paid
Conversion rates from user to active user, from active user to subscribers
Monthly revenue projections for

Paid App Downloads
In-App purchases
Subscription revenues
Advertisement revenues (PPC)
Advertisement revenues (Impressions)

Monthly cost budget

Direct costs

Three different ways to estimate direct costs
Calculation of commissions paypable to the App Stores

OPEX

Employee costs
Marketing Budget for Paid Ads
Various fixed costs and variable cost positions available

Monthly financial statements
Monthly free cash flow calculation (unlevered and levered)
Payback and time to break-even calculation
Calculation of funding required (based on monthly cash flows)
Subscriptions

Detailed modeling of monthly subscription revenues
3 Tier Subscription Model
Discounts for yearly, 6-month or 3-months subscriptions
Churn and Renewal modeling
Calculation of commissions payable to app stores
Revenue recognition – cash based accounting or deferred revenue recognition
Calculation of Monthly Recurring Revenues (MRR)
Calculation of Average Revenue per User (ARPU)
Yearly financials

Income Statement
Standardized Income Statement
Balance Sheet
Cash Flow Statement
Debt schedule with two layers of financial debt
Fixed Asset Schedule CAPEX and depreciation
Software Development Costs, Intangible Assets and Amortization
Financial ratios forecast (growth, profitability, leverage, liquidity ratios)
Free Cash Flow Calculation (Unlevered and Levered)
Forecasted Business Valuation
Investor cash flows (based on cash flows – adjustable – or cash in/cash out calculation)
Cash Flows per investor (as per their equity stakes and their share of equity investment)
Lifetime Value (only Pro and Power Version)

User Lifetime Value Analysis and breakdown by source of revenue
Break-Even Analysis (only Pro and Power Version)

Calculation of required app installs and active users to achieve break-even
Printer-friendly layout including charts and graphs
Model comes with instructions on a do-it-yourself basis
The financial model uses a sophisticated bottom-up approach to financial planning and allows users to obtain a deep and solid understanding of how the economics of a mobile app business works. Furthermore, all investor relevant metrics are included and investors will appreciate having full transparency on the financial plan for a mobile app business.
Our customers love this model. What our customers say:
Have done a lot of similar models for SaaS Apps on the web. This model is out-of-the-box ready to go. There are minimal tweaks needed for our purpose. For the most part - localization. Really impressed at how much thought went into this. Just about to make a purchase and will share more feedback on the sheet.
very helpful and well detailed thank you
Updated Version 6.0.2 of the Mobile App Financial Model is available for download in three versions: 
Basic: 5-Year Forecast  Period (does not include Sensitivity Table, Customer Lifetime Value Analysis nor Break-Even Analysis)
Pro: 5-Year Forecast Period (includes Sensitivity Tables)
Power: 10-Year Forecast Period (includes Sensitivity Tables)
FREE PDF Demos which outline the model structure for each version
Filetype: .xlsx
Please select the model version:
Reviews
I chose this model over others out on the market because of the complexity of it and the analysis I could accomplish. I am impressed, however it did (and still is) taking time to get used to the workings of the model. One of the major downfalls is how downloads are being calculated, unless I am missing something it is using annual growth percentages instead of monthly. Ultimately, I had to build my own spreadsheet and then weave it into this model to make it work on monthly growth.
Thanks for your comment. The reason is that annual growth rates are easier to forecast than monthly growth rates. Also if you would use the same steady monthly growth rate, small deviations accumulate quite easily, most likely your forecast might end up way off reality. Many businesses face seasonal effects, this is easier to capture when allocating the annual downloads to each month. For those reason it was decided to model it this way. In any case, the goal of the model template is to make you think about growth, because that is really the key for any successful mobile app!
You will not need anything else other that those listed in the output. very detailed and easy assumptions and input. I like the way of the explanation in the front sheet. really deserve the value.
Have done a lot of similar models for SaaS Apps on the web. This model is out-of-the-box ready to go. There are minimal tweaks needed for our purpose. For the most part – localization. Really impressed at how much thought went into this. Just about to make a purchase and will share more feedback on the sheet.
Write a Review