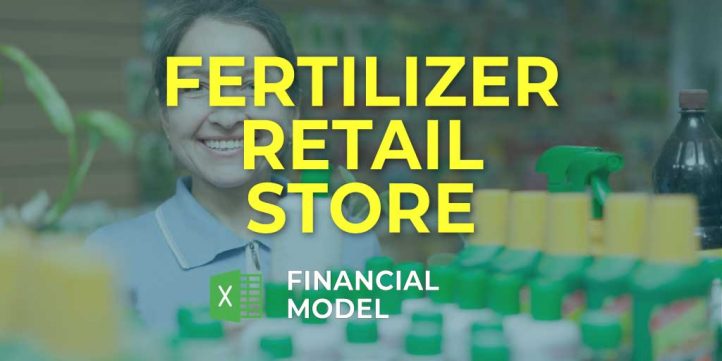 Financial Model, Retail
5-year financial projections, Business Valuation, Financial Model, Financial Modeling, Financial Projection, Financial Projections, Free Financial Model Templates, Pro-Forma, Startup Financial Models, Three Statement Model | Three Financial Statements
FERTILIZER RETAIL STORE CASH FLOW FORMAT IN EXCEL KEY FEATURES
Video tutorial:
Get a robust, powerful financial model which is fully expandable
This well-tested, robust and powerful Fertilizer Retail Store Financial Model In Excel is your solid foundation to plan fertilizer retail store business model. Advanced users are free to expand and tailor all sheets as desired, to handle specific requirements or to get into greater detail.
Print-ready Reports
Solid package of print-ready reports, including a profit and loss proforma, cash flow statement, a balance sheet, and a complete set of financial ratios.
5 years forecast horizon
Generate fully-integrated Fertilizer Retail Store Three Statement Financial Model Template for 5 years (on a monthly basis). Automatic aggregation of annual summaries on outputs tabs.
Get Investors to Notice
Most entrepreneurs can't get investors to return their calls. With the Fertilizer Retail Store Finance Projection, you will secure meetings with potential investors easily.
Manage surplus cash
Most companies don't have excess cash in the bank. It is a well-known situation. But managing surplus cash for reinvestment in new market opportunities, or debt repayments can be essential to keeping stay in the business. Managers are entirely ready to plan for what to do with the cash surplus if they have the forecast of when and where the business will have surplus cash in the bank account. Cash Flow Projection will provide supplementary guidance on what to do with a cash surplus.
Track your spending and staying within budget
Have you written a vague idea of cash inflows and cash outflows on the back of a napkin? All is well and good. Looking at the pro forma profit and loss statement will give you a snapshot of the past business performance, but it won't show the future in terms of the Projected Cash Flow Statement Format. With a startup cash flow projection, you can plan future cash inflows and cash outflows and compare it to the budget, which can be invaluable information.
REPORTS and INPUTS
Top Revenue
The top line and bottom line are two of the most important lines on a company's p&l proforma. Investors and analysts pay special attention to the company's revenue and profits and carefully monitor any changes regarding these financial metrics from quarter to quarter and year to year.
The top line of the p&l proforma refers to a company's revenues or gross sales. Therefore, when somebody says that the company has 'top-line growth,' it means that the company is experiencing an increase in gross sales or revenues, which should positively impact other company's financials and overall performance.
Break Even
Excel Break Even Formula in economics, business, and cost accounting helps calculate the point of time in which the company's total cost and total revenue are expected to become equal. Companies use a break even formula excel to determine the number of product units they need to sell or revenue needed to cover total (fixed and variable) costs.
This Fertilizer Retail Store Budget Financial Model will also help determine the sales prices for the company's products. Sales cost per unit less variable cost per unit shows the contribution margin and the contribution margin impacts company's profitability.
Performance KPIs
Cost of acquiring new customers. The cost of acquiring new customers is a critical financial metric for start-ups, and it should be in our Fertilizer Retail Store Budget Financial Model. The cost of acquiring new customers is the total cost of the marketing divided by the customers' number during the year.
CAPEX
Capital expenditures, or CapEx, calculations reflect the company's spendings to buy various assets that will bring long-term value to the company. CapEx is typically related to buildings, property, plant, and equipment (PPEs).
Our Fertilizer Retail Store Cashflow Projection has a pre-built tab for CapEX calculations that will help users determine the company's growth and expansion plans that require significant spendings on equipment and other assets. It is important for business owners and financial specialists to understand the relationship between the company's CapEx, deprecation, and financial statement.
Costs
A Fertilizer Retail Store Budget Financial Model is an important financial tool that enables users to identify actual and forecasted expenditures, as well as financial resources needed to cover these costs. With a well-developed cost budget, you can see the areas where you can save money and the areas of high priority. As a part of a business plan, the cost budget supports the process of pitching to investors and loan applications.
Top Expenses
The Top expenses tab of the Fertilizer Retail Store Cash Flow Proforma Template reflects your company's annual expenses, both total and grouped by four categories.
This Financial Projection Excel provides an overview of annual expenses on customer acquisition, COSS placeholders, wages & salaries, fixed and variable expenses, and all other expenses.
Benchmarks
A benchmarking study as the element of the 3 Way Forecast Excel Template is usually used to evaluate a business's performance by focusing on one or more particular indicators and comparing them with similar indicators of other companies in the industry.
In respect of the financial benchmarking study, these indicators could be profit margins, cost margins, cost per unit, productivity margins, or others. Later the company's performance indicators should be compared to that of other companies within the same industry.
Benchmarking is a useful strategic management tool, which is essential for start-ups. Companies can evaluate any economic, business, or financial metric or process and compare them to the processes of 'best practice' companies within the same field or industry.