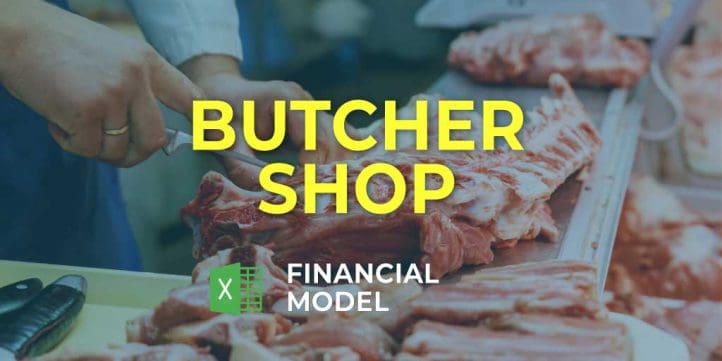 NOTE: Single-User pertains to a limited Single User License where the template can only be used by one single user; while Multi-User is a license for users sharing the template with up to 20 members. Please refer to Terms of Use and License and Permitted Use for clarification.
BUTCHER SHOP CASH FLOW PROFORMA KEY FEATURES
Video tutorial:
Build your plan and pitch for funding
Impress bankers and investors with a proven, strategic Butcher Shop Excel Financial Model that impresses every time.
Identify potential shortfalls in cash balances in advance.
The Butcher Shop 3 Way Financial Model works like an 'early warning system.' It is, by far, the most significant reason for a Cash Flow Statement For 5 Years.
Build your plan and pitch for funding
Impress bankers and investors with a proven, solid butcher shop financial model that impresses every time.
Save time and money
Via Finance Projection you can without effort and special education get all the necessary calculations and you will not need to spend money on expensive financial consultants. Your task is building a strategy, evolution, and creativity, and we have already done the routine calculations instead of you.
Manage surplus cash
Most companies don't have excess cash in the bank. It is a well-known situation. But managing surplus cash for reinvestment in new market opportunities, or debt repayments can be essential to keeping stay in the business. Managers are entirely ready to plan for what to do with the cash surplus if they have the forecast of when and where the business will have surplus cash in the bank account. Cash Flow Projection will provide supplementary guidance on what to do with a cash surplus.
5 years forecast horizon
Generate fully-integrated Butcher Shop Financial Model Excel Template for 5 years (on a monthly basis). Automatic aggregation of annual summaries on outputs tabs.
REPORTS and INPUTS
Costs
Our Butcher Shop Pro Forma Budget has a well-developed methodology for creating a cost budget. You can plan and forecast your costs from operations and other expenses for up to 72 months. The cost budget has a detailed hiring plan while also automatically handling the expenses' accounting treatment. You can set salaries, job positions, and the time of hiring.
Moreover, the model allows users to calculate hiring as the company scales automatically. Pre-built expense forecasting curves enable users to set how an expense changes over time. These pre-built options include % of revenues, % of salaries, % of any revenue category, growth (or decline) rates that stay the same or change over time, ongoing expenses, expenses that periodically reoccur, expenses that regularly change, and many more. Costs can be allocated to key expense areas and labeled for accounting treatment as SG&A, COGS, or CAPEX.
Cash Flow KPIs
Operating cash flow. Operating cash flow calculation shows how much cash the company generates from the business operations. This calculation does not include secondary sources of revenue, like interest or investments.
Break Even
Our Butcher Shop Excel Pro Forma has proforma for the break even point analysis. Companies use break even excel to determine the price for their products or services that will generate enough revenue for the company to cover its costs.
Dashboard
Our 3 Way Forecast has an all-in-one dashboard. This dashboard is a useful financial planning tool that helps financial professionals create fast, reliable, and transparent financial reports to the management and other company's stakeholders.
With this financial dashboard's help, users can assess the company's financial data, drill into financial details, or validate figures fast and easy. Our specialists understand that the company's financial management, especially the start-up's management, is under pressure to deliver fast decisions and results. This all-in-one financial dashboard is an effective financial tool that will help with these tasks.
With this dashboard, you will get data at your fingertips. You will be able to perform financial analysis, assess key performance indicators (KPIs), and other financial information you may need to generate actionable insights and make wise financial decisions.
Sources and Uses
The Financial Projection Model Template Sources and Uses (or so-called S&U) statement shows the stakeholders how the company plans to finance its project or overall business activities and where the capital will go.
The Sources and Uses of cash statement's primary rule is that the funds' sources must balance with the combined uses. This report can have a basic format, or you can extend it and change it in a way that fits best with your company's needs.
In the Sources part of the statement, the business owner should mention the funding sources on a line-by-line basis. Similarly, the Uses section should reflect on a line-by-line basis the company's plan on how to use these funds.
Ideally, the Sources and Uses section of this statement should match, or the Sources section should be bigger.
If the Sources section is bigger than the Uses section, it means that the company has more funds than it needs for the current business activities. In this case, the company may plan an extension of the business or other cash flow distribution ways.
Otherwise, if the Uses section is bigger than the Sources section, it means that the company requires additional equity.
Performance KPIs
Return on equity. The return on equity financial metric can be calculated based on the information both from the Balance Sheet and income statement projection. It measures the correspondence of earnings to the equity, i.e., the amount of money used to get profits.
Profitability KPIs
Gross profit margin. A gross profit margin is a frequently used financial ratio that is one of the main indicators of a company's financial health. It reflects the difference between the revenues and the cost of sales. When the gross profit margin is improving, it means that the company's expenses related to the sale of goods or services are decreasing and/or revenues from such sales are increasing. A gross profit margin is usually reflected as percentage.
File types:
Excel – Single-User: .xlsx
Excel – Multi-User: .xlsx
Free Demo – .xlsx