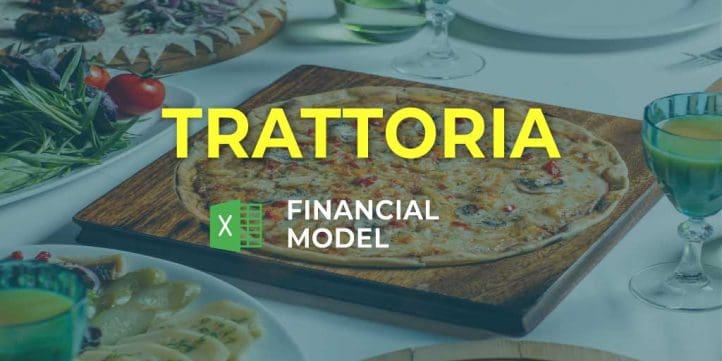 NOTE: Single-User pertains to a limited Single User License where the template can only be used by one single user; while Multi-User is a license for users sharing the template with up to 20 members. Please refer to Terms of Use and License and Permitted Use for clarification.
TRATTORIA FINANCIAL MODEL EXCEL TEMPLATE KEY FEATURES
Video tutorial:
Gaining trust from stakeholders
Investors and financing providers tend to think in terms of the big picture. They want the c-level of the companies they invest in to do the same to ensure they maintain a clear idea of the future. Providing stakeholders with a monthly startup cash flow projection will demonstrate a level of awareness that leads to confidence and trust and will make it easier to raise more investment.
Confidence in the future
Using our financial model, you can effectively plan, prevent risks, manage stocks and Cash Flow Statement Forecast and foresee your prospects for the next 5 years.
Better decision making
Make better operational decisions with the help of creating Projected Cash Flow Statement Format scenarios in your Excel Template. Perhaps you have to choose between new staff members or investment in equipment, and you are wondering which decision to chose. Variants forecasting will give you the information you need to make these decisions with confidence that you know what impact they will have on your cash balance.
Get a robust, powerful financial model which is fully expandable
This well-tested, robust and powerful Trattoria Three Statement Financial Model Template is your solid foundation to plan trattoria business model. Advanced users are free to expand and tailor all sheets as desired, to handle specific requirements or to get into greater detail.
Generate growth inspiration
By running various scenarios and looking at the effects they could have on your cash balance, you will begin to see which options are best for your business. Ones that are possible, and what is involved in making them work. Organic growth isn't the only option – there are growing funding options becoming available, and Pro Forma Cash Flow Projection could be a way of looking at the impact an injection of cash could have on your business and its growth plans.
Saves you time
Allows you to spend less time on Cash Flow Statement and more time on your products, customers and business development
REPORTS and INPUTS
Financial Statements
With our Budget Spreadsheet, you can easily create an projected income statement, a Balance Sheet, and a pro forma cash flow projection for your company. You can choose these statements' format and make any financial statement with a monthly or annual breakdown, or for five years.
Loan opt-in
A loan amortization schedule is a table that shows the company's stakeholders the details of the periodic payments for an amortizing loan. It reflects the principal of an amortizing loan that is paid down over the life of the loan. In most cases, such payments have equal amounts, and the company regularly makes them during a certain period.
A Trattoria 3 Way Forecast Excel Template includes the pre-built amortization calculator, which reflects the initial amount, periodic terms, and interest rate of the loan. With this loan amortization schedule, the companies can better plan and track how much they still owe and how they plan to repay the loans.
Financial KPIs
The Trattoria Financial Projection Model Template has key financial indicators (KPIs) that show sales and profitability performance: revenue growth rate, gross margin, and EBITDA margin.
It also has KPIs related to cash flows and raising investment: the cash burn rate, runway and funding need. You can choose the KPIs relevant to your company and industry, and monitor your company's performance. For example, SaaS companies typically monitor and manage customer lifetime value (LTV), customer acquisition costs (CAC), LTV/CAC ratio, and the churn rate. For SaaS businesses, these KPIs are crucial.
CAPEX
This Trattoria Excel Financial Model consist a CapEx calculation with pre-built formulas helps users calculate the volume of capital expenditures using numbers in the projected income statement and balance sheet.
Liquidity KPIs
Working Capital. The working capital financial metric reflects the money you need for short-term operations. Working capital shows the difference between current assets and current liabilities.
Top Revenue
When the company's management starts to make a Three Statement Financial Model, revenue is the most crucial component in the P&L Projection. Revenue is one of the main drivers of the enterprise's value in the Pro Forma Budget. That is why financial analysts must pay special attention to the planning and devising the best strategy to approach modeling future revenue streams.
Revenue forecasts should also have assumptions about the growth rate based on historical financial data. Users can find all the components of wise financial planning of the revenue streams in our Trattoria Cash Flow Proforma Template.
Top Expenses
It is very important for a start-up and existing company to monitor, plan, and manage its costs and expenses to maintain a good profitability level.
For this purpose, it is necessary to analyze the highest costs and always work on their optimization. In our Cash Flow Proforma we have created a Top expense report helps users with this task. It summarizes the four biggest expense categories and the rest of the expenses as the 'other', so the users can easily monitor these expenses and track the tendencies related to their increase or decrease from year to year.
File types:
Excel – Single-User: .xlsx
Excel – Multi-User: .xlsx
Free Demo – .xlsx