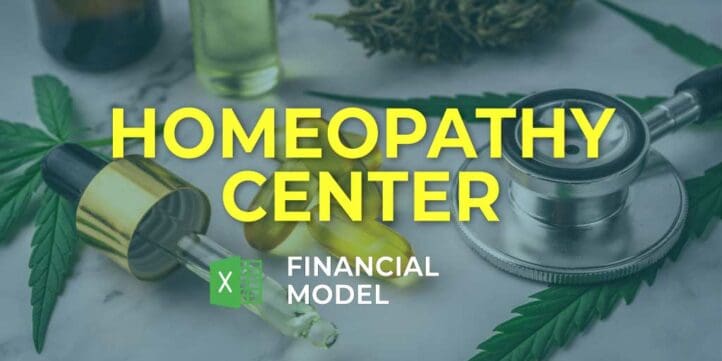 Financial Model, Gyms & Fitness Centers, Health Care, Wellness
5-year financial projections, Business Valuation, Financial Model, Financial Modeling, Financial Projection, Financial Projections, Free Financial Model Templates, Pro-Forma, Startup Financial Models, Three Statement Model | Three Financial Statements
NOTE: Single-User pertains to a limited Single User License where the template can only be used by one single user; while Multi-User is a license for users sharing the template with up to 20 members. Please refer to Terms of Use and License and Permitted Use for clarification.
HOMEOPATHY CENTER 3 WAY FINANCIAL MODEL TEMPLATE KEY FEATURES
Video tutorial:
Simple and Incredibly Practical
Simple-to-use yet very sophisticated Homeopathy Center Cash Flow Proforma tool. Whatever size and stage of development your business is, with minimal planning experience and very basic knowledge of Excel you can get complete and reliable results. Additionally, you will receive uncompromised after-sales service and access to valuable tutorial videos and blog posts.
External stakeholders, such as banks, may require a regular forecast.
If the business has a bank loan, the bank will ask for a Homeopathy Center Financial Model Excel Spreadsheet regularly.
Track your spending and staying within budget
Have you written a vague idea of cash inflows and cash outflows on the back of a napkin? All is well and good. Looking at the pro forma p&l statement will give you a snapshot of the past business performance, but it won't show the future in terms of the Startup Cash Flow Projection. With a cash flow statement by month, you can plan future cash inflows and cash outflows and compare it to the budget, which can be invaluable information.
Manage accounts receivable.
By creating a cash flow statement proforma that takes invoices and bills into account, you'll be more easily able to identify who is systematically paying late. You could even go on to model different payment dates on overdue invoices to see the real effect of late payments on your cash flow.
Graphical visualization in a convenient dashboard all in one
All necessary reports and calculations, including variable data for your easement, are displayed on a convenient Three Statement Financial Model Template dashboard tab. You do not need to move between sheets to compare important data – everything is visible immediately.
Convenient, All-In-One Dashboard
Includes all required forecasting reports, including assumptions, profit and loss projection, projected cash flow statement format, balance sheets, performance reviews and summaries for months and years (incl. numerous graphs and KPIs).
REPORTS and INPUTS
Performance KPIs
Return on equity. The return on equity financial metric can be calculated based on the information both from the Balance Sheet and profit and loss projection. It measures the correspondence of earnings to the equity, i.e., the amount of money used to get profits.
Financial KPIs
In the Financial Projection Template you can visually track key financial indicators over the five years period as well as 24 months period.
– EBITDA/EBIT shows your company's operational performance
– CASH FLOWS shows your company's inflows and outflows
– CASH BALANCE this is the forecast of cash in hand you will have.
Financial Statements
The Homeopathy Center Excel Financial Model has a pre-built integrated financial statement structure. It has pre-built templates for the primary financial statements: Balance sheet, pro forma profit and loss statement, pro forma cash flow projection, and Statement of Shareholders' Capital. All these financial statements are precisely defined and interconnected with the inputs and other spreadsheets within the model.
Top Revenue
When the company's management starts to make a Pro Forma Projection, revenue is the most crucial component in the Financial Model In Excel Template. Revenue is one of the main drivers of the enterprise's value in the Three Statement Financial Model. That is why financial analysts must pay special attention to the planning and devising the best strategy to approach modeling future revenue streams.
Revenue forecasts should also have assumptions about the growth rate based on historical financial data. Users can find all the components of wise financial planning of the revenue streams in our Homeopathy Center Financial Model Excel.
Costs
Start-up costs are an essential part of any Budget Financial Model. They begin to accrue before actual operations start, so it is crucial to monitor them early to avoid overspendings and underfunding. Our Homeopathy Center Excel Financial Model Template has the proforma for start-up costs that show both funding and expenses. You can use this proforma to monitor your expenses and create cost budgets.
Burn and Runway
Our Homeopathy Center Cash Flow Proforma automatically creates cash runway and cash burn analysis based on the forecasted revenues and expenses that, in their turn, show net loss, net profit, cash on hand, and break even point excel. You can also forecast funding requirements using a set of parameters around funding (e.g., equity, debt, grants) and expected runway to raise (for example, 18 months of forecasted expenses).
Sources and Uses
The sources and uses statement in this Homeopathy Center Finance Projection describes all of the company's funding sources and the ways it spends these funds.
File types:
Excel – Single-User: .xlsx
Excel – Multi-User: .xlsx
Free Demo – .xlsx