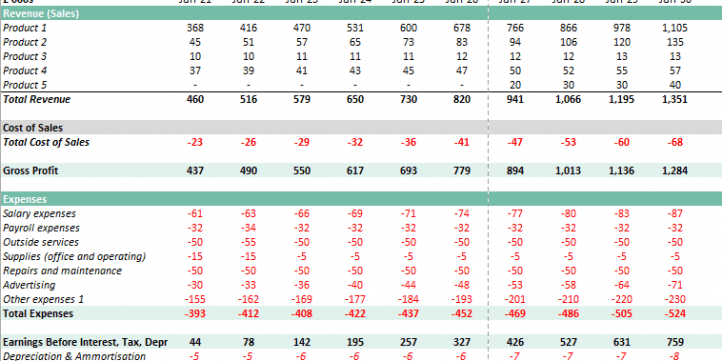 Asset Management, Financial Model, General Excel Financial Models
10-year financial projections, Accounting, Accounts Payable, Accounts Receivable, Break-Even, Budget, Budgeting, Cash Flow Analysis, Cash Flow Projections, CFO, Cost Projections, Excel, Financial Debt, Financial Feasibility, Financial Model, Financial Modeling, Financial Planning, Financial Projection, Financial Projections, Financial Reporting, Financial Statements, Financing, Forecast, Forecasting, Inventory, Investor Cash Flows, Loans, Net Yield, Payback Period, Pricing, Profitability Analysis, Project Management, Project Plan, Revenue Projections, Scenario Analysis, Sensitivity Analysis, Startup Financial Models, Three Statement Model | Three Financial Statements, Valuation, Variance Analysis
Get your financial statements in top shape with this 10-year forecasting financial modeling tool to help you produce a P&L (Profit and Loss), Cash Flows Statement, Balance Sheet, and Break-even Analysis – all driven from your inputs. A huge number of line items that can be chosen as needed and the instructions to work it out.
This excel is incredibly easy to customize for any business by changing the Inputs & Assumptions tab and following the instructions listed in the excel.
Users who purchased 10 Year P&L, Balance Sheet, Cash Flow, and Break-even Analysis, also purchased:
Get these templates too for a discount!