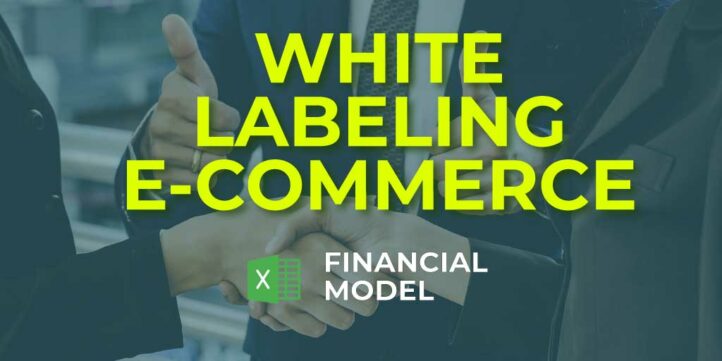 eCommerce & Webshops, Financial Model, Online Businesses & IT
5-year financial projections, Accounts Payable, Accounts Receivable, Break-Even, Budget, Budgeting, Cap Table, Cash Flow Analysis, Cash Flow Projections, Dashboard, DCF Model, Financial Feasibility, Financial Model, Financial Modeling, Financial Planning, Financial Projection, Financial Projections, Financial Statements, Investor Cash Flows, Profitability Analysis, Startup Financial Models, Three Statement Model | Three Financial Statements, Uses and Sources of Funds, Valuation
NOTE: Single-User pertains to a limited Single User License where the template can only be used by one single user; while Multi-User is a license for users sharing the template with up to 20 members. Please refer to Terms of Use and License and Permitted Use for clarification.
WHITE LABELING E-COMMERCE PRO FORMA BUDGET KEY FEATURES
Video tutorial:
5 years forecast horizon
Generate fully-integrated White Labeling E-Commerce Three Statement Financial Model Template for 5 years (on a monthly basis). Automatic aggregation of annual summaries on outputs tabs.
Plan for Future Growth
Projected Cashflow Statement can help you plan for future growth and expansion. No matter you're extending your company with new employees and need to take into account increased staff expenses. Or to scale production to keep up with increased sales, future projections help you see accurately where you're running — and how you'll get there. Forecasting is also a well-known goal-setting framework to help you plan out the financial steps your company has to take to reach targets. There's power in Projected Cash Flow Statement and the insight they can provide your business. Fortunately, this competitive advantage comes with little effort when you use the Cashflow Forecast.
Identify cash gaps and surpluses before they happen.
Forecasting your future cash balance helps you see well in advance when you may have a cash deficit that could hurt your business. Projected Cashflow Statement will give you enough time to take action to prevent a crisis. It will enable you to access better loan rates or speed up incoming payment to bridge the gap. On the other side, if you know ahead of time that the large lump of cash will lay in your bank account within the next three months. In this case, you might need to explore options to reinvest it in your business to drive growth.
Generate growth inspiration
By running various scenarios and looking at the effects they could have on your cash balance, you will begin to see which options are best for your business. Ones that are possible, and what is involved in making them work. Organic growth isn't the only option – there are growing funding options becoming available, and Cash Flow Statement could be a way of looking at the impact an injection of cash could have on your business and its growth plans.
Investors ready
Print ready (including a p&l proforma, a Projected Cash Flow Statement Format, a balance sheet, and a complete set of financial ratios).
Better decision making
Make better operational decisions with the help of creating Cash Flow Statement scenarios in your Excel Template. Perhaps you have to choose between new staff members or investment in equipment, and you are wondering which decision to chose. Variants forecasting will give you the information you need to make these decisions with confidence that you know what impact they will have on your cash balance.
REPORTS and INPUTS
Sources and Uses
As you can understand from the title, a Sources and Uses of Funds statement represents the company's financing sources and spending policies.
In respect of the 'Sources', this statement shows the company's money for its business activities and how it gets this money. Usually, companies have a mix of funding sources, such as business loans, investors' money, share issue, and others.
The 'Uses' section of the Sources and Uses statement shows the stakeholders how the company spends its money. For example, this statement may reflect the cost of land, building, or equipment the company plans to acquire. It also may reflect the start-up costs.
CAPEX
Capital expenditure (or CapEX) is an essential part of any Financial Projection Model Excel. Financial specialists calculate CapEx to monitor investment in the fixed assets to handle depreciation, additions, and/or disposals related to the property, plant, and equipment (PPE).
CAPEX calculation also includes the company's assets' additions, including the assets in financial leasing.
All in One Place
A well-developed and easy-to-use Cash Flow Format In Excel. You do not to be a financial expert to design your start-up Financial Projection Model Template. Everything you need is the right set of financial tools, and our White Labeling E-Commerce Startup Financial Model will give you them.
Profitability KPIs
Gross profit margin. A gross profit margin is a frequently used financial ratio that is one of the main indicators of a company's financial health. It reflects the difference between the revenues and the cost of sales. When the gross profit margin is improving, it means that the company's expenses related to the sale of goods or services are decreasing and/or revenues from such sales are increasing. A gross profit margin is usually reflected as percentage.
Top Revenue
The top line and bottom line are two of the most important lines on a company's profit and loss projection. Investors and analysts pay special attention to the company's revenue and profits and carefully monitor any changes regarding these financial metrics from quarter to quarter and year to year.
The top line of the pro forma income statement refers to a company's revenues or gross sales. Therefore, when somebody says that the company has 'top-line growth,' it means that the company is experiencing an increase in gross sales or revenues, which should positively impact other company's financials and overall performance.
Burn and Runway
This White Labeling E-Commerce Profit Loss Projection automatically calculates the cash burn rate based on the inputs from other spreadsheets, in particular, from the cash flow statement proforma.
Benchmarks
The financial benchmarking study tab in this 3 Way Forecast Excel Template will help the companies assess their key performance indicators and compare them with other companies' KPIs.
The term 'benchmarking' means the process of comparing the business, financial or other metrics of your company to that of other firms within the same industry. It is essential to use other businesses' best practices in the same industry as a 'benchmark' to improve your own company's standards.
As a result of the benchmarking study, companies can learn how to operate in a certain industry more efficiently. This benefit makes the financial benchmarking study an essential planning tool for start-ups.
File types:
Excel – Single-User: .xlsx
Excel – Multi-User: .xlsx
Free Demo – .xlsx