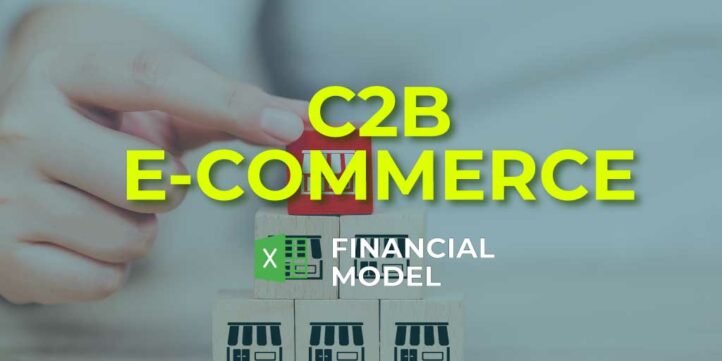 eCommerce & Webshops, Financial Model, Online Businesses & IT
5-year financial projections, Budget, Budgeting, Business Valuation, Cash Flow Analysis, Cash Flow Projections, Dashboard, DCF Model, Excel, Financial Feasibility, Financial Model, Financial Modeling, Financial Planning, Financial Projection, Financial Projections, Financial Reporting, Financial Statements, Revenue Projections, Startup Financial Models, Three Statement Model | Three Financial Statements, Uses and Sources of Funds, Valuation
NOTE: Single-User pertains to a limited Single User License where the template can only be used by one single user; while Multi-User is a license for users sharing the template with up to 20 members. Please refer to Terms of Use and License and Permitted Use for clarification.
CUSTOMER TO BUSINESS E-COMMERCE PRO FORMA TEMPLATE EXCEL KEY FEATURES
Video tutorial:
Get it Right the First Time
Funding is a binary event: either you succeed or you fail. If you fail, most investors won't give you a second chance. Learn about the pros and cons with Customer To Business E-Commerce Five Year Financial Projection Template.
5 years forecast horizon
Generate fully-integrated Customer To Business E-Commerce Financial Model Excel Spreadsheet for 5 years (on a monthly basis). Automatic aggregation of annual summaries on outputs tabs.
Prove You Can Pay Back the Loan You Requested
When you apply for a business loan, bankers will study your Cash Flow Statement For 5 Years in an attempt to answer this question: Can this business pay back the loan? Requesting a loan without showing your Cashflow Forecast for paying it back is a common way to land in the rejection pile. It is exceptionally accurate if your current cash flow won't cover all of your monthly operating expenses — plus your loan payment. Don't fall into this kind of situation. Use Cash Flow Statement Proforma to strengthen your case by showing the banker exactly how you plan to use the loan and when you will start repaying the debt. This type of forecasting helps you create a road map that can impress a lender with the confidence they need to approve your loan.
Currency for inputs and denomination
In Financial Projection Model Template define any currency code or symbol and preferred denomination (e.g. 000s) to reflect your preferences.
Update anytime
With Finance Projection you can easily adjust inputs at the launch stage and throughout the further activities of your store to refine your forecast.
Key Metrics Analysis
Creates 5-year Customer To Business E-Commerce Three Statement Financial Model, proforma, financial statements, and financial ratios in GAAP or IFRS formats on the fly.
REPORTS and INPUTS
Financial KPIs
In the Financial Model In Excel you can visually track key financial indicators over the five years period as well as 24 months period.
– EBITDA/EBIT shows your company's operational performance
– CASH FLOWS shows your company's inflows and outflows
– CASH BALANCE this is the forecast of cash in hand you will have.
Financial Statements
Our Customer To Business E-Commerce 3 Way Forecast Excel Template has a pre-built integrated financial statement structure that contains all the primary financial statements (Balance sheet, forecasted income statement, and pro forma cash flow projection) and creates financial forecasts for the next five years automatically.
This integrated financial statement structure has pre-built proformas, financial and managerial reports, and financial ratios. Users can choose the presentation of financial information in GAAP or IFRS format for their convenience.
Costs
Our Customer To Business E-Commerce Pro Forma Template Excel has a well-developed methodology for creating a cost budget. You can plan and forecast your costs from operations and other expenses for up to 72 months. The cost budget has a detailed hiring plan while also automatically handling the expenses' accounting treatment. You can set salaries, job positions, and the time of hiring.
Moreover, the model allows users to calculate hiring as the company scales automatically. Pre-built expense forecasting curves enable users to set how an expense changes over time. These pre-built options include % of revenues, % of salaries, % of any revenue category, growth (or decline) rates that stay the same or change over time, ongoing expenses, expenses that periodically reoccur, expenses that regularly change, and many more. Costs can be allocated to key expense areas and labeled for accounting treatment as SG&A, COGS, or CAPEX.
Valuation
This Customer To Business E-Commerce Financial Projection Template Excel contains a valuation analysis template that will allow users to perform a Discounted Cash Flow valuation (DCF). It will also help users analyze such financial metrics as residual value, replacement costs, market comparables, recent transaction comparables, etc.
Profitability KPIs
EBITDA. Earnings before interest, tax, depreciation, and amortization (EBITDA) is a financial metric that shows a company's profitability. This metric includes both monetary and non-monetary items and, therefore, differs from cash flows. EBITDA shows the potential profitability of leveraged buyouts and is widely used in various industries.
Cash Flow KPIs
Cash conversion cycle (CCC). The cash conversion cycle (CCC) is a financial metric that expresses the time it takes for a company to convert its resources in the form of inventory and other resources into cash flows. The cash conversion cycle is also called the Net Operating Cycle.
CCC measures how long each dollar that the company inputted is tied up in the production and sales process before it gets converted into cash.
The cash conversion cycl metric accounts for various factors, such as how much time it takes to sell inventory, how much time it takes to collect accounts receivable, and how much time it takes to pay obligations.
Top Expenses
The Top expenses tab of the Customer To Business E-Commerce Three Statement Financial Model reflects your company's annual expenses, both total and grouped by four categories.
This P&L Projection provides an overview of annual expenses on customer acquisition, COSS placeholders, wages & salaries, fixed and variable expenses, and all other expenses.
File types:
Excel – Single-User: .xlsx
Excel – Multi-User: .xlsx
Free Demo – .xlsx