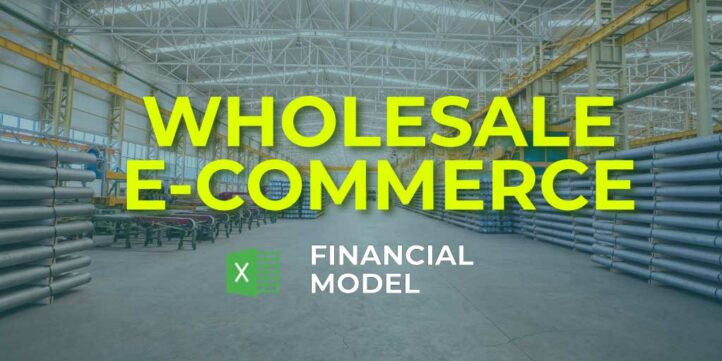 eCommerce & Webshops, Financial Model, Online Businesses & IT
5-year financial projections, Break-Even, Budget, Budgeting, Excel, Financial Feasibility, Financial Model, Financial Modeling, Financial Planning, Financial Projection, Financial Projections, Financial Statements, Forecasting, IRR (Internal Rate of Return), KPIs (Key Performance Indicators), NPV (Net Present Value), Revenue Projections, Startup Financial Models, Three Statement Model | Three Financial Statements, Uses and Sources of Funds, Valuation
NOTE: Single-User pertains to a limited Single User License where the template can only be used by one single user; while Multi-User is a license for users sharing the template with up to 20 members. Please refer to Terms of Use and License and Permitted Use for clarification.
WHOLESALING E-COMMERCE P&L PROJECTION KEY FEATURES
Video tutorial:
Update anytime
You can easily adjust inputs at the launch stage and throughout the further activities of your business to refine your Wholesaling E-Commerce Financial Projection Model.
Investors ready
Print ready (including a pro forma profit and loss, a Cash Flow Pro Forma, a balance sheet, and a complete set of financial ratios).
All necessary reports
When creating a Wholesaling E-Commerce Cash Flow Format In Excel, you will not need to independently prepare financial reports and study the requirements for them. Our Excel template contains all the necessary reports and calculations that correspond with the lenders demand.
Simple-to-use
A very sophisticated Wholesaling E-Commerce 3 Way Forecast, whatever size and stage of development your business is. Minimal previous planning experience and very basic knowledge of Excel is required: however, fully sufficient to get quick and reliable results.
Track your spending and staying within budget
Have you written a vague idea of cash inflows and cash outflows on the back of a napkin? All is well and good. Looking at the income statement projection will give you a snapshot of the past business performance, but it won't show the future in terms of the Cash Flow Statement Proforma. With a projected cashflow statement, you can plan future cash inflows and cash outflows and compare it to the budget, which can be invaluable information.
Manage surplus cash
Most companies don't have excess cash in the bank. It is a well-known situation. But managing surplus cash for reinvestment in new market opportunities, or debt repayments can be essential to keeping stay in the business. Managers are entirely ready to plan for what to do with the cash surplus if they have the forecast of when and where the business will have surplus cash in the bank account. Cash Flow Pro Forma will provide supplementary guidance on what to do with a cash surplus.
REPORTS and INPUTS
All in One Place
This Wholesaling E-Commerce Financial Projection Excel is key for investors. You will need a Excel Pro Forma to validate how much money you need to start-up with and how much your investor can make on this investment. Remember that investors are not tolerant to start-ups that do not have a business plan or a Pro Forma Budget.
Performance KPIs
Return on assets. The return on assets financial metric can be calculated based on the information from two main financial statements: Balance Sheet and income statement projection. Return on assets measures the accomplishment of earnings to the assets, i.e., the amount of money used to get those earnings.
Loan opt-in
Our Wholesaling E-Commerce Three Statement Financial Model has a loan amortization schedule that will help users track everything related to their loans. You can find this template in the 'Capital' tab.
The loan amortization schedule has proformas with pre-built formulas for internal calculations of the loans, interest, and equity.
Valuation
With our Wholesaling E-Commerce Financial Projection Model Template, you will get proformas for valuation analysis. You will be able to perform a Discounted Cash Flow (DCF) valuation analysis and other valuations you may need.
Cap Table
A capitalization table or the cap table is an essential financial tool for start-up companies. A cap table in our Wholesaling E-Commerce 3 Way Financial Model Template has four rounds of raising funding. This approach will help users anticipate the company's ownership stakes by its shareholders, which will lead to dilution of existing shares. A cap table considers equity shares, preferred shares, share options, employee stock options, convertible bonds, and others.
Top Expenses
In the Top expenses section of our Wholesaling E-Commerce 3 Way Financial Model Template, you can track your more significant expenses divided into four categories. The model also has an 'other' category, and you can expand or change this table according to your needs.
You can reflect your company's historical data or make a 3 Way Financial Model for the five years.
Top Revenue
The top line and bottom line are two of the most important lines on a company's projected income statement. Investors and analysts pay special attention to the company's revenue and profits and carefully monitor any changes regarding these financial metrics from quarter to quarter and year to year.
The top line of the forecasted income statement refers to a company's revenues or gross sales. Therefore, when somebody says that the company has 'top-line growth,' it means that the company is experiencing an increase in gross sales or revenues, which should positively impact other company's financials and overall performance.
File types:
Excel – Single-User: .xlsx
Excel – Multi-User: .xlsx
Free Demo – .xlsx