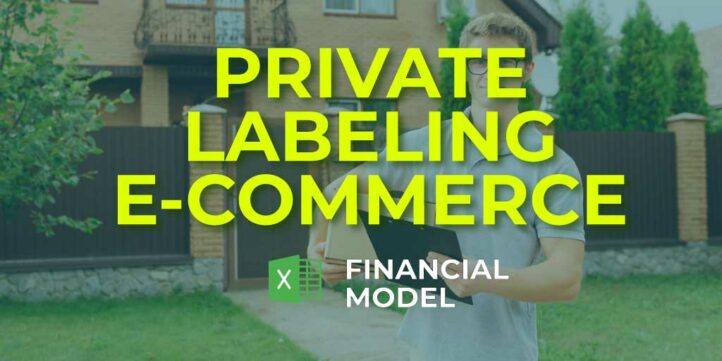 eCommerce & Webshops, Financial Model, Online Businesses & IT
5-year financial projections, Accounts Payable, Accounts Receivable, Break-Even, Budget, Budgeting, Business Valuation, Cap Table, Cash Flow Analysis, Cost Projections, Dashboard, DCF Model, Excel, Financial Feasibility, Financial Model, Financial Modeling, Financial Planning, Financial Projection, Financial Projections, Financial Statements, Forecast, Revenue Projections, Startup Financial Models, Three Statement Model | Three Financial Statements, Uses and Sources of Funds, Valuation
NOTE: Single-User pertains to a limited Single User License where the template can only be used by one single user; while Multi-User is a license for users sharing the template with up to 20 members. Please refer to Terms of Use and License and Permitted Use for clarification.
PRIVATE LABELING E-COMMERCE 3 WAY FORECAST KEY FEATURES
Video tutorial:
Convenient, All-In-One Dashboard
Includes all required forecasting reports, including assumptions, pro forma profit and loss, cash flow statement, balance sheets, performance reviews and summaries for months and years (incl. numerous graphs and KPIs).
Print-ready Reports
Solid package of print-ready reports, including a profit and loss proforma, cash flow statement proforma, a balance sheet, and a complete set of financial ratios.
Simple and Incredibly Practical
Simple-to-use yet very sophisticated Private Labeling E-Commerce 3 Way Forecast Model. Whatever size and stage of development your business is, with minimal planning experience and very basic knowledge of Excel you can get complete and reliable results.
Great Value for Money
Use a robust and proven Private Labeling E-Commerce Three Way Financial Model based on years of experience at an affordable price. This excel financial model template has a one-off payment and absolutely no hidden fees or monthly payments.
Run different scenarios
A Startup Cash Flow Statement shows you what your cash balance will look like taking into account the numbers you put into the template. It means you can play with the various variables that impact your cash flow forecast, i.e., wages, sales inflow, supplier payments, taxes, and so on. By adjusting the input amounts, you will be able to see what impact they will have on your businesses' cash flow and when this impact is likely to occur. A well-known example of this is the ability to forecast the effect a new member of staff might have on your cash flow over different periods. Increase the wage costs and see what happens to your cash flow. Running different scenarios in your Cash Flow Statement For 5 Years can have several benefits.
Key Metrics Analysis
Creates 5-year Private Labeling E-Commerce Three Statement Financial Model, proforma, financial statements, and financial ratios in GAAP or IFRS formats on the fly.
REPORTS and INPUTS
Performance KPIs
Sales growth year-to-date. Every entrepreneur wants to see the company grow month-over-month. In some industries, sales depend on the season or other external factors. The sales growth year-to-date metric shows the pace at which the company's sales revenue increases or decreases.
Users can monitor sales volumes over various periods – daily, weekly, monthly, or yearly. Sales growth metric helps to manage sales growth goals in the form of a percentage of last month's sales volume or others. If the company has several sales teams, the management can monitor this metric for each team separately. It will help to monitor better each team's achievements.
Top Revenue
The top line and bottom line are two of the most important lines on a company's pro forma profit and loss statement. Investors and analysts pay special attention to the company's revenue and profits and carefully monitor any changes regarding these financial metrics from quarter to quarter and year to year.
The top line of the pro forma profit and loss statement refers to a company's revenues or gross sales. Therefore, when somebody says that the company has 'top-line growth,' it means that the company is experiencing an increase in gross sales or revenues, which should positively impact other company's financials and overall performance.
Operational KPIs
Financial graphs and charts in this Private Labeling E-Commerce Five Year Financial Projection Template help the stakeholders visually track liquidity, budgets, expenses, cash flow, and many other company financial metrics. These graphs will also help a company's management avoid problems by reflecting its financial data in real-time, with a comprehensive financial information overview.
These operational performance graphs will help the business owners and financial managers ensure the best possible performance and financial health of their company because regular financial analytics procedures and the highest quality of financial data are the company's top priorities.
Our financial graphs will also help the company's financial specialists raise financial issues at the general meetings and deliver understandable financial information to other departments and external stakeholders.
Sources and Uses
As you can understand from the title, a Sources and Uses of Funds statement represents the company's financing sources and spending policies.
In respect of the 'Sources', this statement shows the company's money for its business activities and how it gets this money. Usually, companies have a mix of funding sources, such as business loans, investors' money, share issue, and others.
The 'Uses' section of the Sources and Uses statement shows the stakeholders how the company spends its money. For example, this statement may reflect the cost of land, building, or equipment the company plans to acquire. It also may reflect the start-up costs.
CAPEX
Capital expenditures, or CapEx, calculations reflect the company's spendings to buy various assets that will bring long-term value to the company. CapEx is typically related to buildings, property, plant, and equipment (PPEs).
Our Private Labeling E-Commerce Pro Forma Template has a pre-built tab for CapEX calculations that will help users determine the company's growth and expansion plans that require significant spendings on equipment and other assets. It is important for business owners and financial specialists to understand the relationship between the company's CapEx, deprecation, and financial statement.
Loan opt-in
A loan amortization schedule template reflects the company's schedule to which it repays its loans.
Our Private Labeling E-Commerce Cash Flow Proforma Template has a loan amortization schedule with pre-built formulas that shows the amount of each installment and much principal and interest the company should repay each month, quarter, or year.
All in One Place
Get a sophisticated but easy-to-use Financial Model that is fully expandable. Our robust and powerful Private Labeling E-Commerce Financial Projection Model Excel will be your roadmap for many different business models. If you have financial experience, you can expand and tailor all sheets as desired.
File types:
Excel – Single-User: .xlsx
Excel – Multi-User: .xlsx
Free Demo – .xlsx